Alaska Airlines brings more colour to its expanded network
Alaska Airlines, which has been in operation since 1932, has announced a rebranding of its aircraft, livery, website and mobile app. It comes at a time of immense growth for the carrier, which has added 90 markets and begun services to 26 new cities in just the past five years.
US carrier Alaska Airlines realigned its activities in the late 2000s allowing it to take a growth trajectory this decade with departures up an average 3.8 per cent per year and capacity up an average 5.5 per cent per year since 2010. The independent airline has remained loyal to its Seattle-Tacoma International Airport (Sea-Tac) home, which till accounts for just under one third of its total network (30.5 per cent in 2015 and 2016), but continues to grow strongly across many of its primary markets.
Now, for the first time in 25 years, Seattle based airline Alaska Airlines has announced a rebranding which will include their logo and world renowned 'Eskimo' who features on the tail of their aircraft. The rebranding will introduce extra legroom in both economy and business class on much of their fleet of nearly 150 aircraft.
"Our company has a unique personality and a vibrant spirit that our Eskimo has personified for almost half a century. We believe our refreshed look reflects the warm relationships our employees have built with our customers, and makes us stand out in a compelling and consistent way as we expand into new markets, build loyalty and attract new customers."

Brad Tilden
Chief Executive Officer, Alaska Airlines
Although Alaska Airlines are based in Seattle, Washington with headquarters at Seattle-Tacoma Airport, the airline also has hubs at Los Angeles International Airport, Portland International Airport and Anchorage International Airport in Alaska. The carrier is part of the Alaska Air Group, with sister airline Horizon Air. The independent airline is not part of the three major airline alliances – Star Alliance, oneworld and SkyTeam – it does have codeshare agreements with members of oneworld and SkyTeam.
Of the rebrand, Sangita Woerner, Vice President of Marketing at Alaska Airlines said the carrier needed "a brand identity that was fresh, modern, relevant but also reflected who we are on the inside."
The rebrand comes at a time of immense growth for the airline, which has added 90 markets and begun services to 26 new cities in just the past five years. During this time, services have been added to the likes of Albuquerque, Detroit, Nashville, Tampa, and most recently in 2015, San Jose. Within this calendar year, Alaska Airlines will service two seasonal routes – non-stop from Anchorage to Spokane, Washington from June 11, and Portland, Oregon to Atlanta from June 4. The carrier is now the seventh largest US airline based on passenger traffic, and one of the strongest on the nation's West Coast.
In terms of growth, Alaska Airlines network point San Diego International Airport has grown 111.4 per cent since 2010 – the largest growth within its primary markets. There has also been more than 50 per cent growth for Boise Airport, Idaho and Portland, Oregon. Flight departures and capacity numbers have continued to rise for Alaska Airlines since 2012, reaching a high in 2015. There was a dip in numbers for 2008, with a slight continued drop year on year until 2012, which could be attributed to the economic downturn.
The Eskimo logo has become synonymous with Alaska Airlines and was an essential ingredient with the rebrand– but the airline's update was intended to be subtle, with the most noticeable change being the use of more colour. The updated version sees the Eskimo surrounded by Tropical Green and Breeze Blue colours as a nod to the exotic new places the airline now fly to, such as Costa Rica and Hawaii.
The Eskimo has been the defining feature of the airline since the early 1970s, forty years after the airline was founded. The Eskimo is the only logo that has stood the test of time – in 1972, it was launched along with three other logos; a totem pole, a gold miner and Russian spires. Of the Eskimo logo, Alaska Airlines' Woerner said: "There was such a sense of pride and commitment that we decided to keep him and have never wavered from that."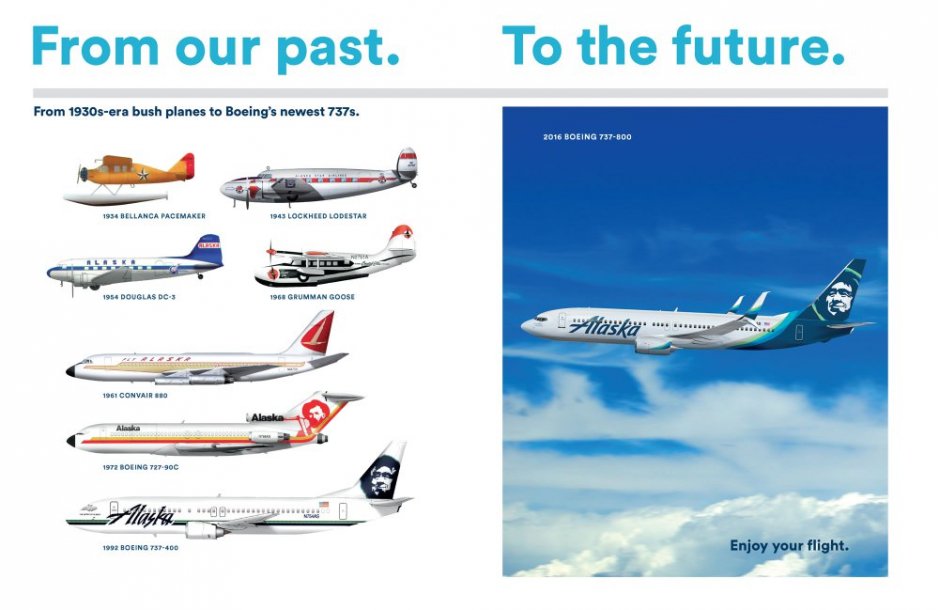 By the end of 2017, Alaska Airlines will have retired 144 Boeing 737-400 to be replaced with 737-900ER aircraft. The refreshed brand was unveiled on a newly painted 737-800, with the brand to be featured throughout digital channels and marketing materials, as well as on the fleet.
The airline has been innovative in aviation, being the first airline in North America to sell tickets online, and the first in the world to allow customers to check in and print boarding passes through the internet. They have grown from a small regional airline into a national carrier with more than 17 million customers a year.
"I think we will continue to grow and really appeal to a broader audience and fly more and more to markets in the Midwest and East Coast to really put our brand on the national stage," added Woerner during the launch of the new branding.
BRIEFING – Alaska Airlines network developments
Our analysis of OAG schedules data for the last ten years highlights the strong network growth from the low-fare carrier during this period. Between 2006 and 2015 its network capacity rose 21.6 per cent from 33.2 million seats to 40.4 million seats. Flight departures actually fell 2.0 per cent during the same period from just over 348,000 in 2010 to just over 341,000 last year. This shows a trend towards larger capacity aircraft across the Alaska Airlines network and more direct flights. Provisional schedules for the current year forecast an annual growth of 4.5 per cent in capacity and a proposed 5.0 per cent increase in flight departures.
The current Alaska Airlines strategy has been partly driven by the end of its partnership with Delta Air Lines and the latter's own development of its operations at Sea-Tac in Seattle, which it has developed into a new hub. To the benefit of the local Seattle market, the intensified competition between Delta and Alaska and seen Alaska Airlines 20 previously unserved markets to its Sea-Tac since 2013 as it has re-focused its activities in Seattle. Brand new destinations from Sea-Tac have included: Cancun, Charleston, Colorado Springs, Helena, New Orleans, Oklahoma City, Omaha, Raleigh/Durham, San Antonio, Steamboat Springs and Tampa.
Sea-Tac continues to account for almost one in three of the airline's network departures (30.5 per cent in 2015 and 2016) and capacity has grown 27.9 per cent since the start of the decade. A clear sign of the success of Alaska Airlines' network strategy is that all ten of its largest airport markets last year have seen strong growth since the start of the decade – in fact only two of the ten have seen single digit rises during that period.