Air Canada has entered into a Letter of Intent (LOI) with Bombardier for the acquisition of up to 75 Bombardier CS300 aircraft as part of its narrowbody fleet renewal plan. The LOI, a major fillip for the programme, contemplates 45 firm orders plus options to purchase up to an additional 30 aircraft and includes substitution rights to the smaller CS100 aircraft in certain circumstances.
Deliveries are scheduled to begin in late 2019 and extend to 2022. The first 25 aircraft on delivery will replace Air Canada's existing mainline fleet of Embraer E190 aircraft, with the incremental aircraft supporting Air Canada's hub and network growth, bringing numerous network development opportunities.
"We've been carefully assessing the capabilities of Bombardier's C Series aircraft and its progress for some time and we are very pleased to announce an agreement to acquire the CS300 for our mainline fleet as part of the ongoing modernisation of Air Canada's narrowbody fleet," said Calin Rovinescu, President and Chief Executive Officer, Air Canada.
"With its high fuel efficiency performance and greater seating capacity, the next generation technology of the C Series is very well suited for our current and future network strategy and will be an extremely efficient addition to our fleet," he added.
The renewal of its North American narrowbody fleet with more capable and efficient aircraft is a key element of Air Canada's ongoing cost transformation programme and the executive believes the cabin comfort provided by the CS300 will help us to retain Air Canada's competitive position in North America's international network.
"The entry of the C Series into our fleet is expected to yield significant cost savings. We have estimated that the projected fuel burn and maintenance cost savings (on a per seat basis) of greater than 15 per cent should generate an estimated CASM reduction of approximately 10 per cent, when compared to the aircraft it will replace," said Rovinescu.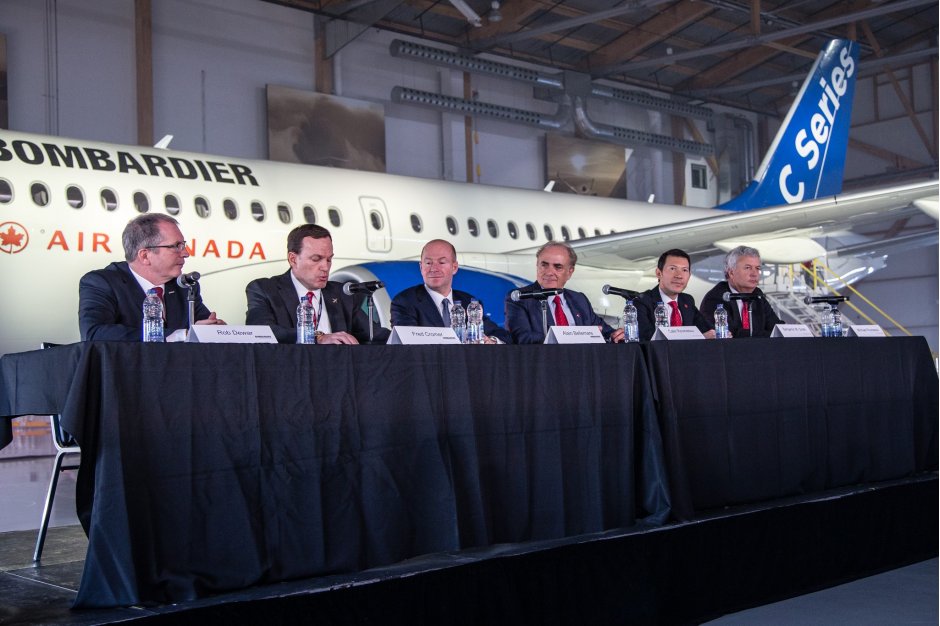 A landmark order from a marquee and iconic customer like Air Canada is a very significant strategic marker for the C Series aircraft programe. "Our recent focus has been to add a large North American international network carrier to complement our orders in both Europe and Asia, and with Air Canada we are achieving our goal of creating a strong global footprint for the C Series aircraft," Alain Bellemare, President and Chief Executive Officer, Bombardier.
Air Canada has a long history of collaboration with Bombardier. Air Canada Express regional partners operate one of the largest fleets of Bombardier aircraft in the world with a mix of over 135 regional jets and turboprop aircraft due to be in their fleets by the end of this year.
"We were one of the launch customers for the Canadair Regional Jet and today's announcement reflects our continued support for Canada's aerospace industry and for the new technologies the industry may develop. We fully expect the new technology of the C Series to efficiently meet the demanding needs of our current and future network strategy," added Rovinescu.
The acquisition of the C Series aircraft represents a key element of Air Canada's narrowbody fleet renewal programme and complements the acquisition of 61 Boeing 737 MAX aircraft announced in December 2013 to replace the larger end of the airline's mainline narrowbody fleet.
The Boeing agreement provides for Boeing to purchase up to 20 of the 45 Embraer E190 aircraft in Air Canada's fleet and the first 25 C Series will replace the remaining E190s. Boeing 737 MAX deliveries are scheduled to begin in late 2017 and extend to 2021, while the C Series deliveries are scheduled to start in late 2019 and extend to 2022.