Regional carrier, Sunrise Airways plans to expand its network in the western Caribbean after formalising a deal to introduce larger equipment into its fleet. The Haitian operator has secured an ATR 42-320 on Aircraft, Crew, Maintenance and Insurance (ACMI) lease from European airline Danish Air Transport (DAT) and will introduce the turboprop into service at the start of this month through to late 2017.
The 50-seat aircraft, sourced through UK aircraft marketing specialist Skyworld Aviation, will provide a significant capacity upgrade versus the smaller equipment currently available to Sunrise. The airline currently has a small fleet of three 19-seat BAe Jetstream 32s which serve Porte au Prince, Cap Haitien, Santo Domingo and Santiago de Cuba.
After last year becoming the first Haitian airline to be awarded a Part 129 Operating Permit which upgraded its activities from ad-hoc/charter services to scheduled status, the introduction of the ATR 42 will allow Sunrise to serve longer haul routes more effectively in its Western Caribbean route network, in particular Santiago de Cuba, Cuba. The airline also plans to serve Jamaica and Turks and Caicos Islands in the near future.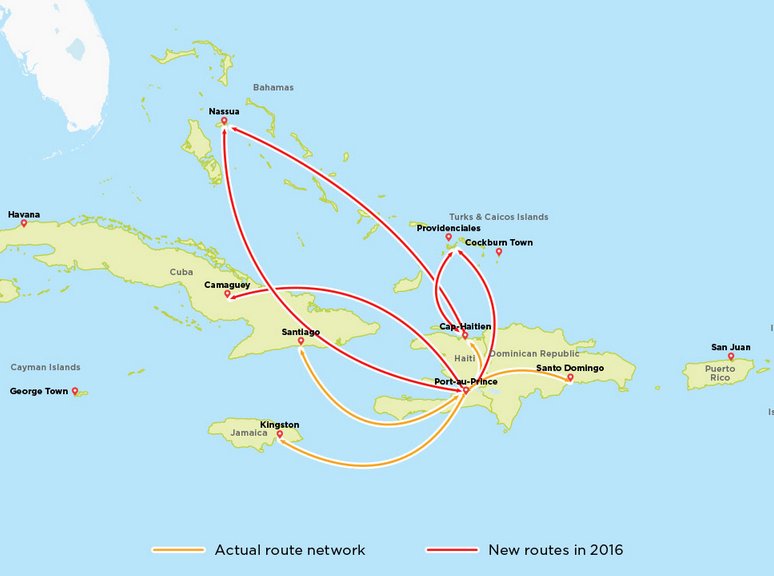 "Bringing an ATR 42 into the Sunrise fold represents a bright new beginning for our airline; one that will see us branching out swiftly to serve longer-haul routes connecting more of the Western Caribbean more effectively than ever before," said Philippe Bayard, President, Sunrise Airways.
"This fleet expansion is really all about our passengers, many of whom have long expressed an interest in having us spread our wings further afield," Bayard told local reporters ahead of the arrival of the new aircraft.
"Havana, Camaguey, Kingston, Nassau, a return of the service to Turks and Caicos – the demand is strong for these and several other attractive regional gateways. Now, with the added size, comfort, and luggage capacity afforded by the ATR, we can look to serving routes like these with the same uncompromising style, safety, and reliability that our passengers have come to expect from Sunrise," he added.
The airline aims to become "the premier regional airline" in the Caribbean by developing "a cohesive route network" in an efficient, cost-effective and safe environment. "We want to leverage success and profitability through a streamlined and innovative approach to growing the footprint of Sunrise Airways," added Bayard.