From Virgin America's new logo to Jetstar Asia's Singlish language, were you April Fooled this year?
Airlines and airports are always happy to get involved on April Fool's Day, and this year it has been no different. Now the clock has struck twelve, and the pranks are no longer, we've drilled down the top April Fool's jokes in the aviation industry this year.
Playing pranks on the first day of April is a tradition as old as time itself, so it is of no surprise when airlines and airports get involved in the fun. The jokes being played this year are even more weird and wonderful than before but the question is – were you fooled?
No one quite does April Fool's Day like Virgin Group, and this year is no different. This offering sees an overhaul of the iconic 'Virgin' logo for Virgin America – stripping away the signature for a visual logo that would tell the airline's story. The logo itself may look somewhat questionable, but the logic behind it is genius.
Going down the visual route the project came early when it was revealed on March 31, 2016 (no puns intended). Virgin America officials said it had to be centred on aviation – which is why the circles of the new Virgin logo were designed to mimic the nose of the Airbus A320 aircraft. To make this as realistic as possible, the Virgin team physically removed the nose and flight deck of a plane. Once placed on a giant piece of paper, they traced the shape with a charcoal pencil – all in the name of creativity.
Virgin America are so passionate about their new logo they have thought of it as their "living, breathing newborn baby". Even Sir Branson was involved in the video, drawing up various designs to be used. Thankfully, none of them made the cut, although they all seem to follow a similar theme and can be seen in the video below.
https://www.youtube.com/watch?v=vGCUp_FduKc
Elsewhere in the Virgin Group, Virgin Australia has unveiled plans for the world's newest airline class – an adult-free, kids-only class. The Virgin Australia kid class will offer young air passengers child-friendly cabin features such as 'kickable' seats, concierge Trunki ride-on suitcase service to the gate and an on-board teddy bear menu. "Kids are the next biggest passenger market for the airline after business passengers. More than 900,000 children fly with Virgin Australia each year," the airline said in a statement.
The Virgin Australia kids class journey starts with a concierge Trunki ride to the gate where passengers can select the appropriate reading materials for the flight (colouring in or story books) before boarding. It's then a quick hopscotch down the plane aisle to their respective seats before a dance-along safety demonstration. All meals are served with plane-shaped treats. Other onboard features include: chewable safety card; bubble-filled cabin during story time and tent forts for sleeping.
Following its brief recent flirtation with domestic flights in the UK under the Little Red brand, Virgin is showing interest in developing a network of short-haul routes in Europe to be flown by its Virgin Balloon business. The company has today launched a new range of short- haul flights to more than 20 European destinations.
Departing from the ballooning company's usual 100+ locations across England, Scotland and Wales, flights will last approximately an hour, depending on destination and wind speeds. New departure locations have also been revealed at Heathrow, Gatwick and Manchester Airports, allowing European customers easy and scenic connections to Virgin Atlantic's long haul destinations.
The Virgin Balloons flight includes a pilot briefing, a Champagne toast, in-flight entertainment in the form of scenic landscape views and duty-free shopping. Chief Pilot and CEO Kenneth Karlstrom says he hopes it will "add to the incredible service Virgin Atlantic is already offering to long-haul passengers".
"We felt like now was the perfect time to branch out and launch this new European flight service. Not only is the experience serene and peaceful, it's also a convenient way to commute as there are no airport queues and with our 100+ launch sites, passengers don't have to travel far to hop on their flight," he said.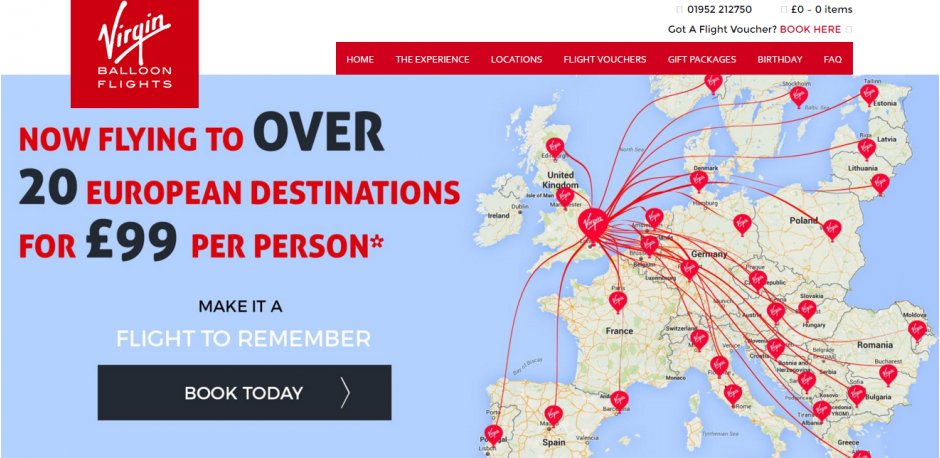 Virgin have also been keeping us in suspense, having uploaded a video of Sir Richard Branson on the British Virgin Islands (BVI). In the brief clip, a treasure chest is dug up, but we cannot see what is inside of it. Governor of the BVI, John Duncan has even called the discovery "the most fantastic thing that has happened this year" but will all be revealed by 12pm? Maybe it's a formal offer from British Airways to buy Virgin America? Who knows?
Alongside the Virgin Group you can always rely on Canadian low-cost carrier WestJet to get involved in the April Fool's Day fun and this year is no different. Its annual offer in 2016 is to introduce a new innovation, RALFH. An acronym for Robotic Automated Light Food Handler, it eliminates the need for the use of a traditional food and beverage cart which regularly blocks aisles and passenger accessibility.
The system instead operates on a track overhead the aisle and passengers can make orders via the WestJet App and receive a personal delivery service. "This isn't about gimmicks. This isn't technology for technology's sake. It really is about a great guest experience," says the airline.
Air New Zealand got in on the action by offering a bus to Hawaii. Ben Hurley was the face of the campaign, decked out in a Hawaiian shirt offering a trip of a lifetime to the residents of Auckland. Despite an initial struggle to get the seats of their bus filled, Hurley rounded a group of young and old to set off to paradise, Hawaii - which is of course, Mount Eden in Auckland. It may not have been what the group expected, but all is well that ends well, as they received tickets for flights at the end of the promotional video.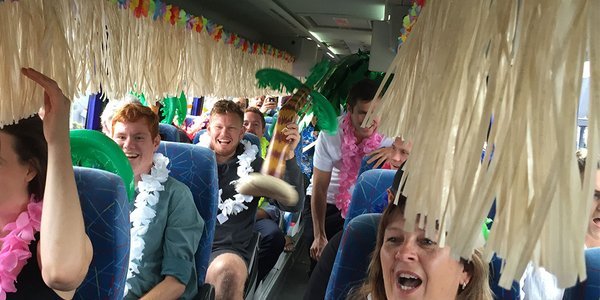 Japanese low-cost carrier Peach has revealed plans to adopt a multiple class concept with the development of its 'SAMURAI aircraft' which will offer foreign visitors to Japan an experience of the wonders of Japanese culture and tradition. The three-class offering will provide a Fist Class 'air footbath' offering with an onsen hot spring bathing facility, a 'table over a hole in the floor' Premium Economy cabin and a 'seiza style' Economy product offering floor seating with legs folded underneath on fully flat tatami mat seats.



Last year's Routes Europe host, Aberdeen International Airport has revealed an exciting development in its refurbished passenger terminal to enhance the customer experience. It will next year introduce a pool facility. "Next year you can start your holiday early by going for a pre-flight dip with great views in our Airside Swim Centre," it said. We believe this is not actually a unique concept with Helsinki Airport already offering such a facility.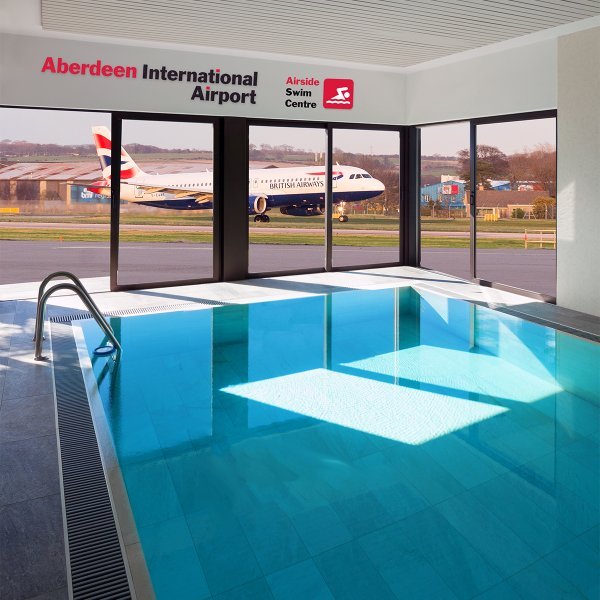 New Zealand's Christchurch Airport has also got in on the April Fool's Day act and said it was about to begin formal discussions with airlines about changes it plans to make to its East-West runway, which is locally referred to as the nor'west runway. Chief Operating Officer, Andy Lester, said the airport is considering and has begun preparations to shorten the runway to enable the placement of a ramp at each end. This would aid take-offs because of a steeper ascent and would reduce the amount of fuel airlines need to burn to reach cruising altitude. The ramps will also assist landings with the incline at the end of the runway reducing aircraft braking.
"The design has come about through blue-sky thinking with ex-Royal Navy technical staff, coupled with some innovative work by our engineering team, together looking at ways to improve performance and reduce the need for future extensions to our runways," said Lester.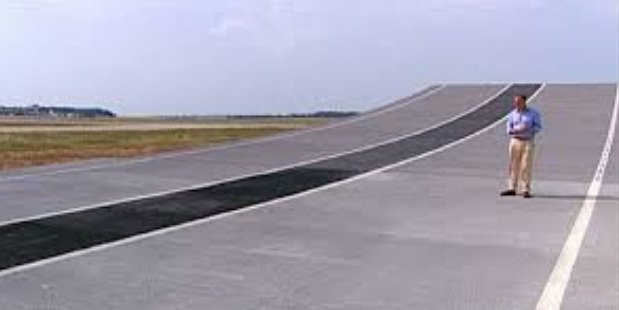 Irish budget carrier Ryanair has used an April Fool's Day joke to support its Keep Europe's Skies Open petition to prevent passengers flights and holidays being delayed or cancelled when Air Traffic Control (ATC) unions in France go on strike. "French Air Traffic Controllers have promised never to go on strike again or ruin any more holidays #AprilFools," it said in a tweet.
Ryanair says that since 2009, French ATC have staged 43 days of strikes, closing the skies over Europe, and causing cancellations for millions across Europe. The airline is calling on the European Commission to take action to prevent flight disruptions caused by ATC strikes.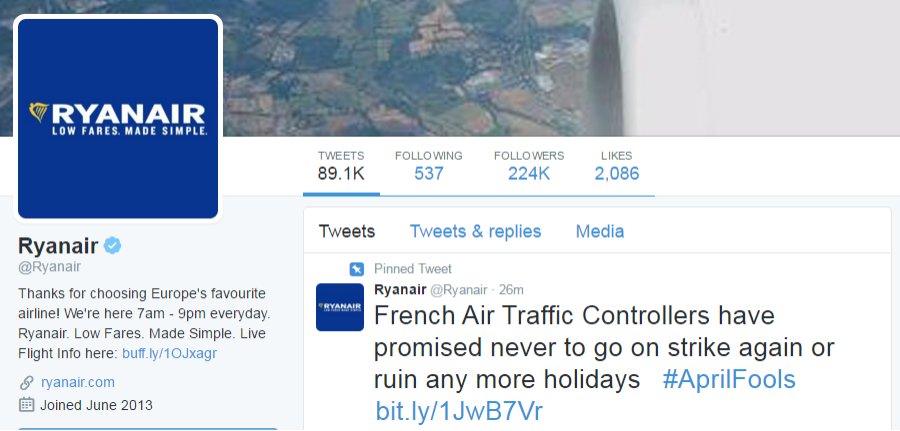 European tour operator TUI also took part in the April Fool's Day fun with its Dutch business tweeting about the surprise arrival of an Airbus A380 for the leisure grouping. "Our first A380 lands this afternoon at 13:04. 'It is important to always stay one step ahead'," it said in a tweet.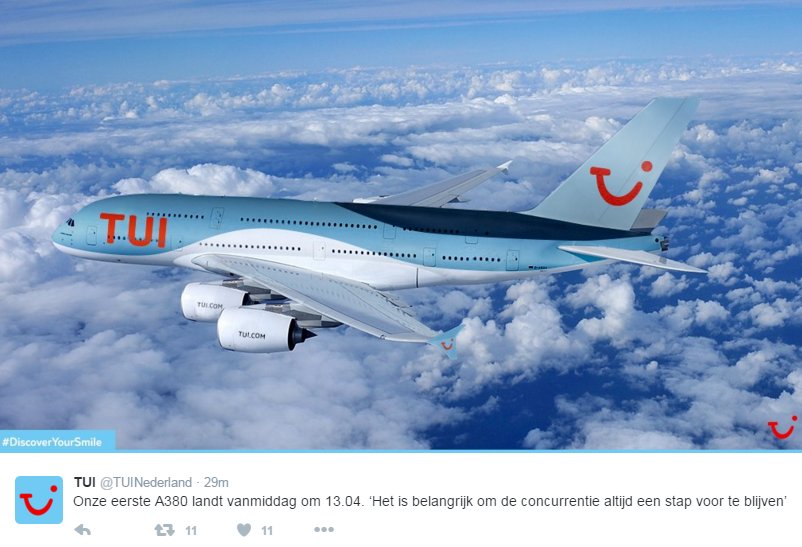 In order to be a truly Singaporean carrier, beginning April 2016, Jetstar Asia Airways has revealed it will introduce the use of 'Singlish' on its flights from Singapore's Changi International Airport and on its website, Jetstar.com, to provide customers with an even friendlier level of service. For the last six months, the airline's diverse cabin crew have been trained to speak the language on departing flights from Singapore. From this month, selected flights will also feature Singlish in-flight announcements, and Jetstar are hoping to adopt a similar approach in Thailand, Indonesia and the Philippines. Jetstar Asia management and crew have produced this video to demonstrate its commitment to connect with its customers better, through the adoption of 'Singlish'.
The Routes digital content team thought it would be rude not to join in with the April 1st festivities, and so released a story on how United Airlines and Aeroflot had joined forces to develop a bizzare new boarding technique with help from Cirque de Soleil - United and Aeroflot use Cirque du Soleil for new boarding process. The story also featured briefs on how the Pentagon were exploring a 'Trumped Up' version of the Airbus A380 for Air Force One should one of the candidates be elected as President.
** This is just a taste of today's April 1st fun. We will try to update this article with further reports through the day. **