Alaska Airlines to acquire Virgin America in latest US consolidation
The combination expands Alaska Airlines' existing footprint in California, bolsters its platform for growth and strengthens the company as a competitor to the four largest US airlines. Combining Alaska Airlines' well-established core markets in the Pacific Northwest and the state of Alaska with Virgin America's strong foundation in California will make the expanded Alaska Airlines a major force in and out of the Golden State airports, including San Francisco and Los Angeles.
Alaska Airlines and Virgin America are to merge and create a major US West Coast airline after the boards of directors unanimously approved a $4 billion deal. Although described as a "merger agreement", Alaska Airlines will take control of its rival operator after making a $57.00 per share cash deal to acquire Virgin America, representing a total equity value of $2.6 billion. It said the takeover will provide it with an expanded West Coast presence, a larger customer base, and an enhanced platform for growth, Alaska Airlines will be positioned to provide more choices for customers, increase competition and deliver attractive returns to investors.
The combination expands Alaska Airlines' existing footprint in California, bolsters its platform for growth and strengthens the company as a competitor to the four largest US airlines. Combining Alaska Airlines' well-established core markets in the Pacific Northwest and the state of Alaska with Virgin America's strong foundation in California will make the expanded Alaska Airlines a major force in and out of the Golden State airports, including San Francisco and Los Angeles.
The combined airline will also offer more frequent connections to international airline partners departing hubs in Seattle, San Francisco and Los Angeles and will open up growth opportunities in important East Coast business markets through better access to slot-controlled airports like Ronald Reagan Washington National Airport and the two of the New York City-area airports, John F. Kennedy International Airport and LaGuardia Airport.
"Our employees have worked hard to earn the deep loyalty of customers in the Pacific Northwest and Alaska, while the Virgin America team has done the same in California. Together we will continue to deliver what customers tell us they want: low fares, unmatched reliability and outstanding customer service," said Brad Tilden, chairman and chief executive officer, Alaska Air Group.
"With our expanded network and strong presence in California, we'll offer customers more attractive flight options for non-stop travel. We look forward to bringing together two incredible groups of employees to build on the successes they have achieved as standalone companies to make us an even stronger competitor nationally."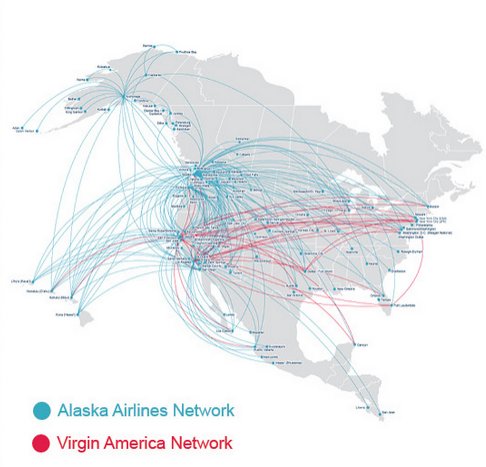 While at first glance the two brands – friendly, Seattle-based Alaska Airlines and the Bay Area's hip Virgin America – may seem very different, Tilden says they're more similar than not. "Our company is infused with a pioneering spirit that goes back to our founding in the state of Alaska. Today you can see it in our culture of innovation and the way our employees go above and beyond every day to delight and care for our customers. Those are values that I see mirrored in the culture at Virgin America, and are what will make us better together," he said.
Alaska Airlines said the transaction is expected to be accretive to adjusted earnings per share in first full year, will increase annual revenues 27 percent to more than $7 billion and offer $225 million total net synergies annually at full integration. However, some analysts believe the airline may have paid over the odds for Virgin America due to the competitive nature of the sale and rival bid from JetBlue Airways.
"The bidding war for Virgin America has raised the price to levels that will make it challenging for Alaska Airlines to garner benefits that can justify this price, at least in the short-term," said Loizos Heracleous, a Professor of Strategy at Warwick Business School and a specialist researcher in the aviation business.
However, he noted that if oil prices remain low, the upward trends in the aviation industry performance continue and Alaska successfully gains the anticipated synergies from the acquisition, then this may be a good strategic move for the US carrier.
The acquisition of Virgin America by Alaska Airlines continues a trend of consolidation in the US aviation industry that has done its part to help profitability over the last three years, together with lower fuel prices and less intense price wars. Both are "healthy airlines with ambition and with the right approach to the customer, which is a good basis for a merger," said Heracleous.
"It also makes strategic sense for Alaska Airlines to acquire Virgin America in terms of network coverage, since the transaction will strengthen Alaska's position at San Francisco and Los Angeles airports and aid its market development," he added.
Addison Schonland at AirInsight said an integration between Virgin America and JetBlue Airways would have made a lot more sense. "The perfect fit would appear to be JetBlue. But Alaska realized this would strengthen a competitor, and took the necessary action of overpaying to keep JetBlue from growing into this market via acquisition," he said.
The consultant noted that while the deal doesn't mean JetBlue won't come onto West Coast markets as the airline expands its operation, it does provide Alaska "a bit more time", as JetBlue's organic growth will likely be slower than an immediate West Coast critical mass from an acquisition.
""We've never been an airline that is content to sit back and do things a certain way just because that's the way we've always done them."

Brad Tilden
Chairman and Chief Executive Officer, Alaska Air Group
In 2015, Alaska Air Group achieved a record full-year adjusted net income of $842 million, which increased 47 percent over 2014. Alaska Airlines also grew passenger revenues by 5 percent year-over-year, and has increased dividend payments 175 percent since initiation in 2013. In 2015, Alaska Airlines added 20 new markets and 10 new cities to its growing network and 11 new aircraft.
Since its successful IPO in 2014, Virgin America has reached a number of milestones, most recently reporting a record annual year-over-year net income of $201 million, an increase of 139 percent in FY 2015, the highest in company history. In 2015, Virgin America also outperformed the industry in domestic unit revenue growth and began growing the airline with ten new aircraft deliveries.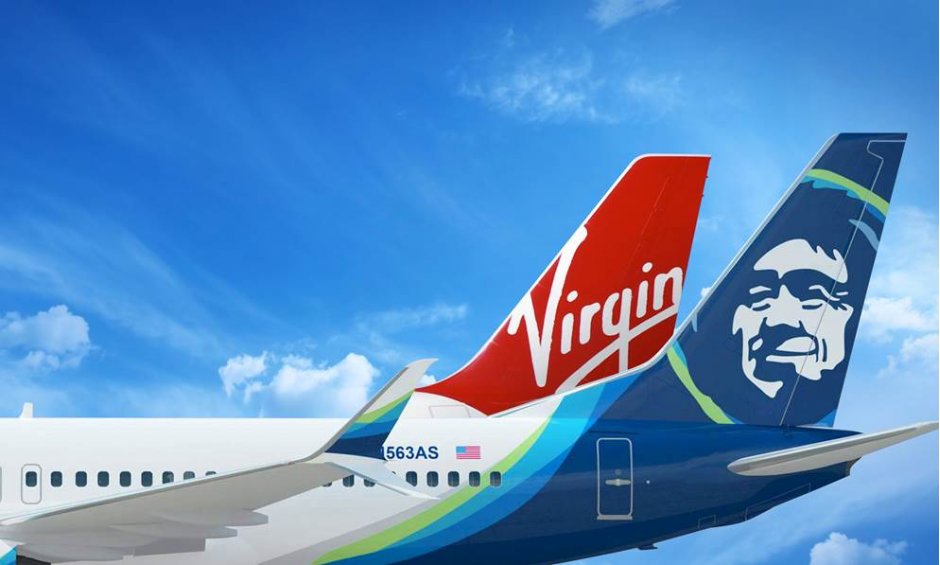 "Our mission has always been to create an airline that people love – and we accomplished that while changing the industry for the better. Joining forces with Alaska Airlines will ensure that our mission lives on, and that the stronger, combined company will continue to be a great place to work and an airline that focuses on an outstanding travel experience," said David Cush, president and chief executive officer, Virgin America.
Together, the combined airline will have 1,200 daily departures, with hubs in Seattle, San Francisco, Los Angeles, Anchorage, Alaska, and Portland, Oregon. The combined fleet will reach approximately 280 aircraft, which include many new regional aircraft joining Alaska Airlines, with an average age of 8.5 years.
The Virgin America fleet of 60 Airbus A319 and A320 provides some complexity with the existing Alaska Airlines Boeing 737 short-haul fleet, but are likely to be maintained - at least for the short-term - for standalone operations at individual bases or specific routes due to the investment in their cabins. The aircraft boast three classes of service, in-flight WiFi and power outlets on every flight, as well as personal, touch-screen seatback entertainment.
The leases on these aircraft expire from 2020 and Alaska Airlines executives are keeping an open mind on the future of the type in the enlarged airline's fleet. However, Brandon Pedersen, chief financial officer, Alaska Airlines Group has noted that there is a 'favorable cancellation provision' on Virgin America's orders for 40 new A320/A321neos and this could sway any future decision.
Alaska Airlines confirms that the combined organisation will be based in Seattle under the leadership of Brad Tilden and the airline's senior leadership team, but until receiving regulatory approval to close, Tilden and Virgin America's David Cush will co-lead a transition team to develop a specific integration plan.
While the companies apply for a single operating certificate, Alaska will maintain its new, refreshed brand, but said it will "work closely" with Virgin America to learn more about the Virgin America brand and customer experience. "Over the next few months Alaska will explore with the Virgin Group how the Virgin America brand could continue to serve a role in driving customer acquisition and loyalty to get the best from both brands," it said.
The merger, which has been approved unanimously by the boards of directors of both companies, is conditioned on receipt of regulatory clearance, approval by Virgin America shareholders and satisfaction of other customary closing conditions. The companies expect to complete the transaction with regulators' approval no later than January 1, 2017.
Analysis of April timetable data from OAG Schedules Analyser shows that the combined networks of the two airlines cover almost 1,200 daily departures offering over 145,000 seats. Alaska Airlines offers around 117,000 daily seats under its 'AS' code, while Virgin America provides around 28,000 under the 'VX' code.
The intelligence provider's schedule data shows the route networks of Alaska Airlines and Virgin America are very complementary with overlap on only five routes across a combined routemap of over 200 city pairs. These are between San Francisco and Palm Springs, Portland, Puerto Vallarta and San Jose Cabo and between Los Angeles and Alaska's Seattle-Tacoma International Airport home base.