Fuel prices are helping to push down airfares
A report from industry body International Air Transport Association (IATA) shows that average global fares fell by more than ten percent in the 2015 calendar year compared to the year before. It is believed that this will continue as oil prices remain low.
Oil prices may have been around ten percent higher in March compared to the end of February, but it is expected that prices will remain below $50 per barrel until late 2019. A new report from industry body International Air Transport Association (IATA) has shown that both oil and airfares were down in 2015.
Average global airfares were cheaper by around 12 percent in the 2015 calendar year in comparison to 2014, excluding taxes, fees and surcharges. Such a significant drop in airfare prices can be attributed to the drop in oil prices. Exchange rate-adjusted fares dropped by 6.2 percent year-on-year in January this year.
Cheaper flights has translated into an increase of demand, unsurprisingly. February 2016 has seen global passenger traffic grow by a substantial 8.6 percent. The extra day in February has helped, but it is part of an upward trend. Air freight volumes have dropped by more than five percent, but creating a comparison is difficult due to the boost in air freight in the same month the year previous due to disruptions at US west coast seaports.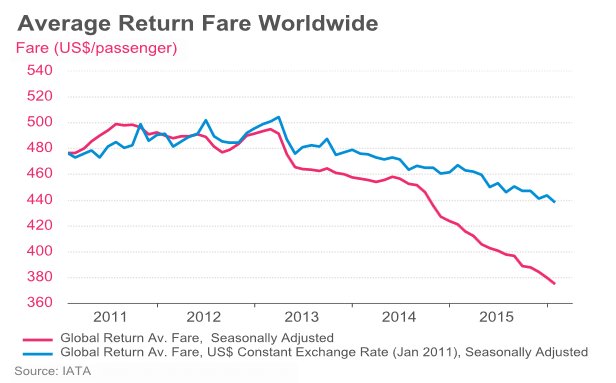 February is the first month since mid-2014 in which annual capacity growth has exceeded that of passenger traffic. Normally, capacity is added cautiously by airlines in reaction to increased passenger demand. In comparison to January, the number of available seats in the global airline fleet increased by 0.6 percent, yet compared to February 2015 is up by 5.7 percent.
More than 100 new aircraft were delivered in February, a noticeable increase of the 76 delivered in the first month of the year. Net storage activity made a positive contribution to fleet size as fewer aircraft are going into storage. This is due to lower oil prices and increased demand making it economical to keep flying less fuel-efficient aircraft.
Global share prices are up by more than five percent for March. Asia Pacific and European carriers share prices experienced the largest month-on-month rises – 6.5 percent and six percent respectively.
Despite oil prices increasing by around ten percent in March, prices are still roughly 30 percent cheaper compared to the same timeframe in 2015 and are expected to stay low for another three years. Further drops in air prices are expected for the remainder of the year because of this.