US carrier JetBlue Airways has provided its strongest hint yet that it could launch transatlantic flights between North America and Europe in the future as it confirmed an order for an additional 30 Airbus A321s
The amended purchase agreement with Airbus includes an additional 15 Airbus A321ceo (current engine option) and 15 A321neo (new engine option) aircraft, but for deliveries from 2019 it holds the flexibility to configure the neo equipment to the Longer Range version of the A321 – the A321LR, which would be well-suited to possible future transatlantic flights.
In an infographic to highlight its renewed aircraft commitment the airline has highlighted the potential the A321LR could offer as 'new possibilities' with a line pointing from the US Eastern starboard out across the Atlantic. However, it says that while this option is open to the carrier from 2019, it has "not yet committed to this fleet type".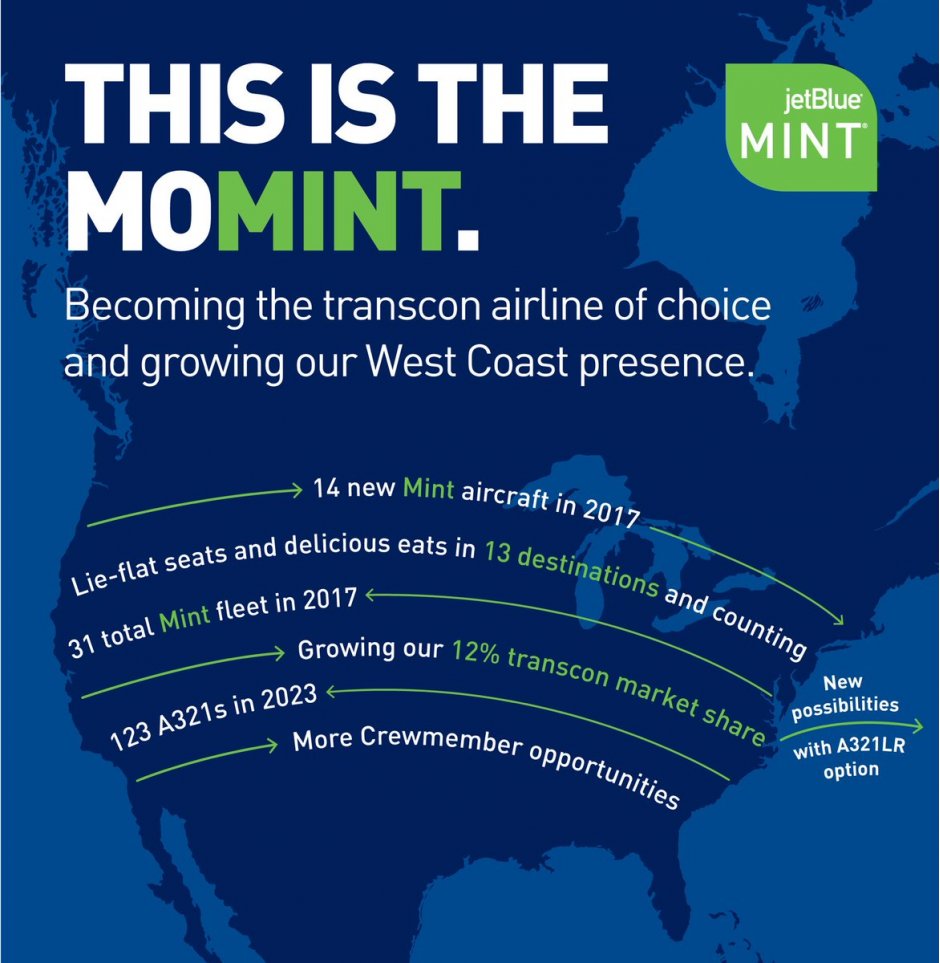 JetBlue currently operates a fleet of 160 A320 Family aircraft, including 130 A320s and 30 A321s. Including the order announced today, the airline's backlog of Airbus aircraft comprises 116 jets: 25 A320neo, 31 A321ceo, and 60 A321neo aircraft. "Airbus has been our partner since the beginning, and we are proud that our partnership continues today," said Robin Hayes, president and chief executive officer, JetBlue.
While the order does open up long-haul options, the majority of the commitment will support the airline's 'Mint' transcontinental offer which is being expanded to include additional city pair markets.
"The A321 is an incredible aircraft that is delivering results for our business. We intend to deploy many of these aircraft to expand our successful Mint experience and our west coast presence," confirmed Hayes.
JetBlue believes the additional aircraft will allow it to capture an immediate opportunity to position itself as the transcontinental airline of choice and build west coast frequencies with a targeted approach that leverages its east coast strength.
Under the amendment, JetBlue will take delivery of incremental aircraft over seven years. Specifically, Airbus is scheduled to deliver 15 incremental A321ceos (current engine option) starting in 2017, with five Mint deliveries expected in 2017 and the intention for most incremental deliveries in the following years to come in Mint configuration.
Further, JetBlue expects to take delivery of 15 incremental A321neos (new engine option) starting in 2020. The amendment provides flexibility to take deliveries in Mint or all-core configurations based on market opportunities.
"Mint has surpassed our expectations on every customer and financial measure. Mint won over customers in a big way and has transformed the performance of our transcontinental franchise. We have only scratched the surface on what Mint can do to disrupt the valuable coast-to-coast market," added Hayes.
Earlier this year, JetBlue announced a Mint expansion that will bring new transcontinental competition to Fort Lauderdale, Las Vegas, San Diego and Seattle for the first time – while also increasing options from New York, Boston, Los Angeles and San Francisco. Once the previously announced tranche of new Mint routes has launched, JetBlue will offer up to 70-plus daily Mint flights to 13 destinations across the east coast, west coast and Caribbean.
By the end of this year, JetBlue expects to have a total of 37 A321s, including 17 in the Mint configuration. By year 2017, JetBlue expects this to grow to a 52 strong fleet, including 31 Mint aircraft and grow to 63 aircraft by the end of 2018, including its first six A321neos.
With just a 12 percent share of the transcontinental market, there are obviously significant opportunities for the airline to boost its offer across the US and it confirms it has "plans to announce further expansion of Mint routes" at a later date. "JetBlue will continue to review strategic opportunities to expand Mint on existing and new routes where it believes it can replicate Mint's success," it said in a statement.