It has been a milestone year for the city of Inverness as new daily services from British Airways (BA) and KLM Royal Dutch Airlines serving their London Heathrow and Amsterdam Schiphol hubs have brought enhanced global connectivity to Scotland's Highland gateway.
The two routes took to the air in late May (the KLM service replacing Flybe's operation to Amsterdam) and both routes are already proving successful, not just with O&D demand but providing connectivity from other points across Europe and as far afield as North America and Asia.
"The arrival of BA and KLM in May has been transformational for the airport," acknowledged Inglis Lyon, managing director of airport operator Highlands & Islands Airports Limited (HIAL) during a recent Routesonline visit to the airport operator's Inverness Airport headquarters.


According to data from AirVision Market Intelligence from Sabre Airline Solutions, BA carried over 15,500 two-way passengers between the Inverness and London Heathrow during its first two full months of operation (June 2016 and July 2016), an average of 128 passengers per day (PPDEW) on the Airbus A319.
A more detailed analysis of the London Heathrow – Inverness data shows that 45.9% of passengers flying to and from Inverness are deemed local traffic with 53.7% connecting via BA's London hub to another point, 0.3% transferring onwards via Inverness to Stornoway and the remaining 0.1% bridge traffic connecting at both ends.
The largest indirect inbound markets for BA during the two month analysis period were Zurich, New York JFK, Paris Orly, Toronto and Boston, while the largest indirect outbound markets from Inverness were Zurich, New York, Madrid, Hamburg and Geneva.
Meanwhile, KLM carried an almost 8,000 two-way passengers between the Inverness and Amsterdam during the same two months, around 65 PPDEW on the Embraer 175 allocated to the market. Similarly to the BA hub connection, local traffic during the first two full months of KLM operation accounted for 44.7% of two-way demand, with Amsterdam connections responsible for 54.9% and Inverness connections and bridge traffic just 0.2% each.
The largest indirect inbound markets for KLM into Inverness during the two month analysis period were Zurich, Munich, Vienna, Manila and Paris CDG, while the largest indirect outbound markets from Inverness were Zurich, Munich, Paris CDG, Vienna and Bordeaux.

"It is clear that Inverness is reaping the rewards of the recently-restored link to London Heathrow and the new KLM Amsterdam link, but there remains much work to do to ensure these services maintain momentum through the off-peak," noted Lyon.
Although Inverness does enjoy strong year-round demand and suffers limited seasonal demand shifts, the winter period will be key to the long-term success of both routes, with BA and KLM potentially seeking to reallocate lucrative hub airport slots if demand slips.
The network expansion has also come at a favourable cost to Inverness and has spearheaded a £900,000 investment to expand and upgrade the terminal building to provide more seating capacity and new retail and catering facilities, as well as a standalone international arrivals hall, linked to the main terminal by a covered walkway.
"Inverness Airport has enjoyed a sustained period of growth during 2015 and our forecasts show that 2016 could well be our busiest year ever. This is a direct result of our success in securing new services such as Amsterdam and London Heathrow, and our efforts to grow existing hub such as easyJet's links to London Gatwick and London Luton and Flybe to Manchester," explained Graeme Bell, general manager, Inverness Airport.
The new international arrivals hall is a response to rapid growth in international traffic at Inverness. Over the past five years, the airport has attracted new services to Amsterdam, Dublin, Geneva and Zurich, boosting the number of international passengers from 4,205 in 2010 to 37,450 in 2015, an eight-fold increase.
"Tens of thousands of tourists travel to Scotland each year to experience our festivals and natural beauty. More and more of these visitors are choosing to travel through our airports, thanks to our strong connections with each area and our range of competitive routes," said Lyon.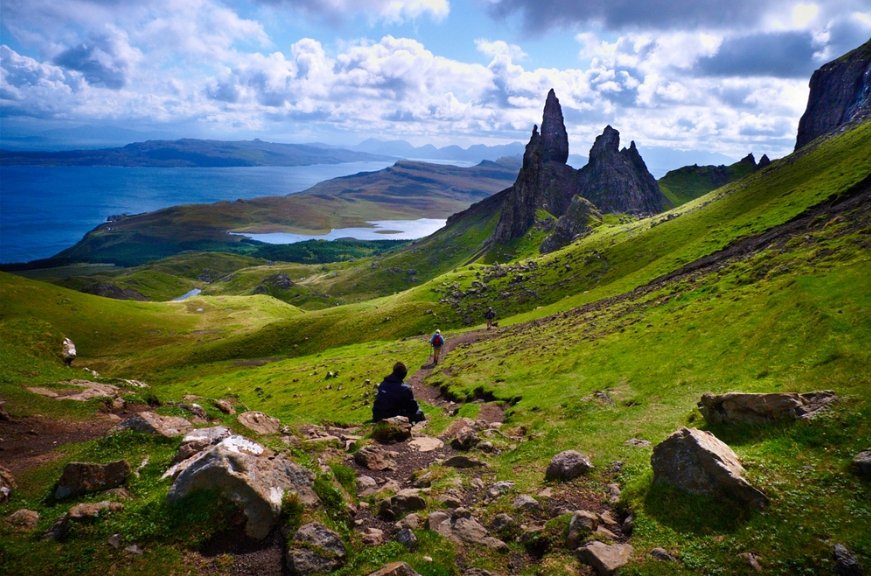 The Highlands and Islands make up half of Scotland's land mass of 15,000 square miles and are home to a tenth of the country's population. Regular, hassle-free access to the world from airports like Inverness is vitally important to the increasingly young and entrepreneurial population who live and work there. Half of inhabitants are under 44 and the region is home to 21,000 businesses, according to Highlands and Islands Enterprise.
"A mixture of great business opportunities with greater connections to the EU and USA, a desirable lifestyle and a range of increasingly popular Festivals and Events is attracting more and more people to both visit and live in the city," said Lyon.
In 2015, Inverness was the fourth busiest city in the UK for International visitors. HIAL has been a long-standing partner to the private and public sectors, supporting search and rescue services, local government, oil and gas helicopter operations, and postal services. These are vital services to people in the regions we serve," he added.
HIAL has a been a regular attendee of recent Routes Europe forums and even attended last year's World Routes in Durban when discussions with BA and KLM had reached an advanced stage. "It was important for us that we didn't miss another opportunity to meet with airline representatives and reinforce the Inverness opportunity," said Lynda Johnston, head of business development, HIAL.
"The routes forums provide us with a great opportunity to meet with existing and prospective airline partners and provides excellent networking opportunities with our peers. Routes Europe remains a key industry event, especially now we work towards ensuring the successes of our new air connections," she added.

It has been a strong start to the year for HIAL, which alongside Inverness manages and operates ten other airports in Scotland, many serving remote communities. Data for the second quarter of 2016 shows an additional 36,225 passengers used HIAL's airport portfolio compared to the same period in 2015, a 9.3% rise. Passenger numbers swelled by 16.7% across the group during June alone thanks to the opening of several new flight routes and renewed offshore activity.
"We have made a significant investment in new services during the early part of this year, so it is pleasing to see that demand for most services at the majority of our airports continues to be high," said Lyon.
Alongside the Inverness hub routes, HIAL also secured growth from Dundee Airport in Tayside with a new Flybe service to Amsterdam Schiphol starting in May, and a rise in traffic on its existing route to London Stansted.
There were passenger number increases at Barra, Tiree, Kirkwall and Sumburgh, as Tiree and Barra benefited from increased frequencies with their new aircraft. Demand for services at Sumburgh Airport in Shetland increased sharply in the quarter, although Wick John O'Groats and Stornoway recorded a fall in passenger numbers, due to restructuring of energy sector demand for services to and from Aberdeen. The withdrawal of additional summer scheduled flights at Islay also contributed to a fall in passengers at this airport during June.
However, it is at Inverness that the greatest connectivity strides have taken place in 2016 and initial data is already providing real evidence that the BA and KLM routes are not only vital to the Highlands economic development but are also playing a significant part in helping to ensure that Inverness and the Highlands stays very much on the tourism and business map.