Air Astana floats new network strategy
Air Astana has proven that the right balance between managing costs and investing in reliability and efficiency can produce a profitable result, even when economic conditions in your home market have brought recent uncertainty.
When Air Astana was established in 2002 as a joint venture between Kazakhstan's Samruk Kazyna National Welfare Fund and BAE Systems, it was against a backdrop of failed carriers, poor safety records and creaking infrastructure which was managed under the remnants of a former Soviet regulatory framework. But against all those odds, over the subsequent two decades it has brought stability, profitability and efficiency to Kazakhstan's air transport sector.
A remarkable record of annual profitability is forecasted to continue in 2016 despite the significant impact a devaluation of the local currency, the tenge has had on its operations over the past 12 months. It has posted a small loss of $6.6 million for the first half of this year, but a strong second half, a historically stronger period for the airline, will recuperate those losses and allow it to post a small profit.
"Our currency tends to fluctuate with the price of oil, and that's exactly what's happening. Our currency has halved from the back end of last year," Peter Foster, president and chief executive officer, Air Astana explains during a visit to the company's Almaty headquarters.
The currency devaluation has been significant as Kazakhstan has felt the force of its reliance on the commodity sector. Supported by rising oil output and prices, Kazakhstan's economy had grown at an average of 8% per year until 2013, before suffering a slowdown in 2014 and 2015 sparked by falling oil prices and the effects of the Ukrainian crisis on trade and visitors.
The value of the tenge has fallen by more than a half and Air Astana has had to be quick to react to safeguard its future. Its annual profits slipped from $51.4 million in 2013 to $19.5 million in 2014 after the first currency devaluation but significant cost savings helped boost profitability to rise to $47.4 million last year despite what Foster describes as "extremely challenging local and regional market conditions".
A second devaluation last year has again clouded the skies, but Air Astana believes its cost structure will enable it to maintain its enviable record of posting a profit in each of its 13 full years of operation, while a prestigious Four-Star rating by Skytrax in its World Airline Awards for the past five years, the first carrier from Russia, the Commonwealth of Independent States (the CIS) and Eastern Europe to receive this recognition, helps its continued rise on the international stage.
"Currency and commodity price weakness are ongoing challenges. We don't expect great things from 2016, but with our cost base now amongst the lowest of any full service airline in the world, we expect to be well placed to take advantage when markets improve," says Foster.
Air Astana certainly offers a premium full-service concept across both its Business Class and Economy cabins but benefits from being a start-up carrier in the modern age. "We are a premium carrier, but at the same time a low-cost carrier. Our operating cost is now down to around $0.06 per ASK [available seat kilometres] which is comparable to some of Europe's leading low-cost carriers," says Foster.
The airline currently operates a network of 65 routes serving 42 international and domestic destinations. A domestic network covering 13 cities is balanced by a growing international network across Central Asia and out into North and South East Asia, the Middle East and Europe with flights operating mainly from bases in Almaty and Astana.
These markets are served by a fleet of 30 aircraft comprising Boeing 767-300ERs and 757-200s, Airbus A320 Family equipment (both A320s and A321s) and Embraer 190 regional jets. It has outstanding orders via lessors for eleven A320neo family aircraft and three 787 Dreamliners.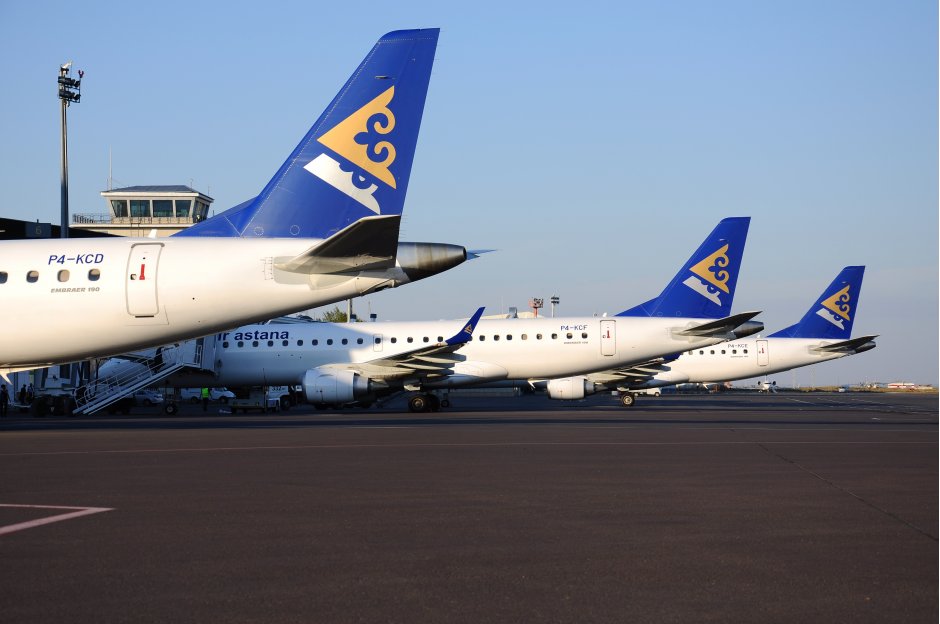 As Kazakhstan's economy wavers, flag carrier Air Astana has been reworking its business plans and moving away from its domestic focus to international routes. The airline is now likely to adopt more of a hub model at Astana International Airport, which serves the growing new capital of the Central Asian country and facilitate the growing connectivity needs within the Eurasia market.
Working with the Airport Management Group, which is providing a renewed focus on airport infrastructure at the country's state-controlled airports, Air Astana has helped drive the future shape of Astana International Airport to better support connecting traffic. This summer it appointed Seabury Advisory Group to complete a review of its own network and develop a flight optimisation strategy for the future.
Ahead of this review, the first stage of this process may see the airline switch its Hong Kong flights from Almaty to Astana, while it also plans to relaunch flights between Astana and Kiev, a market previously flown between April 2013 and July 2014.
"We are never going to be able to compete with the big players on huge markets such as London – Hong Kong or Frankfurt - Beijing, but we could take a small amount of traffic to add to our passenger loads and boost revenues. However, we can become the big player ourselves in some lesser connected markets such as to/from Urumqi in China, southern Russia or into the likes of Kyrgyzstan simply with an improved schedule offer," says Peter Foster, president and chief executive officer, Air Astana.
"But we have too many routes without a daily offer and that significantly impacts transfer demand. Seabury Group is doing a full network review looking at frequency and connectivity issues," he adds. The route audit is due for completion in September 2016 at which time the Air Astana board will look at the findings and possibly adapt the future strategy of the airline.
Our own analysis of Sabre Market Intelligence data shows that in terms of transfer traffic Astana International Airport currently acts to mainly support flows into the former capital, Almaty. In the year ending May 2016 approximately 150,000 passengers transferred between Air Astana flights at Astana International Airport with seven of the ten largest O&D markets via the facility involving links to and from Almaty. In fact only one of the ten markets connected two points outside of Kazakhstan.
Over the 12 month period, flows are dominated by discount economy traffic (92.3%), although the small business flows did generate yields approximately 4.5 times the rate of that market, with the transfer traffic worth around $340 per passenger.
The data shows that Almaty International Airport currently acts a stronger transfer hub for Air Astana, but capacity constraints limit development and the continued move of business services to the new capital will dilute future demand. In the 12 months to May 2016 approximately 280,000 annual passengers connected via the airport. Like Astana, traffic is dominated by discount economy traffic (93.8%) and it generates a similar base revenue of $337 per passenger. The airline's links to Delhi and Kiev are key drivers of the transfer traffic with the Kiev – Tashkent city pair accounting for over 10,000 annual passengers.
Largest Air Astana Transfer Markets (12 months to May 2016)

VIA ASTANA INTERNATIONAL AIRPORT (TSE)

Rank

City Pair

Estimated Two-Way Passenger Demand

1

Kostanay (KSN) - Frankfurt (FRA)

6,743

2

Almaty (ALA) - London (LHR)

5,753

3

Almaty (ALA) - Frankfurt (FRA)

5,498

4

Almaty (ALA) - Ekaterinburg (SVX)

5,364

5

Almaty (ALA) - Kostanay (KSN)

4,175

6

Pavlodar (PWQ) - Frankfurt (FRA)

4,096

7

Almaty (ALA) - Novosibirsk (OVB)

3,755

8

Istanbul (IST) - Urumqi (URC)

3,709

9

Almaty (ALA) - Moscow (SVO)

3,311

10

Almaty (ALA) - Omsk (OMS)

3,293

VIA ALMATY INTERNATIONAL AIRPORT (ALA)

Rank

City Pair

Estimated Two-Way Passenger Demand

1

Kiev (KBP) - Tashkent (TAS)

10,055

2

Bishkek (FRU) - Seoul (ICN)

6,941

3

Kiev (KBP) - Delhi (DEL)

5,728

4

Moscow (SVO) - Delhi (DEL)

5,469

5

Shimkent (CIT) - Istanbul (IST)

4,853

6

Kiev (KBP) - Beijing (PEK)

4,744

7

Istanbul (IST) - Urumqi (URC)

4,509

8

Astana (TSE) - Delhi (DEL)

4,251

9

Aktyubinsk (AKX) - Beijing (PEK)

3,992

10

Shimkent (CIT) - St Petersburg (LED)

3,747

Source: Sabre AirVision Market Intelligence
The airline takes a relatively conservative approach to network development and while there have been some tweaks to its flight schedules this year and some additional frequencies into some markets, including a fourth weekly rotation to London Heathrow, only one brand new destination has been added to the Air Astana route map. This is the Republic of Iran's capital, Tehran, which from June 30, 2016 has been served on a three times weekly basis from Almaty using Embraer 190 equipment configured with 9 Business Class and 88 Economy seats.
Tehran was originally one of two new destinations planned by Air Astana for 2016, but its growth plans have been hit by regulatory red tape. After announcing last year plans to introduce a link between Astana and Ulaanbaatar, the capital of Mongolia, from March 2016 and latterly from June 2016, the carrier has had to cancel the launch until at least 2017 after the Civil Aviation Authority of Mongolia (CAAM) revoked its permission to serve this international route.
Foster explains that the regulators actions are "ungrounded" after the company successfully completed an audit by CCAM earlier this year and was informed that there were 'zero findings'.
"The Air Services Agreement stipulates the specific three grounds based on which Mongolia could possibly revoke the permission of a Kazakh designated carrier and none of these apply to Air Astana," he says. "I've never known a situation like this before in all my years in the industry."
However, CAAM has retained its strong stance and claims that the Kazakh carrier had not taken the full steps to acquire the certified safety approval along with appropriate permissions for landing slots and tariffs.
After CAAM had initially granted permission to start flights on the route Air Astana had already opened reservations for the Astana – Ulaanbaatar route and Foster confirms that it secured more 3,500 bookings, many planning to connect in Astana from its European routes.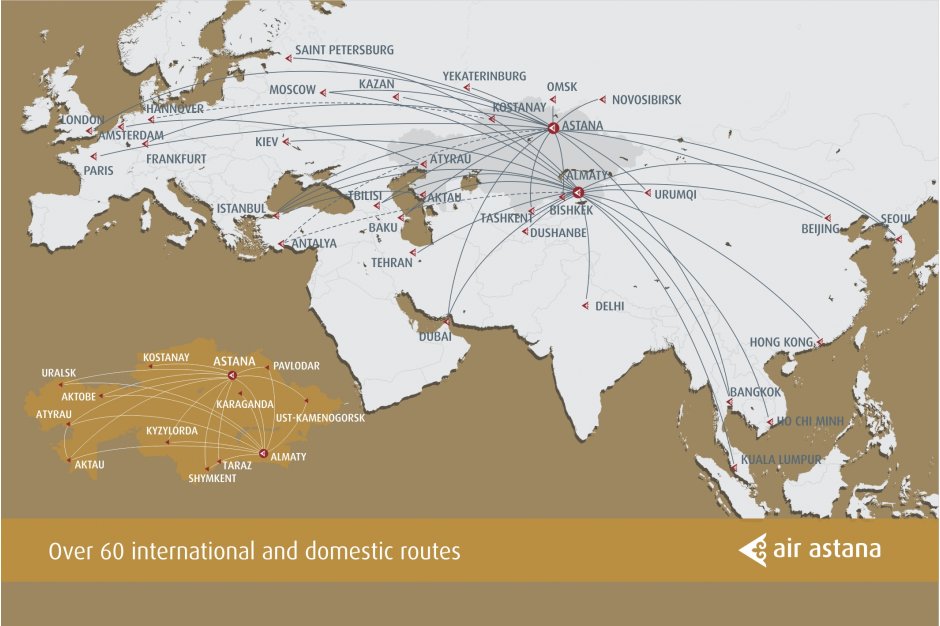 Air Astana's own network growth is being supported by an increasing number of partnerships and codeshare agreements are in place with among others Austrian Airlines (to Vienna), Etihad Airways (to Abu Dhabi) and most recently Air India (to New Delhi) and Air France-KLM (to Amsterdam and Paris).
The future direction of the airline's network strategy will ultimately be dictated by the findings of a current Seabury Advisory Group route audit, but discussions have already occurred for planned expansion over the remainder of the decade, including possible growth across Asia, the Indian sub-continent and even into North America.
It appears that World Routes host city Chengdu is the most likely destination to join Beijing and Urumqi in its mainland China network from 2017, but Shanghai is also under consideration. The airline has been exploring flights to the fast expanding Chinese secondary city for a number of years and a deal to serve Shuangliu International Airport could be formalised at this year's air service development forum. Singapore and Tokyo are also markets under consideration for future expansion across Asia.
The Indian sub-continent also offers strong potential for Air Astana, especially to support a likely push for additional transfer traffic across Russia, the CIS and Central Asia. "We have a strategic geographical advantage and the Indian sub-continent is a definite opportunity for us," says Foster.
There are already a large number of traders from India heading to Tbilisi, Georgia, using Almaty as a transit point – many of these currently fly via Moscow and some even to London, according to the Air Astana boss. "We are seriously looking at Islamabad because it is a good market for us and geography is in our favour," adds Foster, noting Pakistan and Bangladesh both have a big movement of people to the CIS and Russia and "hold vast opportunities" for the carrier.
Looking further ahead to the arrival of the first of the airline's Boeing 787-8s in 2019 and there is the potential for direct flights from Astana to points in the United States. Air Astana was originally due to receive its three Dreamliners in 2017 but deferred delivery until the end of the decade amid concerns that the devaluation of the Kazakhstani tenge would dampen demand.
Foster confirms that these aircraft will arrive in 2019 (two aircraft) and 2021 and remain tentatively ear-marked to launch flights to New York, although any future middle-of-market project from Boeing could lead to a revised avenue for development.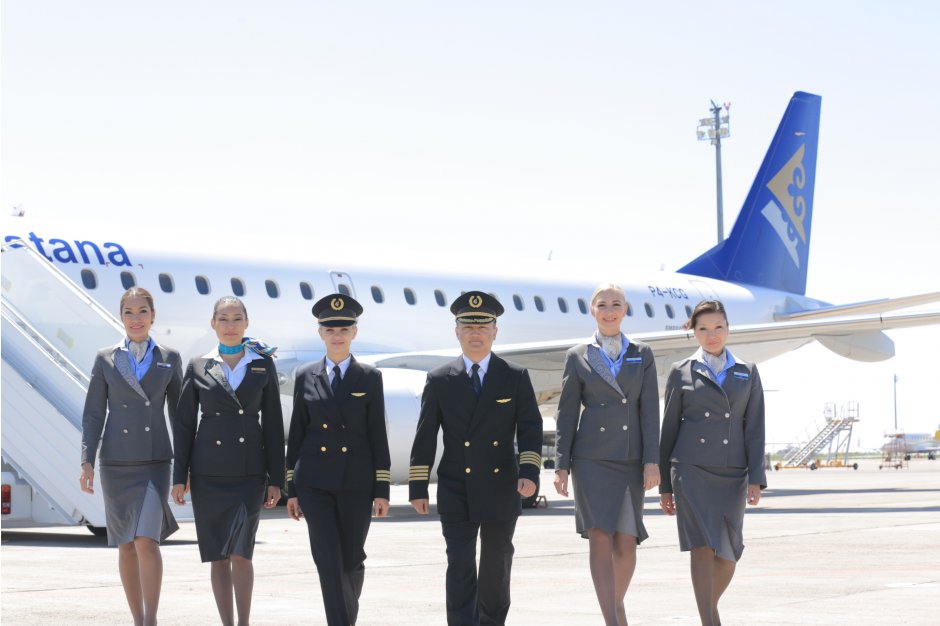 The airline's 767-300ER fleet are among the last aircraft off the production line and with reconditioned Pratt & Whitney PW4000 engines and winglets already provide good operational efficiency on routes into Europe. This means that it does not have any immediate requirement to replace these widebodies with new equipment.
It is a different story for the airline's 757-200 fleet though and with Boeing slow to confirm any new middle-of-market option, Air Astana has turned to Airbus to replace its five-strong 757-200 fleet and retain commonality with the new A320neo Family airliners that will serve its short- and medium-haul routes.
The airline's 757s are older than the carrier itself and have been in service for between 17 and 21 years having originally flown with German leisure airline LTU, US operator American Trans Air and China Xinjiang Airlines in North Asia. They will be replaced by four A321neoLRs from 2019 as Air Astana becomes one of the first operators of the new variant, which is designed to offer the longest range of any single-aisle aircraft.
"In terms of product, in terms of range, in terms of operating cost efficiency, these aircraft are going to take Air Astana to a new level. These aircraft will allow us to operate almost all of our network: domestic, regional and also our long-haul services to Europe and Asia with one common family of aircraft," says Foster.
In fact the A321neoLR will be able to directly replace the 757 on all but one of its routes, offering exactly the same seating configuration (16 lie-flat Business Class and 150 Economy seats), but providing significant cost savings and enhanced operational efficiency.
The 757s are currently mainly used on scheduled flights to Antalya, Bangkok, Frankfurt, Ho Chi Minh City, Hong Kong, Kuala Lumpur, London, Paris and Seoul and Urumqi. "We can use the new aircraft on all our current routes with the exception of Almaty – Kuala Lumpur which is beyond the range of the aircraft," says Richard Ledger, vice president worldwide sales, Air Astana. "We will likely grow fully to the 767-300ER in this market."
The next big fleet decision for the airline will be the replacement of its Embraer 190 fleet. Although the type has only served with the carrier for five years, the first examples will be coming off lease in 2019. The new 'E2' modernised version of the airliner is certainly a favourite, but Foster acknowledges that you can't discount the Bombardier CSeries. "We have to consider the CSeries now that the Delta Air Lines order has guaranteed the programme and it is now a real aeroplane," he says.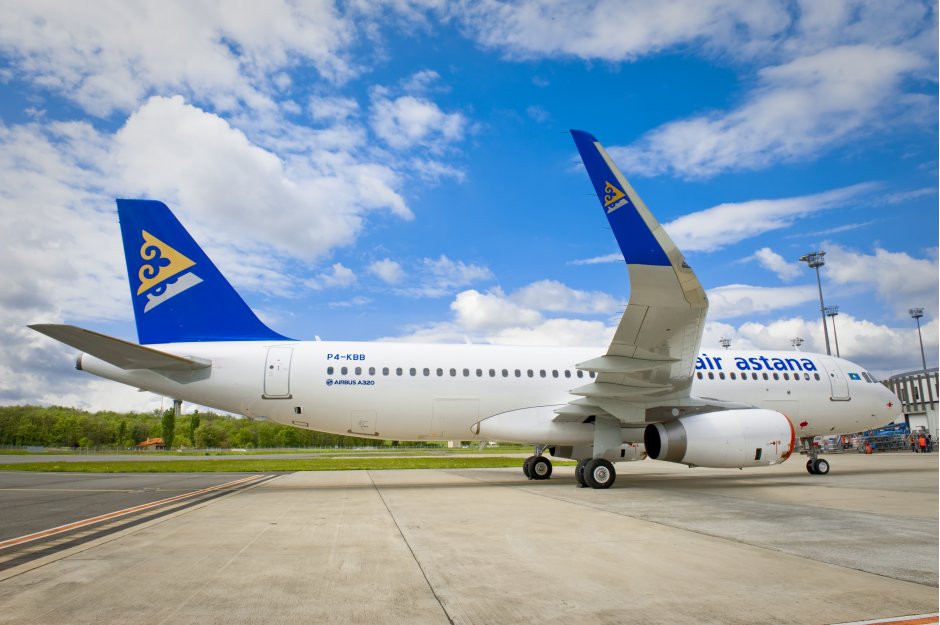 Air Astana expects to appoint advisory investment bankers by February 2017 to support a shareholder goal to complete a public listing in 2018. The proposed dual-listing Initial Public Offering (IPO) will dilute the shares of both Samruk-Kazyna, Kazakhstan's sovereign wealth fund (51%) and BAE Systems (49%).
"We're hoping to do a public listing of the company somewhere between March and October of 2018, and that has to be a dual listing," says Peter Foster, president and chief executive officer, Air Astana. "By law, there has to be a listing in Kazakhstan, but since the domestic market is illiquid, there will be a concurrent secondary listing in either London, Hong Kong or Singapore. London is more likely since it is quite well geared up to handle investment in this part of the world."
The Kazakhstan government is looking to privatise several national companies to balance the resource-rich nation's budget deficit caused by the sharp plunge in oil and gas prices, which has stalled Kazakhstan's economic growth.
Local rules require entities seeking public listing to maintain the majority of their shareholding in Kazakhstan and means that 51% of the airline has to remain in Kazakhstani hands, though not necessarily held by the government.
"We think that it's likely that BAE would want to realise some value out of their shareholding. By the time the IPO happens, the shareholders would've been holding for 16 years," adds Foster.
The former Cathay Pacific, Philippine Airlines, Qatar Airways and Royal Brunei Airlines executive said it is too early to confirm the proposed fund-raising target of the IPO but suggested that between 30% and 50% of the airline's equity could be made available through the process.
What is certain is that the second half of this year will see the continued evolution of the Air Astana offer and brand. The first of its A320neos will arrive from September 2016 (deliberately delayed from May 2016 due to the new airliner's engine performance issues), a new onboard Wi-Fi system will be rolled-out on the 767 fleet and even a revision to the airline's corporate brand and livery is in the pipeline.
This article is modified from an original feature that appeared in...

ROUTES NEWS - ISSUE 6, 2016

PLEASE CLICK HERE to view the magazine.