Singapore's Changi Airport was announced as the overall winner of the World Routes Awards 2016 which were formally announced during the forum's Networking Evening event which took place in the stunning New Century Global Center, the world's largest standalone structure by floor capacity.
Speaking to Routesonline just after receiving the highly regarded accolade Ching Kiat Lim, managing director, air hub development of Changi Airport Group said: "We are very appreciative to win this award which recognises all the efforts of our team and our airline partners without whom we wouldn't be where we are today. We work hard to make our partnerships work and this is a great accolade to mark our continuous efforts to develop Changi Airport."
The Asian hub was recognised for how it seeks strategic partnerships with local governments, tourism boards and even other airports around the world to establish common understanding, as well as to learn from partners, best practices to develop tourism and traffic flows between Singapore and markets around the world. They are also innovative and explore new business segments, such as self-service transfers and fly-cruise models to diversify business and sustain continued growth.
"Changi Airport has been, and will always be committed to growing together with our family of airlines. We will continue to seek innovative ways of marketing our home, our air hub, and look forward to more exciting years ahead with our invaluable partners," added Ching Kiat Lim.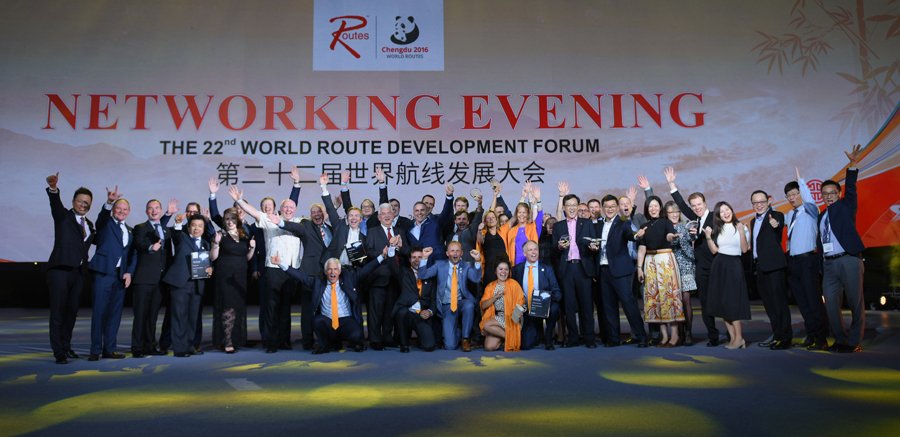 The awards, which are voted exclusively by airlines, are split into five categories comprising of four airport categories, split by size and a destination category for the best destination marketing campaign by a tourism authority.
Singapore Changi Airport was also named as the winner in the over 50m passengers category, while Shannon Airport was honoured in the Under 4m passengers category; Athens International Airport in the 4m-20m Passengers category; Dublin Airport in the 20m-50m passengers category and Tourism and Events Queensland in the destination Marketing category.
Singapore's Changi Airport is the sixth busiest airport in the world by international traffic and works to an ethos that an airport's success is deeply inter-twined with that of our airline and trade partners. Over the last couple of years it has attracted numerous new airlines and even old partners back to the hub facility, as well as crossing the 55 million mark in passenger traffic in 2015.
Watch highlights from the Networking Evening, including the awards
Created in 1997 to recognise excellence in airport marketing as rewarded by airlines, the annual Routes awards provide the airline community with the chance to have their say as to which airport they think provides the best overall marketing services to them.
"We're delighted to mark the achievements of all of our nominated airports and destinations in our annual World Routes Marketing Awards. Year-on-year we are impressed by the calibre of the submissions," said Adrian Newton, group director, UBM EMEA who presented all the awards.
In addition to the shortlisted finalists nominated by the airlines, the overall winners from each of the regional Routes events from 2016 automatically gained a place in the final judging (Nassau Paradise Island Promotion Board, Auckland Airport, Amsterdam Airport Schiphol and Cape Town International Airport).
A respected panel of judges made up of senior members of the airline network planning community then reviewed the lists and submissions from the nominated airports in order to determine the winners.
The panel consisted of the following experts:
Ole Orver, airberlin
John Kirby, Alaska Airlines
Jason Reisinger, American Airlines
Juha Jarvinen, Finnair
Andrew Cowen, HK Express
Eyad Birouti, Royal Jordanian Airlines
Jeroen Erdman, Transavia
Hope Antzoulatos, Virgin Australia
The full list of companies shortlisted under each award category were as follows:

Overall Winner
Singapore Changi Airport

Over 50 Million Passengers
Singapore Changi Airport

- Winner

Amsterdam Airport Schiphol

- Highly Commended
Bangkok Suvarnabhumi International Airport
London Heathrow Airport

20 - 50 Million Passengers
Dublin Airport

- Winner
Brussels Airport - Highly Commended
Copenhagen Airports A/S (CPH)
Munich Airport
Vancouver Airport Authority
4 - 20 Million Passengers
Athens International Airport S.A. - Eleftherios Venizelos

- Winner
Auckland Airport - Highly Commended
Calgary Airport Authority
Cape Town International Airport
Mactan-Cebu International Airport (GMR Megawide Cebu Airport Corporation)


Under 4 Million Passengers
Shannon Airport - Winner
Cork Airport -

Highly Commended
Aruba Airport Authority N.V.
Belfast City Airport
Halifax International Airport Authority
Destination Award
Tourism and Events Queensland - Winner
Nassau Paradise Island Promotion Board

-

Highly Commended
Algarve Tourist Board
Polish Tourist Organisation
Tourism Australia

Tourism Ireland