The UK and China have agreed to more than double the number of flights allowed to operate between the two countries, following successful negotiations in London this week. The move is set to boost tourism and trade opportunities for the UK and could see more Chinese cities being served from London and new direct flight flights from other cities, including Birmingham, Manchester, Edinburgh and Glasgow.
Under the new deal passenger flights can now increase from the current maximum of 40 per week for each nation to up to 100. There will be no limit on the number of all-cargo services, creating new opportunities for trade and businesses. A restriction on the number of destinations that airlines can serve has also been lifted, meaning services can be operated between any point in the UK and any point in China. Up until now, airlines could only serve six destinations in each country.
"This deal is a big moment for the UK. Strong connections with emerging markets like China are vital for us if we are to continue competing on the global economic stage," said UK Transport Secretary, Chris Grayling.
"Hundreds of thousands of Chinese people visit the UK every year, spending hundreds of millions of pounds. Raising the number of permitted flights between the two countries will provide massive opportunities for our businesses, helping increase trade, create jobs and boost our economy up and down the country," he added.
The outbound China market is a key target for destinations across the world. Chinese arrivals into the UK in 2015 were up 46 percent on 2014 to almost 270,000 and their spend increased by 18 percent to £586 million during the same period, moving China into the UK's top 10 most valuable inbound markets.
Although a number of Chinese airlines are lining up to introduce flights into the UK, the European nation's long-haul operators British Airways (BA) and Virgin Atlantic Airways have shown a reluctance to expand into China. The last new Chinese route to be added by the carriers was a link from BA to Chengdu in September 2012 but it has trimmed capacity on the route (UPDATE - BA has now suspended reservations for the Chengdu route beyond January 15, 2017).
Capacity constraints at London Heathrow may limit growth opportunities from the UK's main hub, but the new agreement will certainly help other airports fulfil ambitions to gain direct connectivity into China. This year Hainan Airlines has introduced scheduled flights between Beijing and Manchester and Tianjin Airlines a link between Tianjin, Chongqing and London Gatwick. The Hainan Airlines link is estimated to provide £250 million in economic benefits to the UK over the next decade.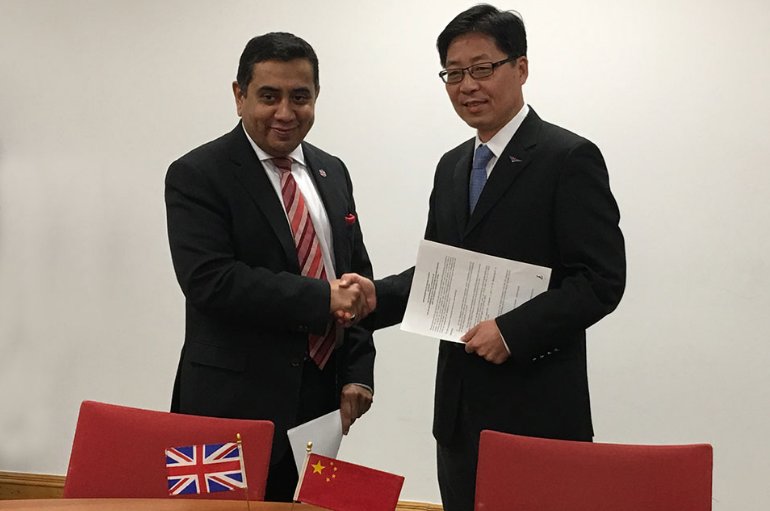 The senior management and air service teams at London Gatwick, London Stansted, Birmingham, Glasgow and Edinburgh airports have especially invested heavily in securing a China service, while Manchester is hopeful of now adding to its single link with Air China already selected as the designated carrier for a potential Shanghai – Manchester route, which could now be formally launched within the coming weeks and realistically start in March 2017.
Gatwick Airport's chief executive officer, Stewart Wingate said the London facility is "well-placed" to gain from the current capacity constraints at Heathrow following the signing of this agreement. "With Gatwick already operating new and exclusive links to important Chinese growth markets, alongside more than 50 long-haul services, Gatwick is well positioned to further boost links between China and the UK thanks to this deal and demonstrate Britain remains well and truly open for business," he said.
A direct flight between Scotland and the world's fastest growing economy is seen as the Holy Grail for the country's aviation sector, with the Scottish Government and business community eager to lure a Chinese carrier to boost Scottish exports and drive more lucrative Chinese tourism and investment into Scotland. Chinese tourists are the highest spending visitors to Scotland, expected to be worth some £30.8 million by 2021.
Francois Bourienne, commercial director at Glasgow Airport, said this Air Service Agreement announcement is an "important step" towards Scotland securing a direct flight to China. "The commitment to increase the number of services will make it easier for Chinese carriers to establish new services and as the economic powerhouse of Scotland we believe Glasgow is best placed for a direct link," he said.
Glasgow is home to the largest Chinese community in Scotland and welcomes more than 4,000 Chinese students every year. A number of major Scottish businesses have a presence in China and both Edinburgh and Glasgow officials will continue to liaise with China's airlines to state the case for a direct service to Scotland's largest cities.
Higher incomes have allowed millions of Chinese to start taking holidays outside their country. The World Tourism Organisation estimates 100 million Chinese will leave their country on holiday this year. While Asian countries make up the top five destinations, France, Italy Switzerland and Germany are also in the top 10.
The UK has proved less popular, as it is outside the EU's Schengen single-visa bloc. In a bid to boost visitor numbers, the UK introduced a new two-year visitor visa for Chinese nationals in 2014. The new visa costs £85, the same as the previous six-month visa, and enables holders to make multiple trips to the UK.
There are currently six routes between UK and China served by seven airlines that link three UK airports with six Chinese cities. BA offers flights from London Heathrow to Beijing, Chengdu (although it is not currently accepting reservations beyond January 15, 2017) and Shanghai; Air China between London Heathrow and Beijing; China Eastern Airlines and Virgin Atlantic Airways between London Heathrow and Shanghai; China Southern Airlines between London Heathrow and Guangzhou; Hainan Airlines between Manchester and Beijing and Tianjin Airlines between London Gatwick and Chongqing with continuation to Tianjin.
According to UK Civil Aviation Authority (CAA) data, the traffic flying between the UK and mainland China exceeded the one million passenger milestone last year (1,079,250), up 10.8 percent on the previous year. Preliminary numbers for the first half of 2016 show a growth of 12.0 percent versus last year, with double-digit growth in five of those six months.
Data from AirVision Market Intelligence from Sabre Airline Solutions shows an estimated 2,350 PPDEA flying between the UK and China over the past year (12 months to August 2016), an annual O&D demand of around 1.7 million passengers and worth around $1.16 billion.