Air France-KLM targets improvement with Boost
CEO Jean-Marc Janaillac has launched an initiative to tackle the airline's issues head-on, mainly cutting costs and growing long-haul operations. Air France-KLM returned to net profit for the first time in six financial years last year, turning a net loss of €225 million in 2014 to a positive net result of €118 million.
Air France-KLM have revealed their new project, which outlines plans to target market growth in the long-haul, improve efficiency and connectivity of the hubs they operate and create a new company alongside Air France, to be called 'Boost'.
The 'Trust Together' announcement has been unveiled alongside its third quarter results, and is designed to restore trust within the airline group following the issues of the Perform 2020 plan. The company previously said "restoring trust within the group is an absolutely vital part of implementing the changes that are needed to return the company to good health".
The initiative has been put forward by CEO Jean-Marc Janaillac, who took over in May of this year following the resignation of Alexandre du Juniac. Janaillac has been vocal in what he feels are failings of Air France-KLM, which he is hoping to rectify. Upon taking the job, Janaillac asked for four months to get a better understanding of what needs to be done.
Janaillac said: "With Trust Together, Air France-KLM regains the offensive with a project which is both ambitious and realistic. It will enable us to capture our share of air transport industry growth by improving the competitiveness of our businesses. With our nine strategic prioirties, we shall be fighting back on every front. Our strength lies in the fact that we are challengers. The status quo is not an option. We must launch a new dynamic return to return to a leadership position in our markets."
The nine strategic priorities are:
Regain the offensive in long-haul
Improve the efficiency and connectivity of the hubs
Develop the point-to-point markets on departure from the French and Dutch home markets
Strengthen the growth of the maintenance business
Defend the cargo business in support of the passenger activities
Reinforce the competitiveness and the utilisation of aircraft
Further develop the customer relationship to create more value
Optimise organisational structures and gain agility to facilitate the initiatives and accelerate innovation
Pursue lobbying initiatives in Europe and France directed at more equitable competition
The long-haul network has a targeted growth of between two and three percent per year to 2020, which will see alliances and commercial integration with partners, along with investment in existing tools. The new product, dubbed Boost, has been created to drive growth at the Charles de Gaulle hub.
As announced today, Boost will be "focussed on ultra-competitive markets and will enable the group to go on the offensive by opening new routes, re-opening routes closed due to their lack of profitability and maintaining routes under threat". However, contrary to industry speculation it will not be a low-cost carrier.
Boost will help the Paris hub gain "renewed dynamism" with its simple offer on the medium-haul network, whereas the Amsterdam hub will be reinforced by closer coordination between Transavia and KLM through new joint commercial approaches, fleet investment and network development.
The priority for Transavia will be growth in French and Dutch home markets. From next year, HOP! Air France and Transavia will be the only brands in the group offering point-to-point short-haul and regional operations in the French market.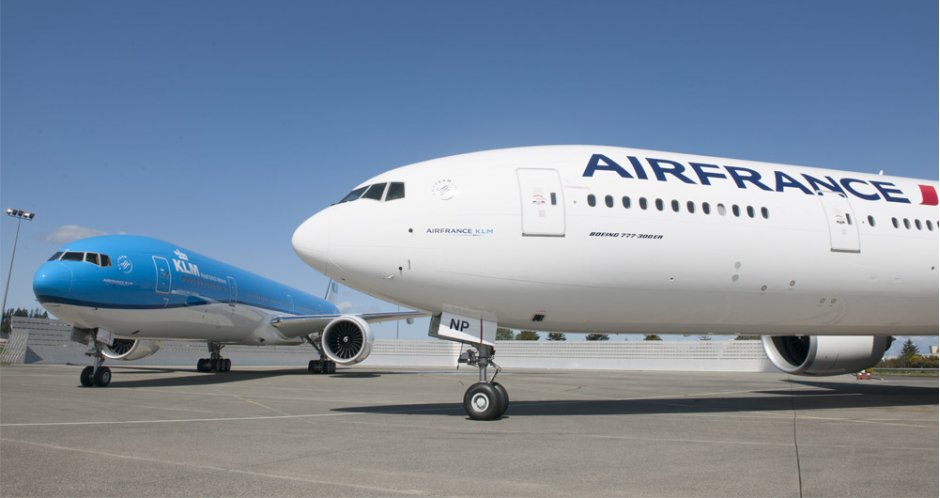 Air France-KLM's financial struggles have been no secret. As posted in their full year results for 2015, the carrier returned to profit - the first time since 2011. They posted a positive net profit of €118 million from a net loss of €225 million in 2014. Much of the loss was attributed to pilot strikes, without which an operating profit of €296 million would have been reported by Air France-KLM.
The Perform 2020 plan was to "go looking for growth where it exists" in order for Air France-KLM to reinforce its position as a world major with European foundations. The Europe-focussed project had ambitions to report more than €1 billion of savings over a three-year period to 2017. It was widely reported that the airline was at risk of being a second tier player in the aviation industry.
"We are lagging behind in terms of competitiveness. Since we are a legacy carrier, we are old, with many layers of management. We are not agile and lean enough to be innovative. We need to reduce our unit costs and continue our productivity efforts in order to grow."

Jean-Marc Janaillac
Air France-KLM
Rebuilding trust within the airline group follows the tension that built during the Perform 2020 era. Just a year ago, an employee meeting turned violent due to proposed job losses at Air France. Arguments have been raised about pilots at the airline being overpaid, where costs could be cut. Financial analysts have claimed cutting costs at the airline would mean Air France-KLM would be more in line with fellow European carriers as opposed to giving them a competitive edge.
In September, Air France-KLM's traffic rose 2.8 percent to 8.5 million passengers for the month, with Transavia transporting 1.5 million after expanding its Munich base. Capacity for the northern winter season will see a 3.7 percent increase with an additional 52 services, most of which will be performed by Transavia.
Long-haul services will increase by two percent, including the revival of the Amsterdam – Miami route, and a twice-weekly service to San Jose from Paris Charles de Gaulle. By the end of the winter season, KLM will have 78 Boeing 787 aircraft in its fleet, and Air France will introduce their first 787 at the start of January.
Last month, Air France-KLM expanded codeshare agreements with Jet Airways and China Eastern, as reported on Routesonline by Airlineroute.