Germania is 30 years young as it celebrates milestone with a new fleet
Although flying relatively under the radar for 30 years, Germania actually carries more than 2.8 million passengers per year from 20 departure airports in Europe to over 40 destinations within the continent, North Africa and the Middle East on a mix of charter and scheduled routes.
Independent German carrier, Germania has operated under the radar, but celebrates 30 years of flying on short- and medium-haul flights, with its distinctive green and white livery, a promise of excellent quality and efficiency to its predominantly tour operator customer base. The airline actually carries more than 2.8 million passengers per year from 20 departure airports in Europe to over 40 destinations within the continent, North Africa and the Middle East on a mix of charter and scheduled routes.
However, a proactive marketing is now putting the airline in the spotlight and major new aircraft order from Airbus this summer sets out its development aspirations and will provide a vehicle not just to renew the fleet but also to deliver possible capacity growth.
Unlike many other airlines that are unbundling the aviation offer, Germania continues to offer complimentary snacks, soft drinks, magazines and a minimum of 20 kg free baggage. As its name suggests, Germany has been its main focus since it launched in 1986, but its operations now extends to scheduled operations from Germany, France and the UK which take customers to destinations in the sun, major European cities and many smaller niche destinations. Its sister company, Germania Flug AG, also operates scheduled and charter services from Zurich.
"We are always looking at opportunities to grow our network and make development decisions based on a range of factors that offer a flexible solution to our partners," Andrea Mertens, senior manager commercial, Germania told Routesonline on the sidelines of the World Travel Market in London this week.
The airline is on a clear growth trajectory. It recently opened its latest base in Nuremberg - its 13th airport in Germany – and has an Airbus 319 permanently stationed there this winter offering flights to the likes Fuerteventura, Gran Canaria, Lanzarote, Tenerife and Madeira. A second aircraft, a Boeing 737, will be added in Summer 2017, enabling flights to 13 destinations in total, including Palma, Faro, Ibiza, Reykjavik, Samos, Rhodes and Paphos, Ankara and Dalaman. In addition, connections from Nuremberg to Tel Aviv in the second half of 2017 are already available for booking.
"We are consolidating our network and are creating more opportunities to interchange our aircraft," said Mertens. "For more than three decades, Germania has been a partner of decentralised airports. We are well positioned as a quality airline within the local competitive environment which we will continue to expand and strengthen."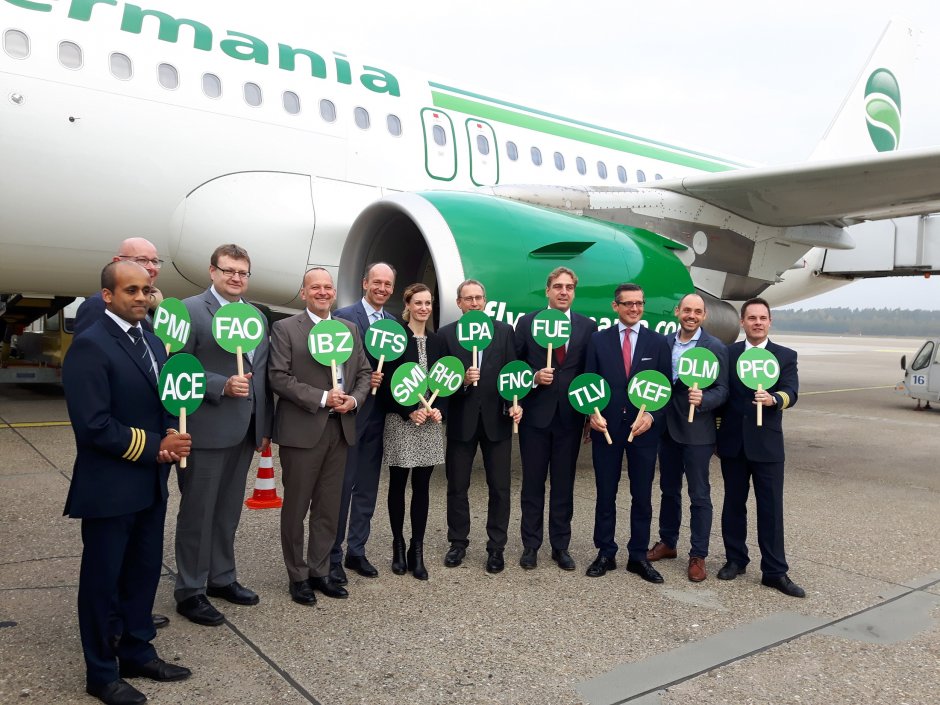 Germania will also add a further A321 to its existing stock at Munster-Osnabruck and a Boeing 737 will be in place at Erfurt-Weimar airport. This will bring Germania Group's total number of aircraft to 29. Within the UK, Germania will continue to operate charter flights on behalf of some of the biggest names in the travel business, alongside scheduled flights from London Gatwick to Pristina, Kosovo.
Earlier this month, Germania became the first German airline to fly to Sharm El Sheikh in Egypt since the end of the temporary flight ban imposed by the German Department of Tourism. Through to June 2017, the airline will fly weekly from each of Munich and Dusseldorf in Germany to the beach and diving paradise.
"After careful analysis and evaluation of the situation in Sharm El Sheikh, Germania is responding to requests received from tour operators and has reintroduced regular flights," said Mertens. "The airport's safety procedures have been considerably improved over recent months and are now in line with international requirements."
However, operating a current mixed fleet of Airbus and Boeing single-aisle jets is "a challenge", acknowledged Mertens, but its firm commitment with Airbus for 25 A320neo jets will bring commonality and drive cost and efficiency savings. The aircraft will arrive over a three year period from 2020 with ten aircraft due that year, five in 2021 and ten in 2022. Options for a further 15 aircraft could drive growth with deliveries in 2023 and 2024 if firmed.