Iceland has become one of the hottest destinations for new travellers in recent years and national carrier Icelandair said its independent stature in the global aviation market has helped it to successfully grow its network capacity to record levels. The carrier is adding two new destinations in the United States next year, Philadelphia and Tampa, which will take its number of North American routes up to 18 flying through its Reykjavik hub at Keflavik International Airport.
Speaking to Routesonline at the World Travel Market in London this week, Helgi Mar Bjorgvinsson, senior vice president of marketing and sales at Icelandair said that by having no allegiances to individual alliances has allowed it to entertain many cross-grouping codeshare and sales agreements.
"We are happy to be independent and this has allowed us to explore partnerships with the likes of JetBlue Airways in the US and SAS Scandinavian Airlines in Europe to add further feed to our Transatlantic network," he said.
The airline has taken advantage of mid-range Boeing 757 fleet and Iceland's geographic position to establish itself as a key player in the transatlantic market. "With a small home market we have had to think differently," Bjorgvinsson explained. This has seen its Keflavik International Airport base become a transfer hub between Europe and North America and which now accounts for more frequencies into Canada and the US than all of the Nordic and Scandinavian hub gateways together.
"We still opportunities to grow, available seat kilometres (ASKs) will be up by almost a third in 2017 and alongside our new markets we will also be growing frequencies in our existing markets," said Bjorgvinsson.
Part of this growth will be facilitated by the arrival of two additional larger Boeing 767s which are substituting for the 757 in many markets. "The 767 is ideal in constrained markets where we need to maximise the capacity we are offering in the market. We are using the aircraft mainly for this, such as slot constrained airports like London Heathrow. It does also offer us an enhanced range option, although it is not something we are currently taking advantage of," added Bjorgvinsson.
The additional widebodied aircraft will be followed from spring 2018 by the arrival of the first of Icelandair's new Boeing 737MAX airliners, which will be partly used for replacement and growth. The airline has ordered 8 737 MAX 8 aircraft seating 153 passengers and four 737 MAX 9 aircraft, seating 172 passengers. This compares with 183 seats currently offered onaboard Icelandair's current 757-200 which they will replace.
"We have a lot of flexibility with the new aircraft," said Bjorgvinsson. "As we own our 757 fleet we are not restricted by lease return dates and we also have the option of moving them into our sister Loftleidir Icelandic ACMI operation. This means we can react quickly to market conditions. We have yet to confirm routes for the aircraft, but it is likely they will serve shorter length markets to the 757 initially, such as Minneapolis/St Paul in the US."
The new aricraft will increase flexibility and the capability for growth. The 737MAX can reach destinations on both sides of the Atlantic and gives Icelandair new options for added frequency and destinations, especially in winter to even out seasonality. However, the 757 will remain a key part of its fleet with the range to reach west coast US destinations.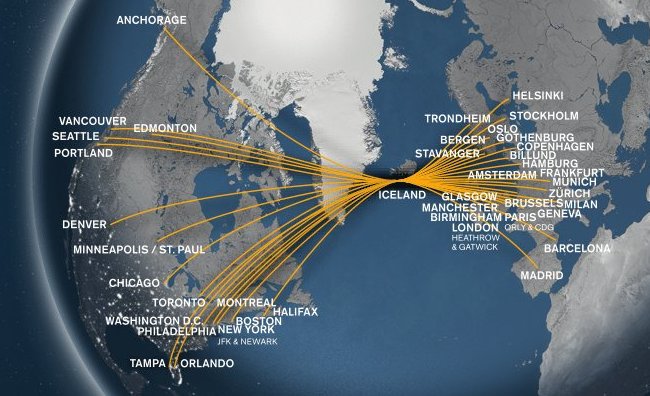 Icelandair will launch its new route to Philadelphia on May 30, 2017 initially as a summer-only route through to September 20, 2017, although it is planned to grow to a year-round operation. The twice weekly Tampa service, adding to an existing Florida link into Orlando will launch from September 7, 2017, growing the airline's Florida offer to a daily rotation.
The 18 strong North American network is balanced by 26 destinations across Europe, an area that Icelandair feels is well served, but frequency growth across the Continent will drive a 11.5% increase in seats in the coming year.
"This growth is mostly through added frequencies – new destinations only account for about 1% or 2% of this growth," said Þhorsteinn Gudjonsson, general manager – Western Europe, Icelandair.
One way that Icelandair has successfully competed against non-stop and other direct flight options across the Atlantic has been through promoting stopovers in Iceland, a market that continues to grow since it was first introduced back in the 1960s. The up-to-seven night stay at no additional cost to airfares allows travellers to explore Iceland while en route between points in Europe and North America.
Last winter the airline added a Buddy Service innovation to this offer, a free service that provides visitors the chance to see Iceland through the experienced eyes of an Icelandair employee who acts as their personal host for up to one day.
"This has proved a very popular innovation," said Bjorgvinsson. "It has allowed us to differentiate our product versus rivals, while at the same time offering a truly Icelandic experience."