United Arab Emirates (UAE) carrier Emirates Airlines has confirmed it has adopted a new 516-seat configuration for future Airbus A380 deliveries. The revised layout of 14 First Class, 76 Business Class and 426 Economy seats debuted on the airline's 85th aircraft, which was delivered last month and will support its plans to deploy the Super Jumbo on more ultra-long-haul routes.
Since its delivery on October 25, 2016, the aircraft, registration A6-EUG, has been mainly used on Emirates' Dubai – Sydney – Christchurch route, albeit it has this week also flown the Dubai – Toronto route.
As part of a fleet renewal which has now seen the Gulf carrier retire the last of its A330 and A340 aircraft from commercial operation, Emirates confirmed it will receive seven of the newly configured new-generation A380s this fiscal year, with 51 more on order. It is due to take delivery of its latest A380 on December 2, 2016, but the airline is having some unspecified technical issues with the engines for the aircraft. This is the first aircraft for Emirates Airline powered by Rolls-Royce engines, versus the Engine Alliance (a joint venture of General Electric and Pratt & Whitney) option that currently powers its in service fleet.
While maintaining its onboard lounge and First Class shower spa as part of an unchanged upper deck configuration, the airline will incorporate an additional 25 Economy Seats on the main deck through the relocation of the crew rest area, making it a total of 426 seats on the lower passenger deck.
Since January 2015, Emirates has retired 18 A330 and 5 A340 aircraft as part of a modernisation of its fleet. The last of the airline's A330s, registration A6-EAK was retired earlier this month having flown over 60,000 hours travelling close to 45 million kilometres in 14.5 years with the carrier. That distance is equivalent to almost 60 return journeys between the Earth and the Moon.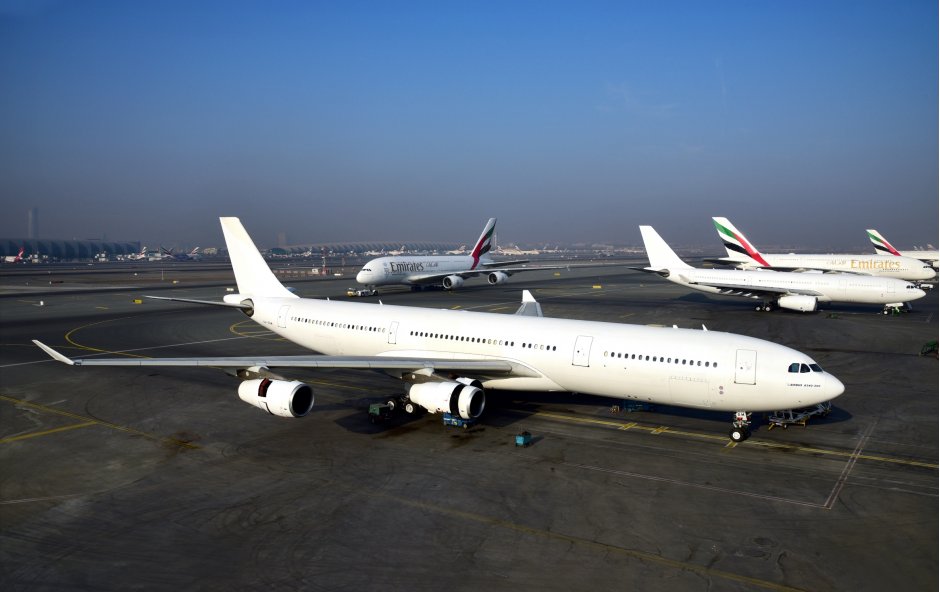 Its fleet renewal will continue in 2017 and 2018 with 25 older aircraft being replaced with new equipment to ensure its operating fleet remains modern and efficient. This will be based purely around the Boeing 777 and A380 fleet types. In the full 2016 calendar year Emirates will have taken delivery of 36 new aircraft - 20 A380s and 16 777, including the first of its next generation Boeing 777-300ER aircraft - with upgraded business class seats and other features including a two percent lower fuel burn ratio – which is due later this month.
The aircraft will be the first of six new generation 777-300ERs due in the fiscal year and 27 in total on order. The new aircraft will feature enhanced Business Class seats which recline to 180-degree fully flat beds of 78 inches in length, an in-seat minibar and a larger inflight entertainment screen in Business Class at 23 inches. The aircraft will also have an upgraded seat configuration with two additional seats in Economy Class taking the cabin capacity 306 and overall capacity to 356 seats.
The Emirates Group has announced a marked decline in profits in its half-year results for 2016-17. The Group held steady on revenue, but profit was hit by the double impact of a strong US dollar and challenging operating environment for the airline and travel business. The airline's revenue was down one percent to AED 41.9 billion (US$11.4 billion) with passengers numbers hitting 28 million, up nine percent, on overall capacity expansion of nine percent. At the Group level revenue was up one percent to AED 46.5 billion (US$12.7 billion), but profits slipped a significant 64 percent to AED 1.3 billion (US$ 364 million).
Speaking at the recent World Travel Market in London earlier this month, Sir Tim Clark, president, Emirates Airline suggested that the bleak global economic outlook appears to be the new norm, with no immediate resolution in sight after the industry has been hit by a "triple, even quadruple whammy" related to geo-political and socio-economic issues including terrorism, national elections and widespread currency fluctuations.
"It has not been one of our better years," he said. "In fact it has been a really tough year for the industry. Terrorism has particularly suppressed Asian demand into Europe, we've had Brexit, while the Dutch, French and German elections and US presidency race also impacts demand. They suppress demand and investor confidence."