Indirect traffic: The key to new routes?
What role does indirect traffic play in airlines' thinking when planning new routes? Our new special white paper examines the data behind how indirect flows influence new routes, and reveals what airports need to consider when discussing opportunities with airlines.
Indirect routes are often regarded as a pathway to successful new routes - but what are the facts behind the theory? Airport Strategy & Marketing (ASM) teamed up with Routes to explore how airlines really view indirect volumes – and whether airports need to rethink their strategy.
The theory is simple – if a critical mass of passengers are flying indirectly from point A to point B, launching a direct route will capture some of this capacity and is likely to lead to a success.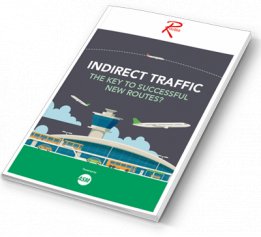 Using this rationale we at ASM have helped numerous airports create new routes, notably Aerostar Airports which we assisted in securing routes from San Juan to Scandinavia and the UK; some 28,000 passengers had previously been flying using indirect connections through US hub airports to the UK.
But to ensure we were providing the most accurate information to our clients we analysed thousands of new routes and indirect flows, and the data gave a very clear indication of what factors have most influenced airlines' decision making.
To find out more, download the full report now.