Regional carrier Air Iceland is to expand its international activity with flights to a second UK city during 2017 in partnership with its sister carrier Icelandair. The airline will introduce a three times weekly link from Reykjavik to George Best Belfast City Airport in Northern Ireland, adding to its recently launched flights to Aberdeen in Scotland.
The new route will commence from June 1, 2017 and will be operated using a 72-seat Bombardier Dash 8-Q400 turboprop. It will operate from Keflavik International Airport in Iceland, providing extensive connection options to the Transatlantic network of Icelandair from the mid-Atlantic island as well as support growing business and leisure flows into Iceland which is becoming an increasingly popular leisure destination.
With United Airlines recently closing its long-standing Newark – Belfast International route, this service will provide alternative travel options for passengers between Northern Ireland and North America through the strong and expanding network of Icelandair in the US and Canada.
"Belfast is a vibrant fast growing city with great business and leisure opportunities and we are happy to be able to offer our customers this exciting addition to our network", said Birkir Holm Guðnason, chief executive officer, Icelandair.
"Like our codeshare operation with Air Iceland to Aberdeen, Scotland, our Belfast route will be flown in cooperation with our sister company, utilising their smaller aircraft like the Q400 to create new markets and opportunities," he added.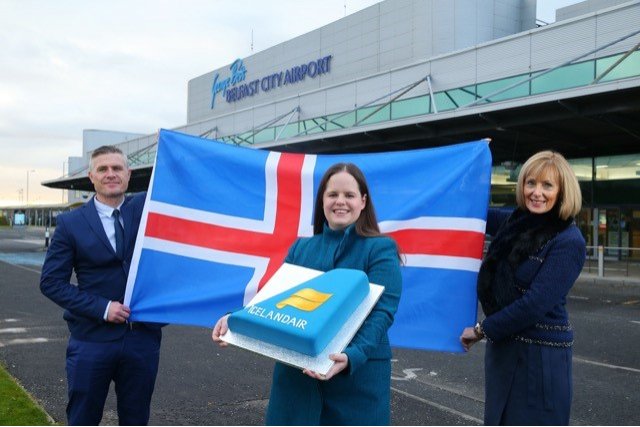 The capital of Northern Ireland, Belfast is the country's centre for government, industry and cultural activity. The city has a lively restaurant and entertainment scene supported by growing tourism and a welcoming metropolitan population of around 600,000. Next year it will be the host city for Routes Europe, which will takes place at the city's recently expanded Waterfront venue between April 23-25, 2017.
"Icelandair has a proven international pedigree and our partnership with the airline for this new service will be a hugely welcome addition to the local market for business and leisure passengers," said Katy Best, commercial and marketing director, George Best Belfast City Airport.
"This announcement comes as we approach the end of a hugely successful year for Belfast City Airport, and acts as a major fillip for the local aviation sector as we head into an exciting 2017 and the hosting by Belfast of the Routes Europe conference."
Air Iceland launched operations into Aberdeen, a former Routes Europe host city from 2015, in March this year with a four times weekly schedule. According to UK Civil Aviation Authority (CAA) data it carried almost 9,000 passengers on the route across its first six months of operation (March 2016 – August 2016) and will expect a similar stimulation in Belfast with annual flows of around 13,000 passengers.
Interestingly, analysis of passenger data using the Air Vision Market Intelligence tool from Sabre Airline Solutions suggests that around 82.7 per cent of passengers flying on the Aberdeen – Reykjavik route are flying point-to-point with the largest connection flows beyond Iceland being to New York, Toronto, Washington, Boston, and Newark.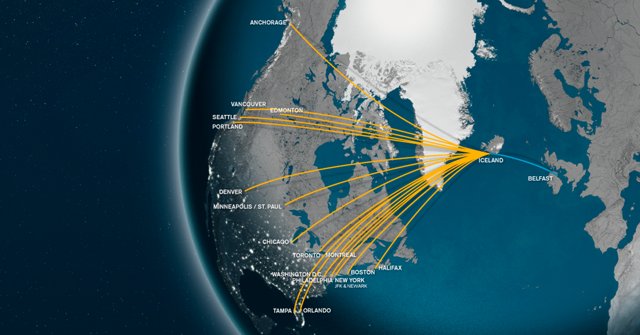 In the last year (12 months to October 2016) an estimated 130,000 passengers flew between Belfast and destinations across North America, although this does not take into account the large ground leakage into the Republic of Ireland and the greater long-haul connectivity options available from Dublin Airport.
Alongside the United Airlines operation between Belfast International Airport and Newark Liberty International Airport, which will end in January 2017, the only other non-stop transatlantic links on offer from Northern Ireland are limited schedule flights into Las Vegas and Orlando by Thomson Airways and Virgin Atlantic Airways.
The Sabre data shows that the direct United Airlines transatlantic connection was responsible for a 60.0 per cent share of this transatlantic traffic, followed by British Airways (19.8 per cent) via flights at Belfast City into London Heathrow and then American Airlines (4.7 per cent), Air Canada (4.5 per cent) and Virgin Atlantic Airways (4.3 per cent).
Interestingly, Icelandair's network of 18 destinations across North America includes ten of the top 15 destination markets in North America to and from Belfast for the year ending October 2016 and will likely go a long way to supporting connectivity once United Airlines ends its flights early next year.