Flybe gains access to Heathrow with Scotland remedy slots
The flights from Aberdeen and Edinburgh to London Heathrow will be Flybe's first ever scheduled flights into the UK's largest airport and the world's second largest international gateway, and will complement the carrier's well-established London City flights from the two Scottish airports.
UK independent regional carrier Flybe is to launch domestic flights into London's Heathrow Airport from two cities in Scotland from the start of the summer schedule in March 2017. The airline will offer up to 25 return flights per week between Edinburgh and London Heathrow and up to 20 return flights per week between Aberdeen and London Heathrow with up to four and three daily rotations on each route, respectively.
"We are delighted to announce our first flights to London Heathrow, significantly enhancing our UK domestic route network and offering even better links between Scotland and London," said Simon Laffin, executive chairman, Flybe.
"Flybe is the leading airline serving UK domestic passengers and these new services position us well to serve our passengers in both Scotland and the South East. We have long been lobbying for Heathrow to offer more opportunities for domestic flights to enhance regional connectivity," he added.
These will be Flybe's first ever scheduled flights into the UK's largest airport and the world's second largest international gateway, and will complement the carrier's well-established London City flights from the two Scottish airports. It has been able to gain access to the capacity constrained airport and secure these lucrative slots due to European Commission requirements post International Consolidated Airlines Group's acquisition of bmi british midland, however significant restrictions are in place on their usage.
"The new routes to Heathrow complement the existing ones we operate to London City, and will benefit our business customers and customers in Scotland who want to connect with our long haul codeshare partners"

Simon Laffin
Executive Chairman, Flybe
Under the terms of the original approval of the IAG-bmi deal, the European Commission had demanded IAG release 14 daily slot pairs at London Heathrow in order to facilitate new entry. These comprise seven slot pairs to facilitate new competition between London Heathrow and either Edinburgh and/or Aberdeen and five daily slots to be used between London Heathrow and Nice, Cairo, Riyadh, Moscow, Edinburgh and/or Aberdeen.
Flybe says its new Heathrow operation will grow its inventory to up to 18 flights a day between London and Edinburgh, and 10 between London and Aberdeen. "The new routes to Heathrow complement the existing ones we operate to London City, and will benefit our business customers and customers in Scotland who want to connect with our long haul codeshare partners," said Laffin.
The domestic slots were originally allocated to Virgin Atlantic in 2012 and alongside its own slots at Heathrow were used to introduce domestic flights from Aberdeen, Edinburgh and Manchester under the Little Red brand using Airbus A320 equipment wet-leased from Aer Lingus. This operation failed to develop sustainable returns for Virgin Atlantic and was closed during 2015.
The long-haul airline said the operation was launched "as an attempt to reintroduce consumer choice on key domestic services" after British Airways' takeover of bmi gifted them a monopoly on these routes but unfortunately it had "not been able to make a positive contribution to Virgin Atlantic's network".
The routes were expected to provide important feed to Virgin Atlantic's long-haul flights out of Heathrow. However, according to the carrier, the demand had been predominantly in direct – point-to-point – customers rather than anticipated connecting traffic. In fact our and our analysis of demand data suggested that as little as five per cent of passengers on the two routes from Scotland were connecting in London to Virgin Atlantic's wider network.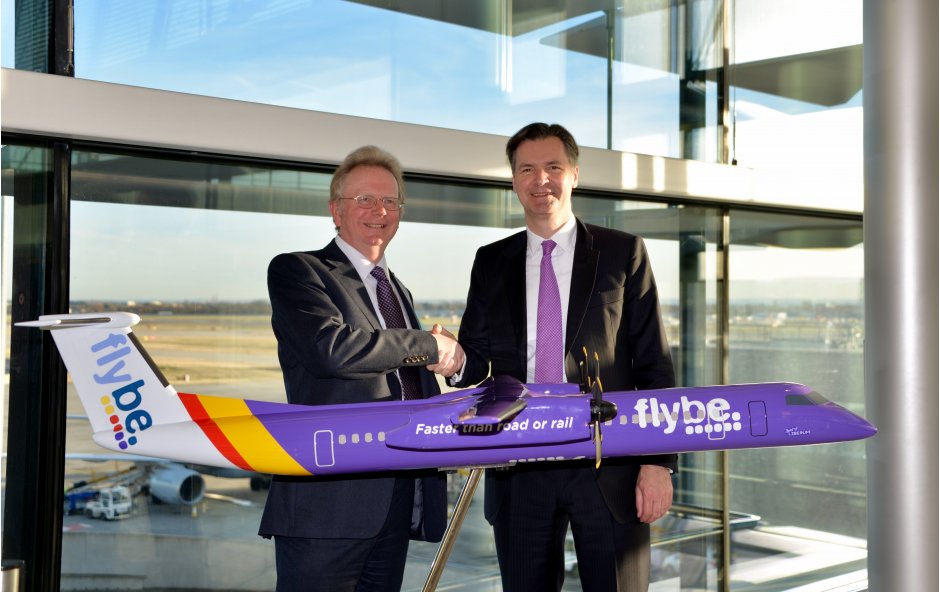 Flybe will be using Heathrow's Terminal 2 and says it will offer 'One Stop to the World' connectivity to its codeshare and interline partners. "Whilst other operators may have dismissed the possibility of further domestic routes into Heathrow, we look forward to working with the airport to further expand the range of domestic destinations," added Laffin.
The airline's tentative schedule includes early morning flights out of Scotland and late evening returns from London supporting not just transfer flows but also the strong local business traffic between the cities with same day return options. From Aberdeen, weekday flights will leave at 06:45, 15:00 and 17:20 and return services from London departing at 09:45, 18:05 and 20:20. From Edinburgh, weekday flights will leave at 06:00, 08:35, 15:30 and 18:00 with return services from London departing at 08:45, 11:20, 18:20 and 20:45.
Flybe's announcement shows that recent measures such as Heathrow's £10 reduction on domestic passenger charges are working to deliver improved connectivity and Scotland's cabinet secretary for economy, jobs and fair work, Keith Brown, said that other elements of an MoU with the airport could bring about further improvements in Scotland's connections to Heathrow and beyond.
"We spoke to a number of airlines to highlight the opportunities which these remedy slots bring. By taking them up, Flybe brings competition back to the routes from Heathrow to Edinburgh and Aberdeen," said Brown.
There is already strong competition between Aberdeen, Edinburgh and the London market, which also extends to ground rail services. According to UK Civil Aviation Authority (CAA) data, an estimated 1.38 million passengers flew between Edinburgh and London Heathrow and 725,000 between Aberdeen and London Heathrow last year.
Our analysis of schedule data from intelligence provider OAG shows that this past summer there were up to 90 return flights per week available between Aberdeen and London offering up to 13,000 seats each way and up to 300 return flights per week between Edinburgh and London offering over 40,000 seats in each direction. Flybe had a 6.6 per cent share of capacity in the Edinburgh – London market and a 8.1 per cent share in the Aberdeen – London market, according to the data.
The Heathrow announcement coincides with the confirmation of the appointment of Christine Ourmieres-Widener as chief executive officer at Flybe. The former boss of Irish regional carrier CityJet will take up her position on January 16, 2017 after relocating back to Europe from New York. She worked at CityJet between 2010 and 2015 having previously served as vice president international sales, general manager UK & Ireland, then vice president in New York for Air France-KLM. She most recently held the position of chief global sales officer for American Express Global Business Travel.
"I am very excited to be joining Flybe and being able to bring my industry experience and passion to the business. I look forward to working with the board and the entire team to continue Flybe's progression to becoming a more customer-focussed business, aided by the greater control the airline now has over its future fleet size. As Europe's largest regional airline, Flybe is already in a strong position and I believe can deliver significantly more over the coming years," she said.
Flybe recently called on the Government to green light Heathrow expansion so that it can start serving critical domestic routes. Destinations such as Prestwick, Liverpool, and Doncaster Sheffield are among those being looked at. The below indicative route map shows the potential domestic destinations served by Flybe from a three-runway Heathrow.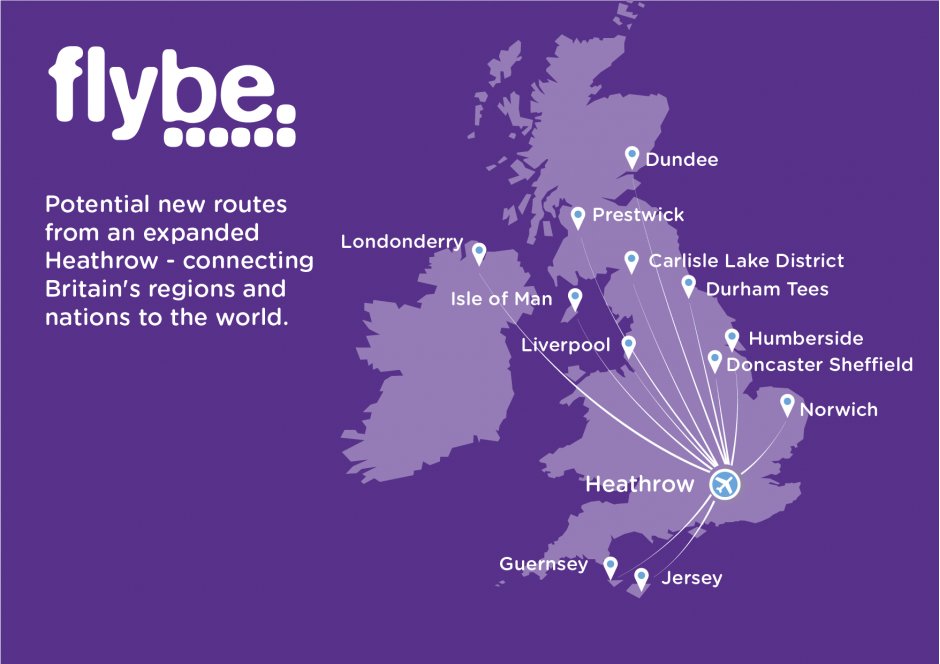 Flybe said it is heartened by the proposed plan to add another runway at Heathrow. "It paves the way for us, as champions of regional connectivity, to jump quickly into action," said an executive. "I am confident we are now in a good position to explore the viability and commercial feasibility of introducing a number of critical new routes for domestic connectivity as soon as the new slots were to become available at Heathrow, to and from where many of our codeshare partners offer seamless onward long-haul connections for regional passengers."
In the interim before additional capacity is added in 2021, Flybe said it will continue to lobby the UK government for RAF Northolt to be utilised temporarily for scheduled commercial flights. This readily available option could immediately serve to link under-served regional airports to London, either for point to point travel or for onward connections to Heathrow from RAF Northolt that is only a short drive away.
"This proposal is independent of any future plan for new airport capacity in the South East and is a solution that is available right here, right now," said the Flybe executive. "To effectively compete in a post-Brexit environment whilst a third runway is built in the South East, and in light of the new Heathrow plans, Flybe would strongly urge the Government to give an expanded Heathrow the green light. Together we can then start without further undue delay to deliver the fastest, most convenient and frequent selection of regional air services that Britain badly needs."