Return of Transatlantic link to USA brings end to record year for Kraków Airport
An announcement last month that LOT Polish Airlines will return its direct long-haul service between Kraków and Chicago from July 2017 after a seven year absence provides a fitting end to what will certainly be remembered as one of the most successful years in the airport's history.
The management team at Kraków's Saint John Paul II International Airport are reaching the end of 2016 in high spirits as it records its fastest growth in capacity in almost ten years. The airport, which hosted this year's Routes Europe air service development forum in the picturesque southern Polish city, has seen capacity and traffic grow at strong rates as it continues to invest in improving facilities to meet the increasing demand.
An announcement last month that LOT Polish Airlines will return its direct long-haul service between Kraków and Chicago from July 2017 after a seven year absence provides a fitting end to what will certainly be remembered as one of the most successful years in the airport's history.
Over the first eleven months of 2016, year-on-year traffic has grown 17 per cent to 4.59 million passengers and will likely end the year just under the 5 million figure. This growth has been driven by enhanced connectivity with available seats growing 19.3 per cent in 2016, its fastest year-on-year growth since 2007. Over the past ten years the airport has grown its capacity at an average annual rate of 7.2 per cent, boosting its network from 54 to 74 destinations and doubling passenger numbers from 2.36 million in 2006 to around five million this year.
To support the increased traffic, Kraków Airport has been involved in a major investment project covering the extension and modernisation of the passenger terminal, installation of an airbridge, reconstruction of the internal transportation system and construction of a train station. This has boosted its capacity to eight mppa and will allow it to meet forecasted growth for the remainder of this decade.
"And this is not the end of constructions works at Kraków Airport, we are aiming to have a new runway ready in 2021," said Radosław Włoszek, chief executive officer, Kraków Airport.
Much of the airport's recent growth can be put down to the growth of the low-cost model across Eastern Europe. Ryanair has grown to now offer more than 30 routes from Kraków, which has served as a base for its growing operation since March 2013.
Other LCCs have identified the potential Kraków offers for point-to-point travellers both in the form of city break leisure passengers and those doing business in wider Małopolska, one of the leading regions in Poland in terms of economic and investment potential and now boasting the title of The European Entrepreneurial Region 2016 for its outstanding and innovative business strategy.
easyJet now serves the city from 14 destinations, Norwegian from six Nordic and Scandinavian airports, while airberlin, Eurowings, Jet2.com and Vueling also have a presence.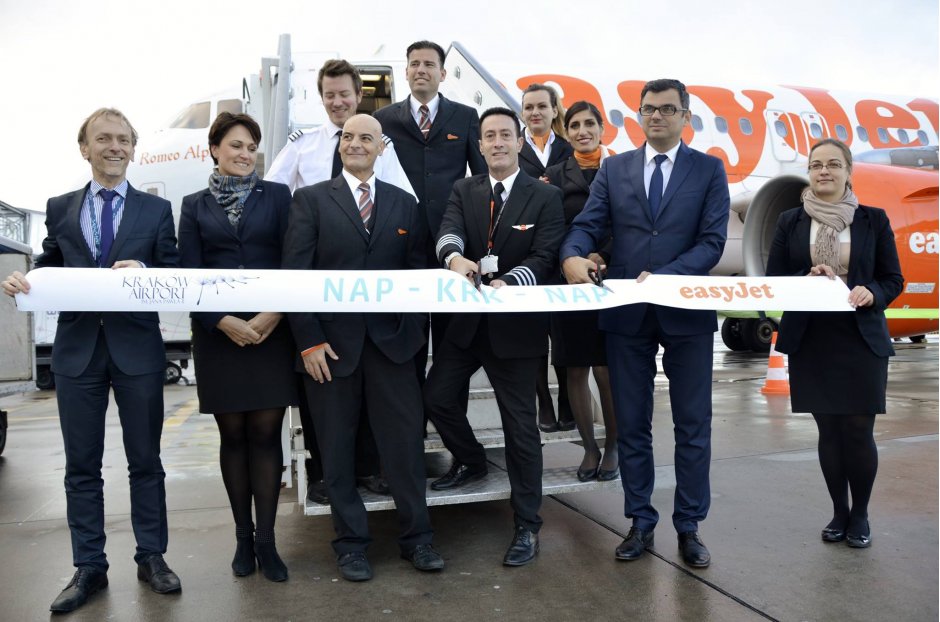 This traffic is now being balanced by growth from the Continent's leading network carriers. In the past couple of years, Swiss International Air Lines and British Airways have resurrected flights to Zurich and London, the latter launching a link from Heathrow Airport last year rather than a previous Gatwick Airport service. KLM has also introduced a connection to its Amsterdam hub and Iberia Express to Madrid, while Austrian Airlines, Brussels Airlines, Finnair, Lufthansa and SAS Scandinavian Airlines all provide connection options via their own hubs.
"Diversification of airlines is a key element of our strategy. We are focused on both attractive destinations and maintaining a high standard of passenger service," said Pawel Galiak, commercial director, Kraków Airport.
"We are constantly looking to expand our schedule and charter services. It is extremely important for us to maintain stable growth in our existing European market, including key transfer airports located in capitals as well as cities with a special business, tourist, cultural and ethnic potential and attractive locations in the Mediterranean basin and also Scandinavian region," he added.
Looking forward into 2017 and new routes have already been confirmed by Ryanair to Chania, Lourdes, Pescara, Porto, Valencia and Venice Treviso; El Al to Tel Aviv; Eurowings to Dusseldorf; Jet2.com to Birmingham; and SAS Scandinavian Airlines to Stockholm.
However, it is the return of the LOT Polish Airlines flight to Chicago that has grabbed the attention. "The European market will always be strongest for us in terms of passenger flows, but having non-stop long-haul connectivity is always a major fillip for a regional airport," said airport CEO Radosław Włoszek.
LOT will offer a weekly link between Kraków and Chicago from July 2017, complementing the carrier's existing daily service to the Windy City from Warsaw. The route will be flown using a Boeing 787-8 Dreamliner and will be facilitated by the arrival of two additional examples into the LOT fleet in the middle of next year as part of its new profitable growth strategy.
"The number of passengers traveling between Kraków and Chicago has been growing since 2012 at the average rate of 17 per cent each year. LOT's strategy clearly indicates that we must not waste such a great potential," said Rafał Milczarski, chief executive officer, LOT Polish Airlines.
LOT previously served the Kraków – Chicago market with direct flights up to October 2010, but closed the route as part of its restructuring, albeit continuing to serve the city pair with indirect flights via Warsaw. Our own analysis of O&D demand between the two cities shows that annual traffic levels have now exceeded the levels recorded when LOT previously flew the route.
Over the first eleven months of 2016 an estimated 87,000 bi-directional O&D passengers flew between Kraków and Chicago, up 24.1 per cent on the same period in 2015 and sure to be the largest annual performance this Century.
The basis of this route is partly underlined by the ethnic diaspora. Chicago has the second largest Polish population outside of Poland, and is home of the largest number of Polish Americans. There are also increasing flows of American tourists visiting Kraków.
"We estimate around 100,000 American tourists are now visiting Kraków each year. The city is listed among the ten best places to visit in magazines such as Time and Travel & Leisure. At the beginning of this month Kraków Christmas Market was ranked among the world's best Christmas markets by CNN. Diversity of tourist attractions, rich history and culture, unique UNESCO heritage sites as well as verity of restaurants, clubs and cafes make the visitors numbers growth with every year," said Iwona Tłuczek-Brzostowska, aviation services manager at Kraków Airport.
The non-stop offer will also help to stimulate further business links between the Małopolska Region and North America. Kraków is known as a leader in the business process outsourcing (BPO) sector as payroll, human resources or accounting services are contracted to a third-party service provider. The city was ranked recently as Europe's number one outsourcing destination with latest figures showing over 140 BPO centres employing over 60,000 people and supporting such global brands as HSBC, State Street, Cap Gemini, Shell, Lufthansa, and Cathay Pacific.
"Kraków and the Małopolska Region are also displaying a strong position in terms of foreign capital investment," explained Galiak. "Around $20 billion is invested in Małopolska of which around a quarter comes from the USA. American companies are investing in sectors such as banking, IT, real estate and HoReCa food services."
With a growing private sector and home to an increasing number of large multinational companies, Kraków now has the commercial links to support more business links. While, the Małopolska Region attracts nine million tourists each year, with Kraków offering 1,004 cultural institutions including museums, galleries, cinemas, theatres and music facilities. In addition, there are eight sites from the Małopolska Region that are UNESCO World Heritage sites, three of which are located in Kraków, providing important leisure flows to complement the business demand.