US low-cost carrier Southwest Airlines is to inaugurate its first flights from Northern Kentucky International Airport in Cincinnati from the middle of this year after getting the backing of the regional business community for its air services. The carrier will follow budget rival Frontier Airlines and end its flights out of Dayton International Airport and instead further boost the penetration of low-fare carriers out of Cincinnati, a market also served by Allegiant Air.
Southwest Airlines will offer eight daily flights into Northern Kentucky International Airport from Chicago Midway (five times daily) and Baltimore Washington International (three times daily) from June 4, 2017. At the same time it will end its flight between Chicago Midway and Dayton International, as well as seasonal flights from Orlando and Tampa into the airport in Montgomery County, Ohio, which it has been serving since August 2012.
"Bringing Southwest to Cincinnati not only answers a call from our new community and corporate partners for key nonstop service and broad network access with more affordable fares but also now gives our more than 110 million annual customers access to a full complement of the top 50 markets across the contiguous 48 states," said Dave Harvey, managing director of business development, Southwest Airlines.
"The addition of Cincinnati is yet another example of how we are connecting communities across the nation with our unmatched schedule and network, full-sized Boeing 737s, and customer-friendly policies that you'll only find at Southwest," he added.
"The addition of Cincinnati is yet another example of how we are connecting communities across the nation with our unmatched schedule and network, full-sized Boeing 737s, and customer-friendly policies that you'll only find at Southwest."

Dave Harvey
Managing Director of Business Development, Southwest Airlines
The no-frills operator has been keeping a close eye on the Cincinnati market since Delta Air Lines started to downsize its own operations from Northern Kentucky International Airport. The US major has held a dominant position at the facility since establishing a hub there in the mid-1980s supported by the strong business links from the city, but where it has significantly reduced its focus over the last ten years.
At its peak in the mid-2000s, Northern Kentucky International Airport was Delta's second largest hub handling over 670 Delta and Delta Connection flights daily linking Cincinnati to 130 destinations. In fact, Delta's significant operation meant that the airport was the fourth largest airport based on hub airline departures, behind only Atlanta, Chicago and Dallas.
However, since then Delta has significantly reduced its activities, cutting capacity by over three quarters since 2007, an average annual reduction of 14.7 per cent. Its inventory in 2016 fell to a new low of just over 2.14 million departure seats with its network now encompassing just 35 destinations.
With Delta's dominance at Northern Kentucky International Airport, budget operators had used Dayton James M Cox International Airport as a low-cost alternative for serving the Cincinnati region. But with an increasing appreciation of low-fare operators from the corporate community and a clear sign that many passengers were travelling out from the Greater Cincinnati area to fly from Dayton, a more aggressive business development philosophy from the management of Northern Kentucky International Airport has seen it become a more attractive proposition.
Frontier Airlines was the first to arrive with flights from Cleveland in 2012 as well as charter links to Cancun and Punta Cana. It now offers services to 14 domestic points in the US including sizeable operations to Denver, Las Vegas and Orlando. Allegiant Air followed in 2014 and now links Cincinnati to 15 destinations.
Southwest Airlines started to firm up its interest in serving Northern Kentucky International Airport over the past couple of years and its firm commitment to begin flights from June 2017 follows it garnering the support of the local business community, including Cincinnati city and regional business committees. It is understood that seat guarantees and marketing support agreements have been concluded with local organisations to help support the launch.
"We feel there are folks here who have a vested interest in helping Southwest be successful," said Harvey. "We were able to build relationships with some key corporate partners to get formal travel agreements in place well before we start the service. That's going to put big wind in our sails."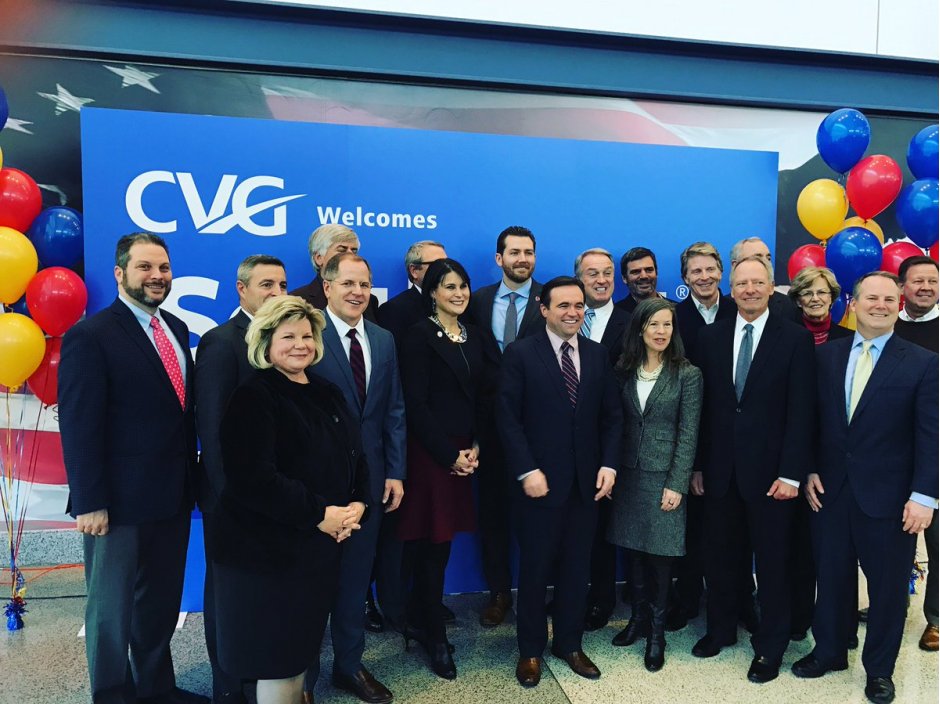 Despite cutting its activities out of Cincinnati, schedule data from intelligence provider OAG shows that Delta remains the dominant carrier at Northern Kentucky International Airport, although its share of available annual departure capacity has fallen from 89.2 per cent in 2007 to just 51.0 per cent in 2016. Low-cost penetration at the airport had grown to 19.3 per cent last year due to the growth from Allegiant Air and Frontier Airlines.
"We continue to see fantastic results in passenger growth at CVG, due in large part to lower fares and the steady expansion of air service options," said Candace McGraw, chief executive officer, Northern Kentucky International Airport.
Latest figures from the airport show that this capacity translates into a 23 per cent share of local traffic and has helped continue a trend of record growth. Data for November 2016 shows year-on-year local traffic growth of 15.6 per cent and the strongest performance for that month since 2001 and the 27th consecutive month for year-over-year local passenger growth. Total passenger volume, which includes connecting passengers, was also up 10.3 per cent, making November the 19th consecutive month for total airport growth and the best overall November since 2010.
The launch of the two new services into Cincinnati are among more than 20 new routes revealed by Southwest Airlines from June 2017 as part of its latest schedule update and extension of its flight programme into the second half of 2017. The carrier is currently planning to grow its 2017 available seat miles (ASMs) approximately 3.5 per cent, as compared with 2016.
This includes a notable international expansion from Fort Lauderdale Hollywood International Airport to coincide with the opening of a new international concourse, known as Concourse A, at the airport's Terminal 1. The LCC has filed an application with the US Department of Transportation to introduce a daily flight to Owen Roberts International Airport on Grand Cayman and will also add daily international links to Belize, Cancun and Montego Bay from the new concourse, adding to its current operations to three cities in Cuba - Havana, Varadero, and Santa Clara - as well as Nassau, in the Bahamas.
Other new routes include domestic flights from Fort Lauderdale to Orlando, Philadelphia and Washington; from San Diego to Boise and Salt Lake City and seasonal links to Indianapolis, Newark and Spokane; plus Cleveland – Atlanta, Tampa – New York LaGuardia, Portland – San Francisco, San Jose – Reno, Oakland – Newark, Newark – Indianapolis and Nashville – Minneapolis/St Paul as well as a weekend non-stop service between Pensacola and Denver.