Gulf hub carrier Qatar Airways has confirmed it will inaugurate flights to this year's Routes Americas host city of Las Vegas from January 2018, its eleventh destination in the United States of America. The airline will be the first of the major Gulf hub carriers to serve the Nevada market.
As it celebrates the tenth anniversary of its debut in the US market, Qatar Airways has said the new four times weekly link between Hamad International Airport and McCarran International Airport will commence from January 8, 2018. It will be flown using a Boeing 777-200LR.
"Las Vegas is a thriving leisure destination and adding the city to our route map has been long overdue. Growing our western United States network is important to the airline as we are seeing exponential growth in passenger demand from the East via our state of the art hub in Doha," said Akbar Al Baker, chief executive officer, Qatar Airways Group.
"Our passengers appreciate the glamour, style and allure of Las Vegas and beginning in 2018, we are going to give our passengers from around the world direct and convenient access to this unique capital of entertainment," he added.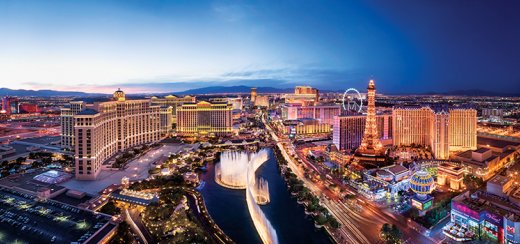 Las Vegas number cruncher
See the facts and figures behind the US' glitziest destination
Qatar Airways first arrived in the US market in 2007 when it debuted flights into Newark. It now serves ten American cities - Atlanta, Boston, Chicago, Dallas, Houston, Los Angeles, Miami, New York City, Philadelphia and Washington D.C.
With international travel on an exponential rise, Qatar Airways expects the new route to be supported by its wider network, in a similar manner to its existing flights into the US, with notable flows. In a clear knock to the airline's US rivals Al Baker added: "With each new US destination, we are bringing our signature Qatar Airways hospitality to more Americans and raising their expectations for the services and sophistication a global airline can offer."
Qatar Airways has revealed an extensive list of new markets it plans to introduce flights to during 2017 and 2018 and is currently formalising the launch plans for these 15 markets. It has already confirmed it will introduce the world's longest commercial flight when it commences Doha – Auckland from February 5, 2017, while start dates are also confirmed for its services from Doha to Dublin (daily 787 from June 12, 2017), to Nice (five times weekly 787 from July 4, 2017) and now Las Vegas (January 8, 2018).
Other markets it plans to serve comprise Canberra, the airline's fifth destination in Australia; Rio de Janeiro, Brazil; Santiago, Chile; Medan's Kualanamu International Airport, the airline's third destination in Indonesia; Tabuk and Yanbu, its ninth and tenth destinations in Saudi Arabia; Sarajevo, Bosnia; Skopje, Macedonia; Libreville, Gabon; Douala, Cameroon and Chiang Mai, the airline's fourth destination in Thailand.
Qatar Airways continued its dramatic growth with its second largest year-on-year capacity rise of the past ten years according to schedule data for 2016 from intelligence provider OAG. The airline boosted its non-stop capacity out of its Doha International hub by 19.1 per cent in 2016, following second only to a 19.4 per cent rise in 2015. In the last ten years the airline has recorded double-digit capacity growth every year as it has almost quadrupled from 5.76 million departure seats in 2007 to 21.34 million last year.
The Central and West African region was the only part of the Qatar Airways network out of Doha International to contract during 2016, with growth in all other parts of the world. The largest rises in non-stop capacity were seen in Southern Africa (up 83.7 per cent versus 2015), the Southwest Pacific (up 81.8 per cent) and North America (up 48.2 per cent).