Emirates is to introduce a new year-round connection between Athens and the USA before the end of the first quarter of this year. The Gulf carrier will introduce a new daily link between Dubai and Newark's Liberty International Airport via the Greek capital from March 12, 2017, complementing its existing four times daily flights into New York's John F Kennedy International Airport, one of which operates via Milan's Malpensa airport.
The planned Emirates growth follows a formal request from the Greek Government and Athens International Airport to the UAE carrier to deliver an enhanced transatlantic offering for the Greek market. US carriers United Airlines and Delta Air Lines already serve the Newark – Athens and New York – Athens markets but only on a seasonal basis in the summer only. The latter switched its previous year-round link to the summer seasonal operations just under five years ago in October 2012.
"The Greek Government and Athens International Airport S.A. - Eleftherios Venizelos approached Emirates some time ago to consider serving the route between Athens and New York," confirmed Sir Tim Clark, president, Emirates Airline. "After careful review, Emirates concluded that extending one of our Dubai-Athens flights to Newark would be commercially and operationally feasible."
"We are pleased to be able to help meet a strong consumer need long neglected by other airlines, and we would like to thank the authorities and our partners in both the US and Greece for their support of the new route," he added.
"The Greek Government and Athens International Airport approached Emirates some time ago to consider serving the route between Athens and New York. After careful review, Emirates concluded that extending one of our Dubai-Athens flights to Newark would be commercially and operationally feasible."

Sir Tim Clark
President, Emirates Airline
The availability of high quality, daily international air services is essential for the development of business and cultural ties, and Clark expects trade, especially in high-value and time-sensitive products, to be facilitated by the new flight. "We also expect tourism to receive a major boost from the availability of daily flights year-round," he added.
Emirates started serving Athens in June 1996 and last March introduced a second daily flight to the Greek capital, initially flying via Larnaca in Cyprus, but due to switch to a non-stop schedule from May this year. Its flights are currently operated using 777-300 and 777-300ER equipment, with the latter, configured for 8 first, 42 business and 304 economy passengers due to operate the new onward service to Newark.
The United States and Greece have long maintained close economic relations as well as a strong national security alliance. For decades, the United States has advocated policies that promote and foster economic growth and further opportunities for US investment in Greece. The United States is also home to the largest overseas Greek community in the world, numbering approximately 1.3 million, and the New York City metropolitan area has the largest community of Greek Americans in the country.
"Within the framework of our excellent cooperation, and in line with our common goal for the growth of tourism between our two countries as well as the expansion to long-haul markets, I would like to thank Emirates for having positively considered our request to launch a new Emirates itinerary connecting Dubai with New York via Athens all year round," said Elena Kountoura, minister of tourism of the Hellenic Republic
"This strategic choice substantially supports our efforts at the Ministry of Tourism to enhance the already increasing flow of visitors to Greece from the United States and the UAE on a yearly basis, travelling either for leisure or business purposes," she added.
In addition to serving the large Greek-American population in the New York City metropolitan area, the availability of one-stop same-plane service to Dubai will also offer a convenient alternative to travellers headed towards the Middle East, West Asia, and Africa.
The new flight will result in a tweak to the schedule of the airline's original Dubai – Athens flight – 'EK105/106' which departs Dubai at 10:05 and Athens at 16:00. Repackaged as 'EK209/210' the new service will depart Dubai at 10:50, arriving in Athens at 14:25 before departing again at 16:40 and arriving into Newark at 22:00 on the same day. The return flight departs Newark at 23:45, arriving in Athens the next day at 15:05, departing again at 17:10 bound for Dubai where it will arrive at 23:50. This will maintain the strong onward connections the flight offers to over 50 destinations in India, the Far East and Australia.
Over 220,000 bi-directional O&D passengers flew between Athens and New York in the past year (12 months to November 2016), according to data from the AirVision Market Intelligence tool from Sabre Airline Solutions. This is a sizeable market of over 300 PPDEW (passengers per day each way) and its scale, Emirates' stumulation effect and the opportunity to compete against only seasonal offerings from US majors in the transatlantic market would have helped Emirates' decision-making process.
The new flight will not just impact the two US carriers already serving the Athens market, but also European hub carriers which are picking up a lot of indirect traffic due to the previous lack of year-round connectivity. The hardest hit will be Swiss International Air Lines, which according to MIDT data is already carrying more indirect passengers per year than United Airlines does on its seasonal flights. Other European carriers currently handling more than 10,000 annual passengers between Athens and New York are British Airways, Lufthansa, Turkish Airlines and Air France.
The announcement of the new flight has brought an immediate repsonse from the Partnership for Open & Fair Skie, a coalition that includes US majors American Airlines, Delta Air Lines and United Airlines and employee unions across the USA. The group had previously lobbied against alleged government subsidies received by Emirates Airline, Etihad Airways and Qatar Airways from their Gulf state owners, in violation of Open Skies agreements that harm the US aviation industry.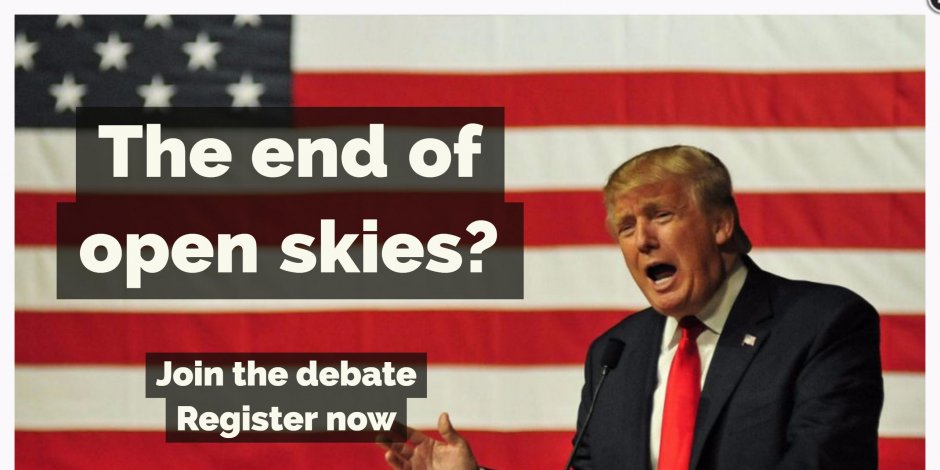 "By flagrantly violating its Open Skies agreement with the United States at the start of the Trump administration, Emirates is throwing down the gauntlet," said Jill Zuckman, chief spokesperson for the Partnership for Open & Fair Skies. "We look forward to working with President Trump and his team to enforce these agreements and protect American jobs – something that the Obama administration failed to do."
Emirates is serving the Dubai - Athens - Newark market under the fifth freedom principle which enables airlines to carry passengers between two foreign countries, provided that the flight begins in or continues on to the carrier's home country.
The US Air Line Pilots Association (ALPA) has also claimed that Emirates' growth is only possible due to the subsidies the airline receives from the United Arab Emirates government which it said fly in the face of the Trump administration's 'America First' governing philosophy.
"The US government must ensure that its Open Skies agreements maintain a global business environment that is undistorted by foreign government subsidies. US aviation workers are ready and willing to compete internationally, but the marketplace must be free from foreign government distortion. We urge the Trump administration to do what the Obama administration failed to do and stand up for US workers," it said in a statement.