Not many will know that Aarhus officially 'rebranded' as recently as 2011, changing its name from 'Århus' to 'Aarhus' as part of a renewed international vigour with which the city would determinedly grasp its future in both hands and firmly imprint the identity of Denmark's 'second city' on the European map. Over 15 years on and Aarhus has easily passed the Danish capital Copenhagen as the country's fastest growing city.
Perhaps surprisingly, Greater Aarhus – the city's wider metropolitan area – stands shoulder to shoulder with its Nordic national capital rivals as the largest non-capital city by associated population and ranked fifth in Scandinavia at 1.38 million people in 2016. This makes the East Jutland city's demographic market larger in scale than Norway's 2nd, 3rd and 4th largest cities combined, more than double the population of Iceland and biting at the heels of both Greater Oslo and Helsinki metropolitan areas to contest the spot for Scandinavia's third or fourth largest in the future.
"2016 has been a great year, despite general turbulence in the European market, our existing services – especially international – have produced some very positive results and domestic traffic has been level and robust."

David Surley
Head of Airline Relations, Aarhus Airport
It is therefore no surprise to learn that Aarhus is now appearing on more airline network maps with direct international traffic into the city's Aarhus Airport growing a whopping 22 per cent in 2016. In May 2017, Czech Airlines (CSA) will introduce a four times weekly link to the carrier's Prague hub in May; one of at least four new European destinations that will open from Aarhus this year - others include SAS Scandinavian Airlines adding a new international route to Malaga from June.
"2016 has been a great year, despite general turbulence in the European market, our existing services – especially international – have produced some very positive results and domestic traffic has been level and robust", said David Surley, head of airline relations, Aarhus Airport.
"We now step into a very exciting year ahead with December's announcement by Czech Airlines of new service to Prague, plus a new international destination by SAS among other developments, and of course – most importantly – Aarhus becomes 2017's European Capital of Culture. Probably the most exciting episode in Aarhus' very illustrious history," he added.
Data from OAG Schedules Analyser shows that available departure capacity from Aarhus was up 11.1 per cent in 2016, reversing four years of reductions. This was buoyed by a 43.0 per cent rise in international capacity compared to 2015. The international share of departure seats in 2016 at 44.2 per cent was its second largest annual share over the last ten year period.
This year Aarhus is taking on the 'capital city' role for the very first time; as 2017's European Capital of Culture and Her Majesty Margrethe II, Queen of Denmark, opened the year's celebrations just days ago at what has been praised by international media as one of the most spectacular events of its kind ever seen in Scandinavia.
"Crowds of well over 70,000 filled the city's central streets and boulevards as part of a Viking-themed audio-visual procession and spectacle", explained Surley. "Giant illuminated Viking ships carried well-known singers and DJs as well as cultural symbols atop a torrent of smaller illuminated boats, stretching from the city's Musikhuset – Scandinavia's largest concert hall – to the harbour-side and a jaw-dropping firework and laser light show of epic proportions at the city's much-loved Dokk1 waterfront".
The strong growth in international passengers highlights what strong potential Aarhus has to offer, according to the airline relations executive, who previously educated himself with the needs for regional airport network development in both airline and airport roles in the UK. "Latest data shows strong growth in indirect passenger flows via Nordic hubs," he explained.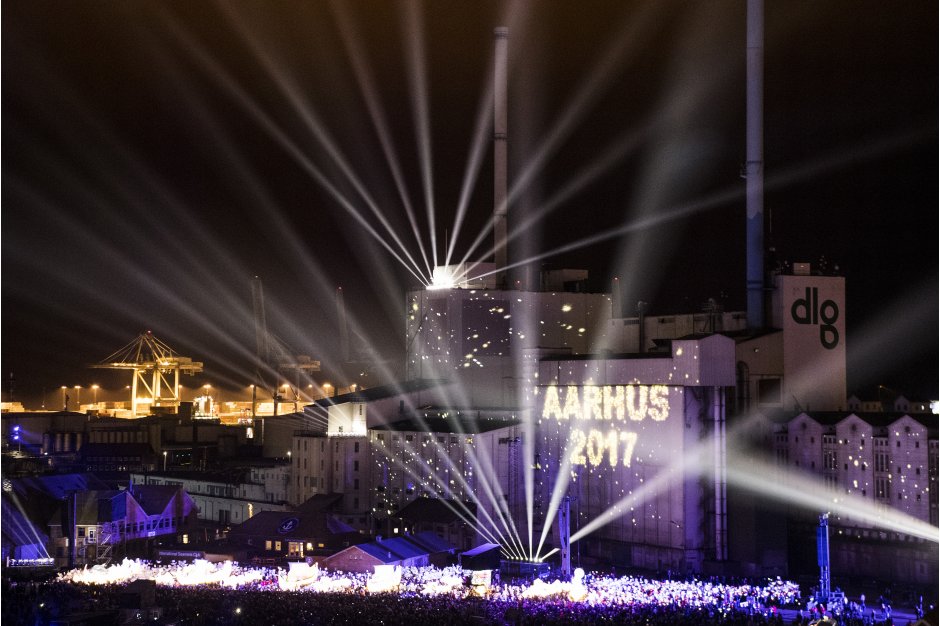 In particular notable growth was seen in long-haul traffic connecting via these hubs from points across the USA and Asia with a 25 per cent rise in traffic from/to New York, 73 per cent from/to Boston and 10 per cent from/to San Francisco. In fact New York has now overtaken Berlin among the top ten un-serviced O&D markets for Aarhus, while Reykjavik soared 15 places into the top 10 markets with 103 per cent indirect traffic growth since 2015.
Similarly the airport recorded growth of at least 30 per cent year-on-year to points in China and Hong Kong as well as Baltic and East European destinations that are important to Aarhus trade and industry. "There is much capacity to grow here," said Surley. "Statistically Aarhus has until now been one of the most under-serviced major markets in Scandinavia."
Aarhus Airport is central to the city's forward strategy for continued internationalisation and enhanced trade links as well as movement of people. Located just 30 minutes from Aarhus centre, it has been in operation since the 1940s but was very recently taken over by a shareholder realignment that sees over 90 per cent of the Airport Company's shares now owned by the City of Aarhus – a strategic step to align air service development and increased international traffic capacity with the growth of the city and region.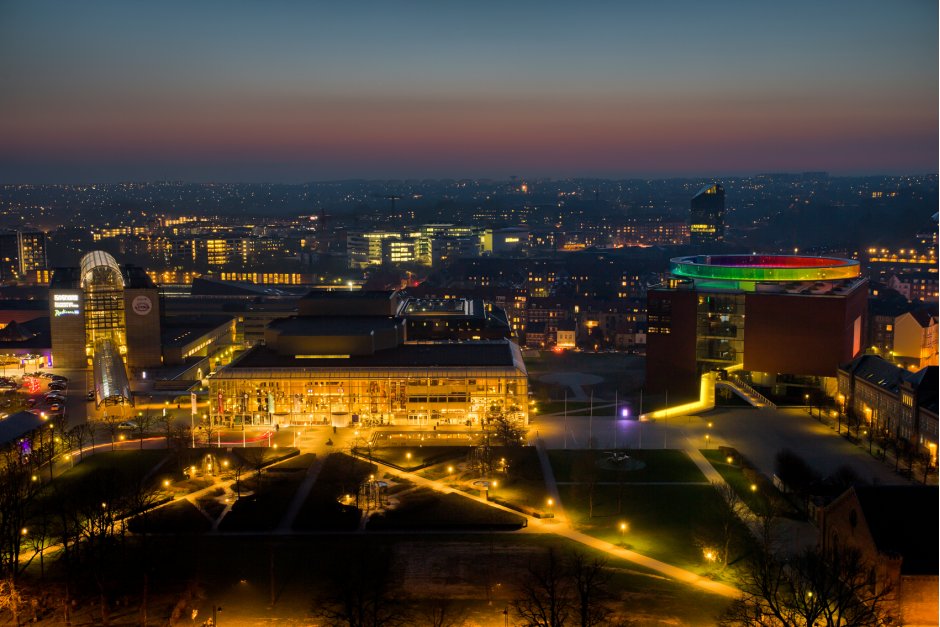 With over 33,000 companies operating around Aarhus including five major global headquarters ranging from food and agriculture sector leaders, to the world's largest wind turbine manufacturer, the world's largest engineer of pump technology and corporate giants in fashion, meat processing, the city has strong business demand that can underpin future air links.
One of the world's most famous brands, Apple, will soon launch a project with Aarhus University that will create not only a nearby European data centre but also a dedicated bio-gas research facility; the largest ever inward investment in Denmark at $1 billion.
"The city's 10 largest companies alone account for €29 billion of the combined €56 billion Aarhus associated economic output", said Surley. "This places the city among some of Europe's most valuable economic hot-spots and Aarhus Region ranked in the top 36 most innovative places in Europe in 2016, hardly a surprise as Denmark is considered the sixth most innovative economy worldwide, but scores second for R&D, third for its business environment and fifth for market sophistication".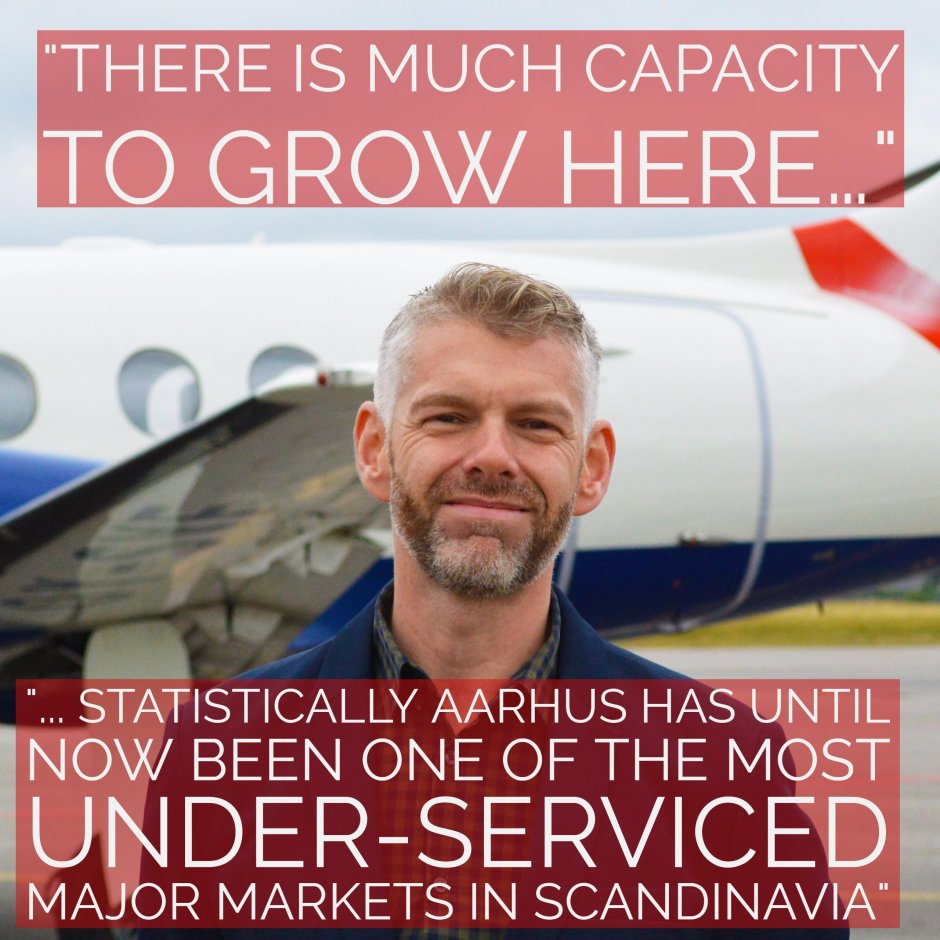 Within Denmark, Aarhus accounts not only for 66 per cent of all imports and exports through its vast and expanding port – also home to the Baltic's fastest growing cruise ship market – but over 50 per cent of top management employment in categories from architecture and design to food-science and fashion. The city also boasts Denmark's highest full-time employment level at 97 per cent and the most educated Danish population, where almost half the city is degree-educated.
The majority of these are at Aarhus University itself the largest education institution in Scandinavia and globally ranked; where students and the brightest of Nordic minds usually remain in the city upon graduation as newly qualified talent is "hoovered-up" by the fast-growing global headquartered corporates of Aarhus or at one of the many investment-based high tech companies that have flourished.
"As Nordic-Baltic traffic has been very positive in 2016 including a large jump in connecting traffic to Iceland, Finland, Latvia and Lithuania, we are very optimistic about continued growth in Scandinavian demand in 2017 as well as elsewhere in Europe."

David Surley
Head of Airline Relations, Aarhus Airport
The fast-paced tech development of Aarhus (the term 'Bluetooth' technology stems from Danish Viking leader King Harald Bluetooth), has delivered a future-proofed city that has delivered many "world and European firsts". Aarhus is the first city in the world to start supplying fresh water to its population using energy created solely from sewage and waste – an innovation that cities including Chicago and San Francisco say they may copy, while Aarhus' new university hospital at Skejby currently under construction is tipped to be the largest hospital in Europe when fully operational.
All this extraordinary economic growth and success means the city is approaching its bursting point – house prices have risen significantly and rival those in Copenhagen. The enormous infrastructural pressure on Aarhus is being eased by the first light rail system in Denmark, the Letbane; the high-rise, high-capacity residential development of Aarhus Ø (an island and 'city-within-a-city' development in Aarhus harbour) and a large scale urban expansion west and northward, towards the city's airport.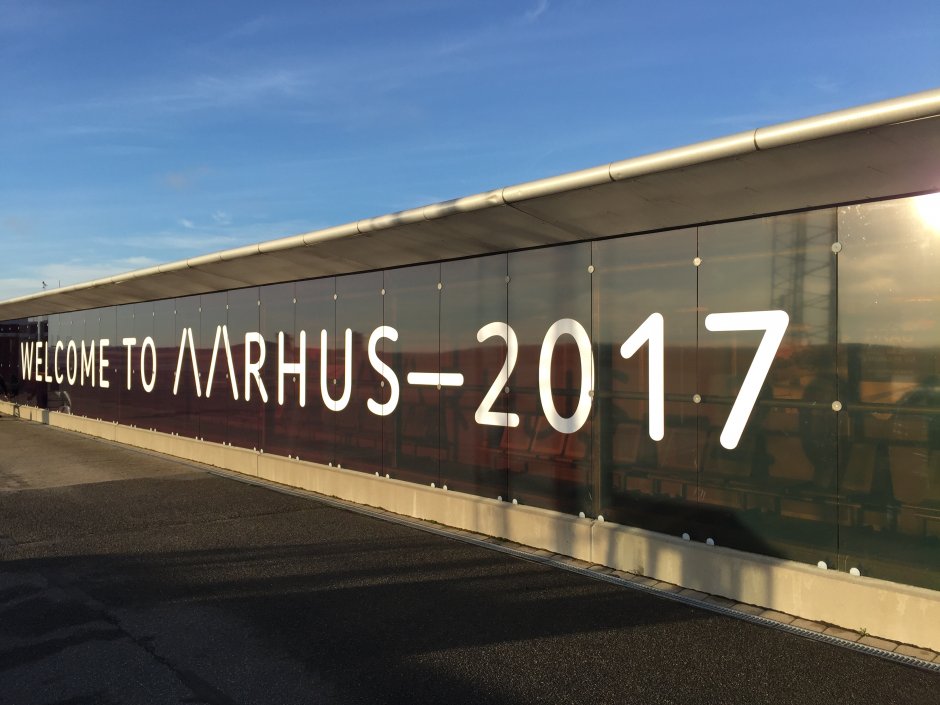 What is for sure, as European Capital of Culture, Aarhus will clearly be in the spotlight of the world's airlines. The year ahead includes hundreds of cultural events, performances, sporting events, art installations, concerts in Aarhus and the surrounding towns, cities and region of East Jutland which will also be European Capital of Gastronomy in 2017.
Feature events range from state ballet and orchestral pieces, a city-wide art expo, to music acts Justin Bieber and Radiohead first concerts in Aarhus. Several million additional visitors both domestic and international are expected to visit the city which has seen continued double-digit visitor growth in recent years, as one of Europe's fastest growing destinations prior to becoming European cultural capital.
"Aarhus Airport will be an integral part of the city's celebratory year and a giant 'Aarhus 2017' signature has now been placed on the terminal's air-side façade, welcoming visitors to the region," said Surley. "As Nordic-Baltic traffic has been very positive in 2016 including a large jump in connecting traffic to Iceland, Finland, Latvia and Lithuania, we are very optimistic about continued growth in Scandinavian demand in 2017 as well as elsewhere in Europe. Alongside the big new routes from Czech Airlines and SAS, SUN-AIR of Scandinavia A/S (British Airways) is also slightly increasing service to Stockholm Bromma from this month."
Growing from a fortified Viking settlement originally founded in the eighth century, to a small market town seven centuries later, Aarhus is now at the cultural and economic core of the region and the largest centre for trade, services and industry in mainland Denmark. Its potential for new international operations into Aarhus is clear to see when you compare its local population and international connectivity with other leading Nordic cities.
The 'Nordic Tiger' is clearly roaring onto the international stage as European Capital of Culture, recently being crowned second best place in Europe by Lonely Planet among the ten best places to tick-off your bucket-list according to over a dozen international media titles and apparently the happiest place in the world - Denmark has been the world's happiest country for 16 consecutive years. After a strong 2016 performance and positive plans for 2017, the smile on Surley's face as he tells the Aarhus story would seem to confirm that!