After successfully launching flights from London Stansted last year to boost its aircraft utilisation during the enforced weekend closure of London City Airport, British Airways (BA) CityFlyer has revealed it will also offer a summer programme of flights from Manchester, while also boosting its Stansted operation. The airline will launch summer seasonal service from Manchester to seven new short-haul routes from May 2017 utilising two 98-seat Embraer E190s on 20 weekly flights in and out of the fast developing northwest England airport.
From May 2017, BA CityFlyer will begin summer-only direct flights from Manchester to the popular Spanish sunspots of Alicante, Malaga, Ibiza and Palma, the Greek island of Mykonos, Nice in the South of France and a weekly service to London City Airport, which will facilitate the transfer of the aircraft in and out of Manchester.
One E190 will operate on a Thursday from London City to Manchester for the first of three weekly flights to Ibiza the same evening from May 18, 2017, before operating weekly flights across Friday, Saturday and Sunday to the other destinations. A second E190 will operate into Manchester from Ibiza on Saturdays to support the schedule, with both aircraft returning to London City on Sundays.
BA CityFlyer is also attempting to sell its positioning flights between London City and Manchester as an alternative option to its long-established London Heathrow – Manchester operation. "The Thursday night flight from London City, in the heart of the capital's commercial district, will provide commuters with a valuable air link back to Manchester, with the return flight to London City on a Sunday," said Alex Cruz, chief executive officer, and chairman, British Airways.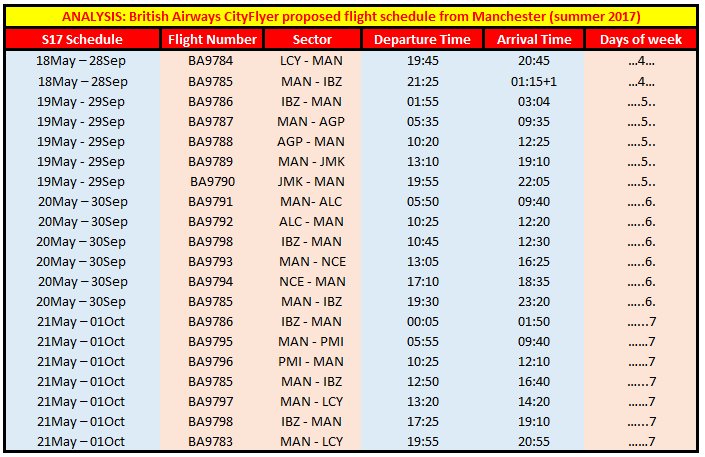 BA CityFlyer launched flights from London Stansted in May 2016 with weekend flying to the popular holiday sunspots of Faro, Malaga, Palma and Ibiza as well as operating a weekly flight to Berlin Tegel. This year's programme will continue to operate on just Saturday and Sundays, but will be expanded to also include Florence (twice weekly), Geneva (weekly for a limited season) and Nice (weekly). There will also be increased frequencies to Ibiza (up from weekly to four times weekly) and Palma (weekly to twice weekly).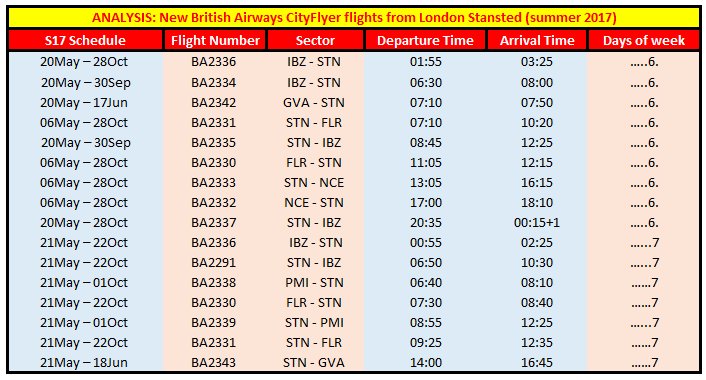 "We are very excited to be launching all these new routes from Manchester and Stansted, providing customers with flights to the sun direct from their doorstep with British Airways," said Cruz. "These are the destinations that our customers tell us they want to fly to so we look forward to a busy summer."
The six international markets that BA CityFlyer will serve from Manchester are already part of the airport's summer programme with over 1.25 million departure seats already available for the summer 2017 season. This ranges from over 400,000 one-way seats to Palma, 360,000 to Alicante, 290,000 to Malaga and 160,000 to Ibiza to around 20,000 to Mykonos and Nice, according to data from intelligence provider OAG. A total of eight airlines are serving these markets - easyJet, Jet2.com, Monarch Airlines, Norwegian, Ryanair, Thomas Cook Airlines, Thomson Airways and Vueling.