Bliss Jet delivers new corporate jet scheduled solution for Transatlantic premium passengers
With a business model developed to appeal to hedge fund companies; the investment banking fraternity; senior executives; music, film and sport industries and others, Bliss Jet's goal is to provide the closest offering to the halcyon days of Concorde - in terms of style and speed. It plans to launch flights between London Stansted and New York LaGuardia from the second quarter of 2017.
Independent business aviation operator Bliss Jet plans to launch a bespoke, individually ticketed seat service by corporate jet aircraft between London and New York from spring 2017 offering an ultra-exclusive product to premium passengers positioned by mainstream airline First Class service and private jet business charters.
With a business model developed to appeal to hedge fund companies; the investment banking fraternity; senior executives; music, film and sport industries and others, Bliss Jet's goal is to provide the closest offering to the halcyon days of Concorde - in terms of style and speed.
The company plans to offer a maximum of ten seats on board large-cabin, long-range Gulfstream G450 and G550 business jets between the two cities. Without its own air operator certificate, these will be flown by established US charter operators, including White Cloud Charter LLC and Jet Access Aviation. Flights will be sold on a per-seat basis, at a cost of around $12,000 each way, significantly lower than the price of a full aircraft charter and comparable with top-end premium fares.
In its initial stage, Bliss Jet will offer just a weekly flight between the two cities with a schedule timed to get passengers into their city hotel rooms, or back home by midnight local time. On Sundays, aircraft will depart New York LaGuardia at 11:00 to reach London Stansted at 22:30, while on Thursdays, flights will depart from London at 20:15 (the last flight of the day to New York from London), arriving at 23:15.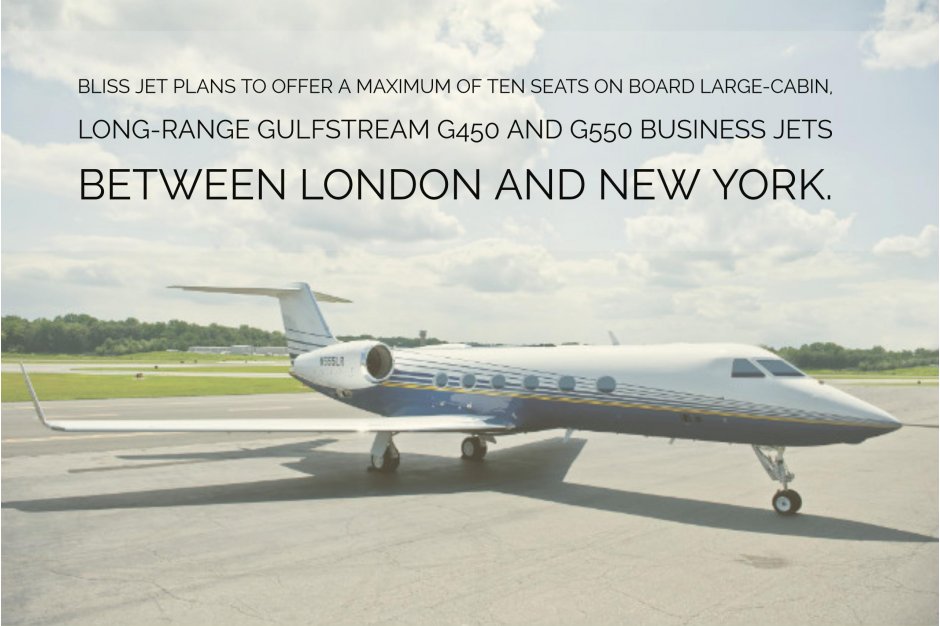 Although first planning to offer flights between New York's Westchester County Airport and London's Biggin Hill Airport last autumn, Bliss Jet has now selected London Stansted and New York LaGuardia as its arrival and departure points utilising the Inflite Jet Centre and Sheltair Aviation Fixed Base Operation at the airports.
"After careful study, including site visits to the ten Greater London area airports, Bliss Jet has selected Stansted airport as its London hub," said the company, as it "offers passengers easy access, comfortable facilities and extraordinary staff whose mission is to satisfy every passenger's needs". Just minutes from midtown Manhattan, LaGuardia Airport it described as "New York Metropolitan area's most convenient airport".
Bliss Jet's founders believe its offer means door-to-door journey times will be reduced by as much as four hours each way compared with scheduled airlines and providing a massive appeal to its targeted market. "We are excited to bring individuality to a mass-market product and offer frequent flyers on one of the world's busiest routes something very different and delivering the most precious commodity – time," said president and chief executive officer, David Rimmer.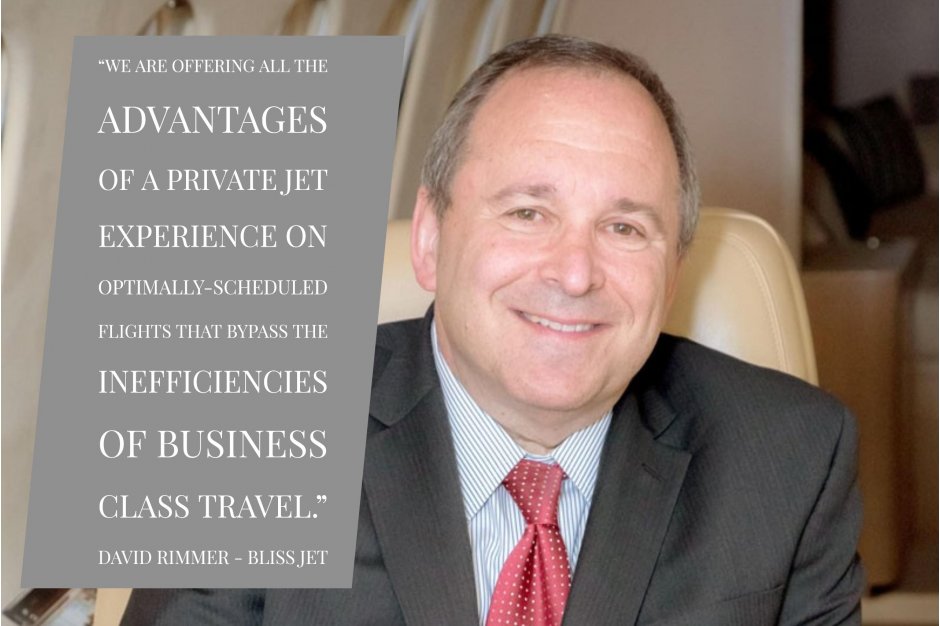 The veteran of the business aviation industry, most recently president of Alerion Aviation until mid-2016 when he founded Bliss Jet, is delivering a concept targeted at business- and first-class airline passengers who are looking for a convenient and upmarket alternative to the transatlantic carriers.
"We will cater to discerning, intercontinental travelers who seek a unique, private jet experience that is superior to any scheduled premium cabin service, yet far more cost-effective than bespoke private jet charter," said Rimmer. "We are offering all the advantages of a private jet experience on optimally-scheduled flights that bypass the inefficiencies of business class travel."
Bliss Jet's premier service will enable travellers to circumvent the hassles of flying from congested major airports and has the USP of being the only scheduled operator to offer flights into LaGuardia, with all long-haul Transatlantic flights serving New York's John F Kennedy International and Newark Liberty International airport hubs, but Rimmer is quick to distance its niche offering to the previously unsuccessful Business Class-only operations in the London – New York market during the 2000s.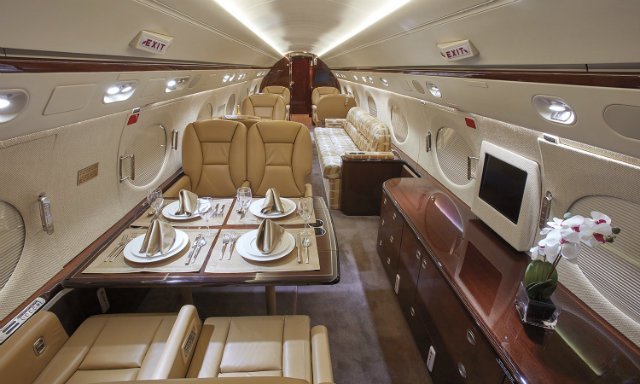 "The difference between Bliss Jet and the former failed all-business class models EOS, MaxJet and SilverJet is that they were all fundamentally traditional airline models – trying to mirror the private jet experience, and traditional airlines are not very good at delivering high end service. Bliss Jet, however; is based entirely on a'la carte, and for the first time travellers can purchase a seat – one way or return, without the full charter cost of US$100,000 plus for a business jet experience," he said.
The future may see Bliss Jet expand its offering into other New York area airports and even incorporate additional aircraft types into its operation, but Rimmer said it will not complicate its model by deviating from the London – New York market until other city pair can deliver a similar market profile. "We are totally focused on winning in the New York-London market by bridging the gap between scheduled airlines and individualised charter," he said.
Schedule data from intelligence provider OAG shows that this year there are up to 33 return flights per day between London and New York, flown by seven international airlines. Together these 10,000 plus annual return flights offer over 2.7 million seats in each direction per year, including over 50,000 first class and 490,000 business class seats in each direction.
The premium seat pool in the London – New York market has remained at a relatively stable rate this decade, although a trend in the reduction of first class capacity continues. The premium inventory in 2017 accounts for just under one on five available seats, its lowest ratio since 2013.