Irish low-cost carrier Ryanair is to significantly increase its presence in Israel from next winter with the introduction of 15 new international routes from the country, growing its network by over 75 per cent from serving just four city pairs currently to 19 next winter. The airline will add a total of 37 weekly flights, expanding its existing operation from Eilat's Ovda Airport in the south of the country while also inaugurating winter flights from its primary air gateway of Ben Gurion International Airport in Tel Aviv.
Ryanair made its debut in Israel in November 2015 when it introduced seasonal winter flights to the red sea resort of Eilat from Budapest, Kaunas and Krakow, with a link to Bratislava following from October 2016. These will close at the end of the winter schedule next month, at which time the carrier will launch its first flights from Tel Aviv with a summer service to Paphos in Cyprus.
The introduction of Open Skies between Israel and the European Union in 2013 has facilitated Ryanair's entry into the Israeli market and has seen air connectivity into the country grow by almost a third in the last three years. "We should of course acknowledge the vision of Transport Minister Yisrael Katz who championed Israel's entry to Open Skies in 2013," said David O'Brien, chief commercial officer, Ryanair at the announcement of its expanded network.
We appreciate the tireless work of Minister Yariv Levin and his officials to bring tourist flights to Israel and establish Eilat as a viable alternative to competing sunshine destinations in Europe," he added.
Ryanair will add eight further routes from Eilat with links into Ovda Airport from Baden Baden, Berlin, Brussels Charleroi, Frankfurt Hahn, Gdansk, Milan Bergamo, Poznan and Warsaw. These will all be flown on twice weekly schedules.
These will be complemented by a new winter programme from Tel Aviv that will see the Paphos route extended year-round on a daily basis and the introduction of links from Baden Baden, Gdansk, Krakow, Milan Bergamo, Poznan and Wroclaw. All flights will operate twice weekly with the exception of Milan Bergamo which will be flown four times weekly.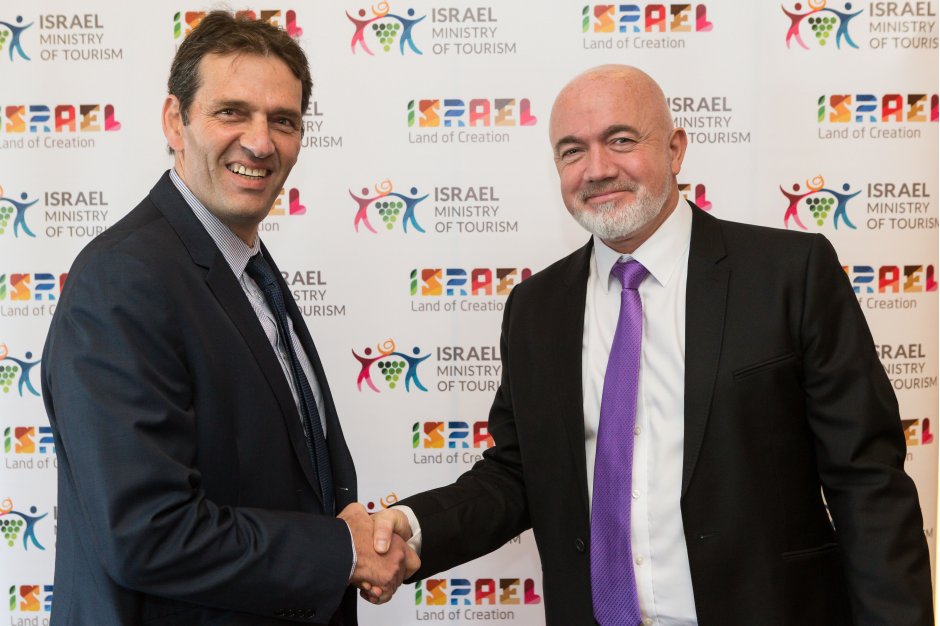 Ovda Airport is located in the Uvda region of southern Israel, about 60 km north of Eilat. It was originally established as a military airport in 1980 following Israel's withdrawal from the Sinai Peninsula as part of the Israel-Egypt Peace Treaty, but has become the main international access point to Eilat and the south of Israel as larger jet aircraft have been unable to fly into Eilat's downtown airport due to its shorter runway and limited apron space. The airport handled just under 130,000 passengers last year with Ryanair already its largest scheduled occupant.
In Tel Aviv, Ryanair will grow its capacity by around 228.6 per cent from seven weekly flights to 23, becoming the latest low-cost carrier to serve the city. Since the adoption of the Open Skies philosophy in 2013, most of Europe's leading low-cost carriers have started operating into Tel Aviv, including Blue Air, Eurowings, Norwegian, Pegasus Airlines, Transavia, Vueling and Wizz Air.
Their arrival has helped boost annual passengers at Ben Gurion International from 13 million in 2012 to approaching 18 million last year, after a 10.0 per cent year-on-year growth, the fastest yearly rise since the start of the decade. This has boosted the low-cost share of capacity out of the airport from 7.2 per cent in 2013 to at a predicted 12.8 per cent this year, based on current published schedules.
This latest growth from Ryanair for next winter and further connectivity gains will boost international capacity from Israel beyond ten million seats for the first time. This is a significant landmark as the five million figure was only surpassed less than ten years ago in 2008.