Key figures debate aviation challenges across the Americas
US airlines are in a period of surging profits due to low oil prices, consolidation and strong demand. But with the arrival of a new US administration, long-standing issues such as infrastructure and a failure to develop secondary and tertiary airports, is everything positive?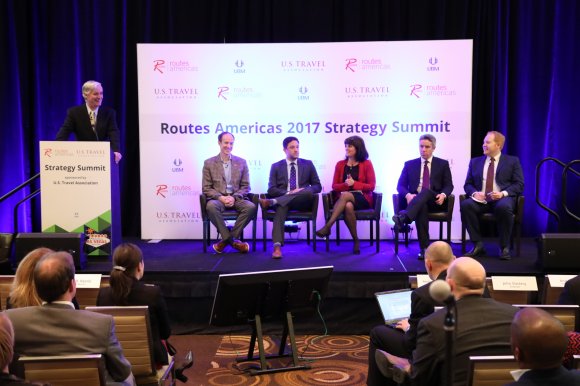 A failure to develop secondary and tertiary airports and invest in infrastructure are two of the biggest threats to the US aviation industry.
Speaking in the leaders' debate on aviation challenges across the Americas at the Routes Americas 17 Strategy Summit, Embraer president and chief executive John Slattery said the main airports in the US have been more than well catered for with strong investment. However, he added this has been at the expense of lesser airports which still have a vital role to play in the country's national and international route network.
Slattery added: "Everybody can't live in a hub, everybody can't survive. [You need to] look outside the US for best practice as well. China and India will be two of the biggest markets in the world by 2035; they're focused on regional aviation and their efforts in connectivity is regional. It is sobering to land in New York JFK if you've left Beijing or Shanghai."
Slattery warned the opportunity to do so would not last forever, adding: "This is a cyclical industry, we are enjoying an anomaly in the US, it [the current success] will not last." He also cited the example of Europe's minor airports that have focused on attracting low cost carriers to grow their traffic rather than depend on legacy carriers.
"They have to think outside the box to attract those airlines to come into their airports," Slattery said. "Airlines will fly into the airports that they make money at."
Meanwhile, Rosemary Vassiliadis, director of aviation for the Clark County department of aviation which oversees Las Vegas' McCarran International Airport, said she was proud of the facility's current status. She said: "We don't want to be a hub, we're the number two origin and destination (O&D) in the nation. We pride ourselves on that. We want people to come to Vegas and leave from Vegas."
Vassiliadis added this was largely thanks to Open Skies arrangements which she hoped will remain in place despite the arrival of President Trump. "There's no doubt we have been a tremendous beneficiary of international growth," she said. "We depend on open skies and I think we are a casebook study on it." She added tourists visiting Las Vegas also depend on secondary and tertiary airports to visit nearby attractions and agreed they are important.
However, US Travel Association senior director, domestic policy Erik Hansen said if US aviation is to continue being a success, infrastructure investment is required. He added: "We have to have modern infrastructure in order to grow, larger hubs are running out of space. Unless we can solve that problem we're not going to continue growing."
Southwest Airlines senior vice president-chief revenue officer Andrew Watterson, agreed while the fuel prices have led to a buoyant US market, infrastructure remained a concern. "I would say that one thing that could let us down is air traffic infrastructure," he added.
Vassiliadis argued that one way more money could be made available for such capital investment would be to lift the $4.50 cap on the Passenger Facility Charge (PFC). She said the PFC had been highly instrumental in funding the building of the $2.4 billion Terminal Three at McCarran. However, Watterson counselled caution on such an approach, arguing any increase in taxation could put off future travellers. "It is a very delicate balance," he added.
Meanwhile, Hansen argued the US government needed to bring aviation regulations up to date in order to cater for today's market. He said: "We need to modernise aviation policy towards growth, we live in a very different period from ten to 15 years ago. Regulations on airport revenue and what we want to do is very limited and we're going to need to change that."
Hansen also noticed President Trump's recent ban on people from certain countries from flying to the US had caused "chaos". While he added the damage from the decree was not irreparable, the US government needs to be careful that it is not sending out the message that the country no longer welcomes travellers from around the world. Hansen said: "The message will get out that the US is the best place to do business. We're watching this one [President Trump] just as much as we watched past presidencies."
US Department of Transportation director, office of international aviation Brian Hedberg said the department was doing its bit to help the new leaders make the right decisions by ensuring they were fully briefed as quickly as possible.