The disruptors - everyone wants a piece of the pie!
America's carriers have recovered well and are enjoying good profits and are growing in strength. How will they continue to ensure long term profits with a number of disruptors waiting in the wings? Who will be the winners and losers?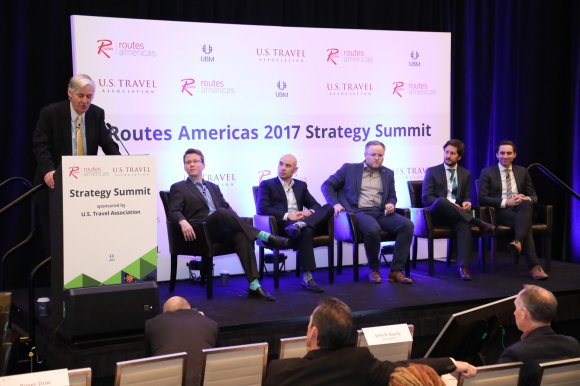 Code sharing, top technology and keeping a constant eye on bottom line costs are key to running a successful low cost carrier (LCC).
Speaking during a session entitled "The disruptors - everyone wants a piece of the pie!" at the Routes Americas 2017 Strategy Summit, Alaska Airlines director, network planning Ben Brookman said code sharing had been important to the airline's business. "Not just on the national side but on the international," he said.
"We've got a good portfolio of really great partners. The important thing for us is making sure we're doing a good job connecting. It needs to be seamless. Code sharing gives us the same international reach that legacy carriers have," he added, noting the practice meant that the Alaska's lack of wide-bodied aircraft was no longer an issue.
JetBlue manager route planning Andrea Lusso agreed, adding: "Code sharing does drive benefits to the network and it does drive benefits to the customers." However, WOW Air vice president network and planning Daniel Snaebjornsson said airlines planning on codeshares must ensure there are safeguards for the passenger in event of a missed connection.
Meanwhile, Lusso also said the best technology was a way of guaranteeing success. He added: "We started investing in technology… two years later now we are the most profitable airline in Mexico."
But Lusso added the cost cannot be passed on to the consumer who will always be concerned with pricing above all. He said: "For LCCs like ourselves we need to be very careful not to lose control of the cost. Airlines that haven't been able to have turned into legacy airlines."
Allegiant Air senior vice president, commercial Lukas Johnson agreed about the importance of the traveller, adding: "Most of our focus is on the customer."
Viva Aerobus vice president network and fleet planning Javier Suarez also urged airlines to be honest about the exact location of the airport they are flying to. For instance, he said his own airline would never try to confuse consumers into thinking an airport it operates to was closer to a destination than it really was.