Oslo Airport investment opens door to new connectivity
A striking new pier at Oslo Airport is scheduled to open in April, but the feature is only part of a thoroughgoing renovation that will lift capacity to 32 million.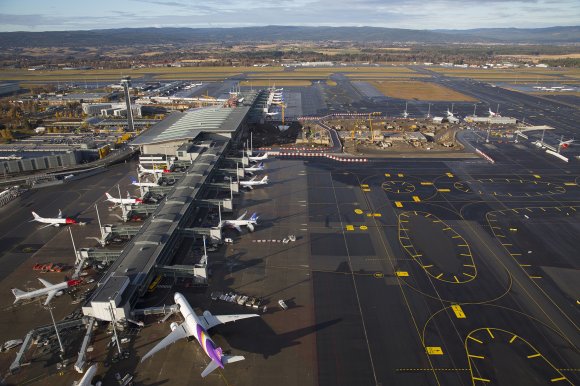 It may be the most eye-catching part of Oslo Airport's five-year overhaul, but its new North Pier is not the key part of the facility's growth strategy. The 300-metre-long pier is scheduled to open officially on April 27, 2017 and will have 17 new aprons, of which 11 will have bridge connections. Built on two levels, the ground floor will cater for international passengers while the first floor will provide the domestic connections.
Most importantly of all, the new pier will give Oslo a much-needed capacity boost as in 2016 it handled more than 25.8 million passengers, considerably more than the 17 million it was built to handle in 1998.
Once completed, the airport will be able to handle 32 million passengers annually while the option to extend the new North Pier by a further 100 metres will raise the capacity to 35 million if taken up. However, the pier is just one part of a project that began in 2011 at a cost of $1.65 billion.
Rebuilding work has seen the departures and arrival hall extended and the airport's station has been enlarged, while the airport's operator, Avinor, has taken the opportunity to change much of the commercial areas. Finally, the non-Schengen pier, which handles international travellers from outside Europe's area of free movement, is being upgraded with increased capacity.
While the North Pier may be the upgrade's showpiece, head of communications Joachim Andersen says it is the work being done on the non-Schengen zone, which has 14 gates and handled 3.45 million travellers in 2015, that will be a key area of focus once it begins in April. This is despite it being less than a third of the 10.31 million Schengen and domestic travellers using the rest of the airport.
Andersen adds: "We are continually working to get more routes from other countries and we want more long-haul routes. The area we have is too small and we need to provide better facilities for both passengers and airlines."
Director of aviation marketing Silke Salbert agrees, saying: "We would like to expand generally with the long-haul flights and the US and Asia are two key markets we are targeting.
"We have a rising number of US tourists and they're much more interested in us. It started with the Northern Lights but then the Frozen Disney movie was set in Bergen, which drove interest.
"The Bergen region as a destination is becoming more popular – you can stop for two days in Oslo and then fly further on and reach all the highlights Norway has to offer."
Andersen claims Oslo Airport offers American travellers the shortest distance from the Nordics to the American continent. Flights to the US could become even more popular out of Oslo if the airport were able to get pre-clearance facilities to the country – which he hopes can happen by 2020.
Salbert says the other key long-haul market remains Asia as the airport tries to take advantage of its geographical location, which makes it one of the shorter routes to the east. The Disney film Frozen has boosted US tourism in Bergen "We have a huge interest from China, South Korea, India and Japan," she adds. "As a result, we have employed Ulv Elbirk as director of Asian development and he is based in Hong Kong."
Additional Asian and American routes should help to attract both Europeans and Norwegians wanting to fly long haul from the facility. Andersen says this means Oslo Airport is working to attract more international routes as the domestic market is largely saturated – currently 45 per cent of all traffic generated by the country's 46 airports is domestic.
He adds: "We have a very high number of airports compared with many other countries and regions and it is just because of the way our geography is. If you have huge mountains, then you would rather fly than take a train across them. Airports are incredibly important for us in Norway and we cannot survive without them."
Salbert agrees, adding that the airport's challenge is ensuring that all the current work is completed and has the intended effect of not just adding more capacity but making it easier for anyone using the airport. Only then can they start considering the list of further improvements, which remains considerable. Salbert says: "We can attract new low-cost airlines and we have a rising demand from them, so we have to think about how we can work with them in the future.
"We have advised the Norwegian government that we need a third runway, then we have to think about how we further develop strategically the whole of the airport and meet the requirements of both airlines and passengers. It is very important for us to be an international hub but we are not there yet," she adds. If the North Pier remains a sign of intent, it seems likely they soon will be.
This article is modified from an original feature that appeared in...

ROUTES NEWS - ISSUE 1, 2017

PLEASE CLICK HERE to view the magazine.