Gulf hub carrier Qatar Airways has placed the first of four Airbus A350-900 aircraft it is leasing from fellow oneworld alliance member LATAM Airlines into service on its Doha – Munich route. The aircraft are being leased from the South American airline for terms of 6- to 12-months, in order for Qatar Airways to meet its operational plan for the year, as well as meet increasing customer demand.
The aircraft have been secured under a normal operating lease and will be flown by Qatar Airways pilots with an on-board service delivered by Qatar Airways cabin crew. They are configured in a denser cabin layout than the airline's own A350s providing a 19.8 per cent capacity increase versus its own equipment. Qatar Airways own A350s seat 283 passengers (36 Business Class and 247 Economy seats) versus the 339 passenger arrangement from LATAM Airlines (30 Business Class and 309 Economy seats).
As first revealed by our Airlineroute news stream in the middle of last month, Qatar Airways is deploying the first LATAM aircraft on one of its two daily flights between Doha and Munich. It debuted on the QR059/060 rotation from March 2, 2017 and another of the LATAM airframes will be used on the second QR057/058 service from April 1, 2017.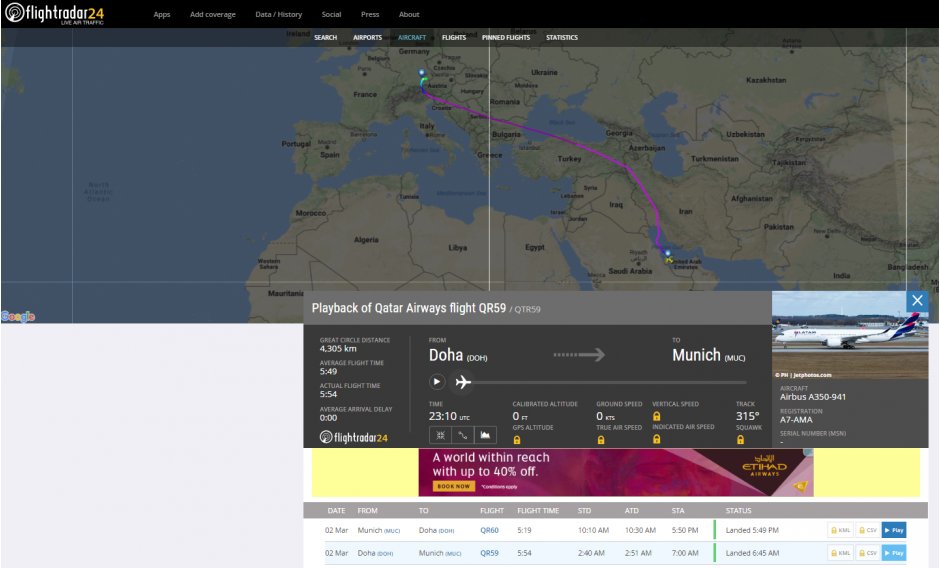 As also revealed by Airlineroute last month, the additional two LATAM A350-900s will be used on Qatar Airways' Doha – Madrid route. The aircraft will debut on the daily 'QR149/150' from April 15, 2017 and also on the second daily 'QR147/148' and 'QR151/152' split schedule rotations from May 1, 2017.
Qatar Airways currently operates 15 of its own A350s, only receiving its latest aircraft this week. However, it has a rapid expansion programme that is seeing a number of new medium- and long-haul markets being introduced over the next couple of years.
"In order to meet growing demand for our services, Qatar Airways has entered into an agreement with LATAM Airlines Group to secure up to four A350 aircraft for up to one year," confirmed Akbar Al Baker, chief executive officer, Qatar Airways Group. "Thanks to our strong partnership with LATAM, we are able to meet increasing customer demand in the short term, in an innovative way."
Qatar Airways and LATAM, both members of the oneworld alliance, also completed a business agreement in December 2016 whereby Qatar Airways Group took a 10 per cent stake in LATAM. Qatar Airways will begin service to Santiago, Chile in 2018, further expanding the opportunities to partner in the oneworld alliance.
The lease will allow LATAM time for the Brazilian market to improve following its recent economic downturn. Although there are clear signs of recovery in the market, it is still a long way below its pre-downturn levels and not in a position to support sustainable medium- and long-haul flying using the widebodied jets.
Qatar Airways has revealed an extensive list of new markets it plans to introduce flights to during 2017 and 2018 and is currently formalising the launch plans for these 15 markets. It has already introduced what it classes as the world's longest commercial flight when it commenced Doha – Auckland from February 5, 2017.
Start dates are also confirmed for its services from Doha to Yanbu (three weekly A320 from May 9, 2017), to Dublin (daily 787 from June 12, 2017), to Tabuk (three weekly A320 from June 19, 2017), to Nice (five times weekly 787 from July 4, 2017), to Skopje (four times weekly A320 from July 17, 2017) and Las Vegas (January 8, 2018).
Other markets it plans to serve comprise Canberra, the airline's fifth destination in Australia; Rio de Janeiro, Brazil; Santiago, Chile; Medan's Kualanamu International Airport, the airline's third destination in Indonesia; Sarajevo, Bosnia; Libreville, Gabon; Douala, Cameroon and Chiang Mai, the airline's fourth destination in Thailand.
Qatar Airways continued its dramatic growth with its second largest year-on-year capacity rise of the past ten years according to schedule data for 2016 from intelligence provider OAG. The airline boosted its non-stop capacity out of its Doha International hub by 19.1 per cent in 2016, following second only to a 19.4 per cent rise in 2015. In the last ten years the airline has recorded double-digit capacity growth every year as it has almost quadrupled from 5.76 million departure seats in 2007 to 21.34 million last year.