C K Ng, executive director, airport operations of airport authority at Hong Kong International Airport, has held the role since 2012.
He was previously the deputy director, airport operations of AAHK (Airport Authority Hong Kong). With more than 30 years of experience in airport management. He has held a number of senior management positions in aviation.
He will take part in a panel at Routes Asia 2017 titled Airport challenges - congestion, capacity and construction. below he addresses his key thoughts on how HKIA is adapting to these challenges.
Aviation growth across Asia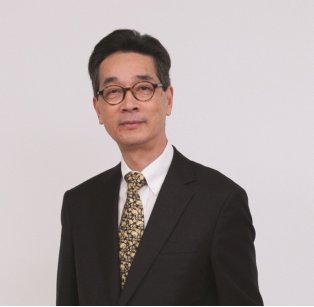 Leveraging our geographical location at the heart of Asia Pacific and at the doorstep of the growing Mainland Chinese market, HKIA stands to benefit from the rapid growth of economic activities in the region.
HKIA recorded continuous traffic growth in 2016, with all three traffic categories reaching new annual heights. During the year, HKIA handled 70.5 million passengers and 411,530 flight movements, representing yearly rises of 2.9 per cent and 1.4 per cent respectively.
Cargo throughput also increased by 3.2 per cent year on year to 4.52 million tonnes. The passenger growth in 2016 was driven by the increase in Hong Kong resident travel, with the traffic to/from Japan and Europe having recorded the most significant increases.
For cargo, transshipment and exports increases contribute to the growth. In 2016, we welcomed five new airlines and eight new destinations, further enhancing the extensive flight network at HKIA.
In the future, the desire and ability of people across Asia Pacific especially Mainland China to travel both domestically and internationally will grow rapidly in tandem with economic growth.
Improving living standards in Mainland China and across Asia Pacific, as well as the growing e-commerce and logistics sector, support a robust cargo growth projection. We expect future growth in the aviation market to be driven by continuous rising demand for air travel and air trade in the region.
How HKIA is addressing the growth
In view of the challenge of edging closer to the full capacity of the existing two-runway system, there is an urgent need for HKIA to expand to cope with the growing air traffic demand and consolidate its status as an international and regional aviation hub.
To meet the medium and long-term growth demand, we are pushing forward a number of developments at HKIA, including the expansion of Terminal 1 and the Three-Runway System (3RS).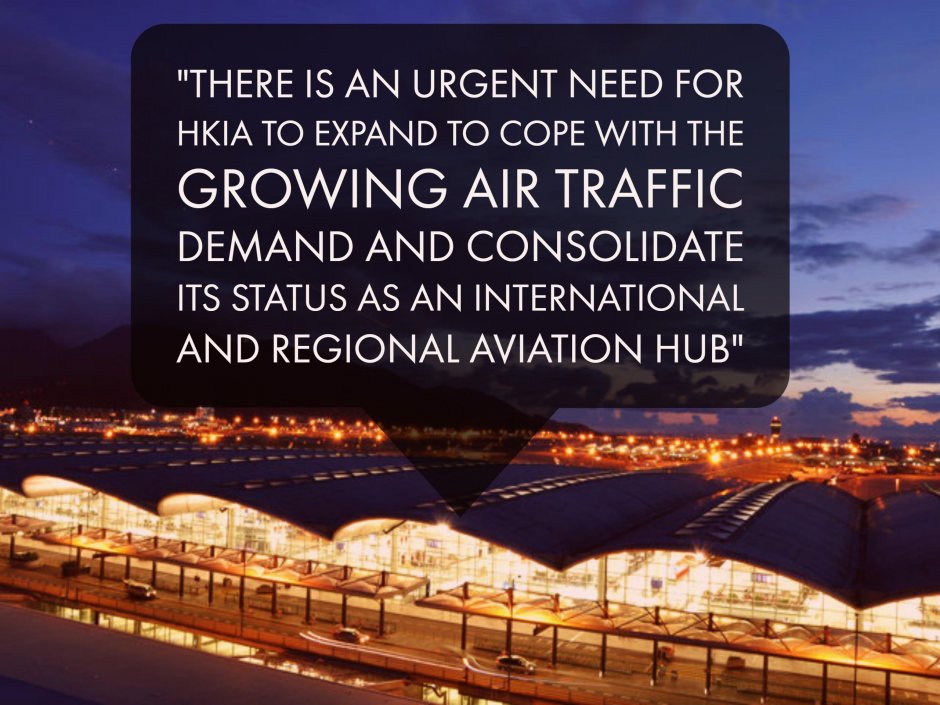 In March 2016, the airport celebrated the full operation of Midfield Concourse on-schedule. The five-storey concourse provides 20 parking positions, and is expected to handle more than 10 million additional passengers per year.
HKIA now houses more than 100 airlines which connect HK to more than 190 destinations worldwide. We will also continue to expand our role as a multi-modal transport hub serving Hong Kong and the Pearl River Delta (PRD). Our existing SkyPier ferry service and cross-border coach and limousine service help expand HKIA's catchment area beyond Hong Kong and the Greater PRD region.
To leverage commercial opportunities brought by the completion of the Hong Kong−Zhuhai−Macao Bridge and tap into the growth of the PRD, we will continue to broaden HKIA's catchment area in the PRD by expanding our upstream check-in services and strengthening promotional activities in the mainland and overseas.
Finally in 2016, we announced the development plan for SKYCITY, a major integrated development on approximately 25 hectares of land at the north of the airport island, with the objective to transform HKIA into an airport city. SKYCITY will be developed in phases. Phase 1, which comprises retail, dining and entertainment facilities, as well as a hotel, is expected to complete by 2021. The hotel tender has been awarded recently.
The key challenges
The estimated construction cost for the 3RS is HK$141.5 billion (£14.97bn) in today's prices.
The eight-year construction commenced in August 2016 and is expected to be completed in 2024, which involves the land formation of 650 hectares in the first stage. The expansion will equip HKIA to handle future traffic demand. By 2030, the airport is expected to handle over 100 million passengers, nearly nine million tonnes of cargo and over 600,000 flight movements per year.
Predicated on the "joint contribution and user-pay" principle, the Airport Authority (AA) has formulated the overall financial arrangement for developing the 3RS, which is composed of three funding sources: retaining operating surplus, levying an airport construction fee (ACF) and raising bank loans and issuing bonds of estimated HK$69 billion (£7.3bn).
The AA has begun collecting the ACF from departing passengers from HKIA since 1 August 2016. Meanwhile, we have appointed a financial consultant to analyse different debt structures and identify different forms of financial instruments in both the bank loan and capital markets, and make detailed recommendations on the instruments (such as retail bonds).
It is challenging to conduct the construction works of different projects next to an operating airport, but we have various measures in place to help us maintain service excellence for our passengers, and minimise the impact to the airport operations.
On the other hand, to enhance customer experience and operational efficiency, it is important for HKIA to become a "smart airport" by deploying innovative technologies. These smart initiatives include self-bag drop system, iBeacon technology, robotic application, mobile application and more. We will continue to explore more smart technology to ensure a pleasant airport experience for travellers.
The airport's other major achievements
In 2016 HKIA received a number of international awards and accolades for which its service excellence and status as an international and regional aviation hub were recognised. We received Payload Asia's "Asia Pacific Airport of the Year – Industry Choice Award" for the third consecutive year, and was again inducted into the Travel Hall of Fame again at the TTG Travel Awards, after holding this honour since 2013 for being voted as the "Best Airport" 10 consecutive times by the Asia-Pacific travel trade. HKIA also won the prestigious "Airport of the Year" award from Air Transport World.
HKIA is also committed to becoming a green airport. We celebrated the airport's achievement in reducing carbon intensity by 25.6 per cent per workload unit by 2015, as compared with the 2008 level. This achievement surpassed the original target of reducing carbon intensity by 25 per cent, set in 2010. The AA and its business partners have also announced a new 10 per cent reduction target as compared with 2015 level for the five-year period from 2016 to 2020.
To groom future leaders for airport development, we are launching the Hong Kong International Aviation Academy this year, providing a wide array of courses to nurture talents for the industry. The Academy will be collaborating with business partners, local tertiary institutions, as well as renowned international organisations including Ecole Nationale de l'Aviation Civile of France to offer a wide range of courses and placement opportunities. We also strive to build a family-friendly work environment at HKIA, and will set up the first ever Airport Preschool at the airport to provide child care services for members of the airport community.
We must thank our more than 73,000 colleagues of the airport community, whose concerted efforts have helped maintain efficient operations to receive an ever rising amount of passengers whilst providing a pleasant travel experience for passengers. To further enhance traveller experience and airport operations, we will continue to invest in hardware and facilities to meet the ever increasing passenger growth. We will also leverage on the latest technology development and take reference from passenger feedback to introduce new passenger-focused initiatives.
---
Routes Asia 2017
C K Ng will be joined by a panel of experts at Routes Asia 2017 in the session Airport challenges - congestion, capacity and construction
IATA predicts that Routes to, from and within Asia-Pacific will see an extra 1.8 billion annual passengers by 2035, leading to an overall market size of 3.1 billion. Asia Pacific is expected to be the source of more than half the new passengers over the next 20 years. China will displace the US as the world's largest aviation market around 2024, India will displace the UK for third place in 2025, and Indonesia enters the top ten. This huge growth will put pressure on infrastructure that is already struggling to cope with demand.
What will happen if Asian capacity continues to grow at the rate projected by IATA's 20 year passenger forecast? Can the airports and the associated infrastructure keep up with this projected demand? What developments need to happen in airport infrastructure to meet this demand? What impact will China's rapid airport development have? How can slot constraints be addressed? How are governments and the industry working together to address these challenges?
Other speakers include: