Routes Europe 2017 Marketing Awards shortlist announced
A record number of votes were received for this year's awards. Discover which airports and destinations have been recognised for their marketing achievements by the airline network planning community.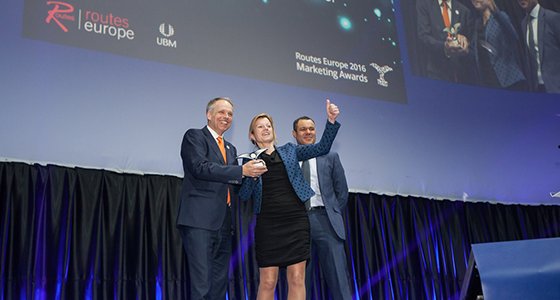 Votes flooded in for the Routes Europe 2017 Marketing Awards when voting opened on Monday, 30 January. We are pleased to announce that the following airports and destinations have been recognised by their airline partners for their outstanding achievements in route development marketing.
Over 20 million passengers
Amsterdam Airport Schiphol
Athens International Airport
Munich Airport
Oslo Airport
Stockholm Arlanda Airport
4 - 20 million passengers
Birmingham Airport
Budapest Airport
Cologne Bonn Airport
Larnaka International Airport
Marseille Provence Airport
Warsaw Chopin Airport
Under 4 million passengers
Albrecht Dürer Airport Nürnberg
Cagliari International Airport
Poznań– Ławica Airport
Shannon Airport
Vilnius Airport
Destination
Canary Islands Tourist Board
Madeira Promotion Bureau
Munich Tourist Office
Polish Tourist Organisation
Turismo de Portugal
The shortlisted organisations have now been contacted and asked for a submission to support their nomination, as to why they think they should win the award, providing evidence to support their case. The submissions will then be reviewed by a distinguished panel of airline judges, who will select the category winners and overall winner for the industry's most coveted awards.
The winners will be revealed at the Routes Europe Networking Evening, which will take place at Titanic Belfast. Voted the World's Leading Tourist Attraction in the 2016 World Travel Awards, the Titanic Belfast will provide an impressive backdrop for some of the most coveted awards in the industry.
For further information about the Routes Europe Marketing Awards, please visit our dedicated web page.