PRESS RELEASE: Changi Airport wins Routes Asia 2017 Marketing Awards
Singapore's Changi Airport was announced as the overall winner of the Routes Asia 2017 Marketing Awards at a ceremony last night (20 March) in Okinawa, Japan.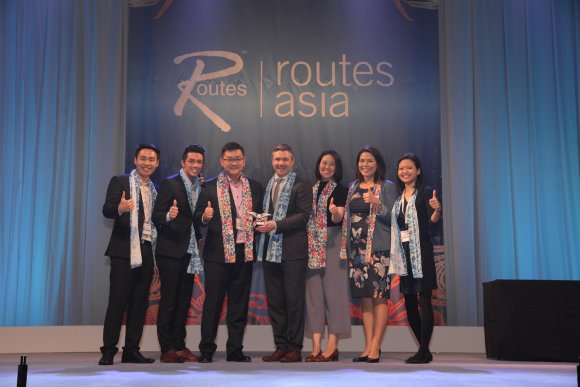 The annual Routes Asia Marketing Awards recognise excellence in airport and destination marketing. Airlines vote for the marketing services that support the successful launch of new routes or the development of existing ones, making them highly regarded in the aviation industry.
Last year Changi Airport achieved a record high of 58.7 million passengers and more than 360,000 aircraft movements, representing a 6% increase in traffic. New routes include Canberra, Wellington, Dusseldorf, Stockholm and Athens, with Addis Ababa joining Changi's network in June 2017.
Damon Wong, general manager, airline development at Changi Airport Group said: "We constantly seek strategic partnerships and collaborations with local governments, tourism boards and even other airports to develop tourism and traffic flows between Singapore and markets around the world.
"Changi Airport has been, and will always be, committed to growing together with our family of airlines. We will continue to seek innovative ways of marketing our home, our air hub, and look forward to more exciting years ahead with our invaluable partners."
In addition to the overall winner, the awards are judged in five categories. Changi Airport was also honoured in the 'Over 20 Million Passengers' category; Adelaide Airport won the '4 to 20 Million Passengers' category; Sunshine Coast Airport won the 'Under 4 Million Passengers' category; and Philippine Department of Tourism scooped the 'Destination' category.
Changi Airport was also the overall winner of the World Routes 2016 Marketing Awards which recognise marketing excellence on a global scale. Winning the Asian heat of this year's awards means that Changi will have the chance to compete at the World Routes 2017 Marketing Awards in September.
Steven Small, brand director of Routes said: "The award submissions were of exceptional quality with Changi Airport beating some stiff competition. Changi has an enviable track record of continuing growth and a strong commitment to working in partnership with the airlines."
More information about Routes can be found at routesonline.com
-ENDS-
Notes to Editors:
The full list of shortlisted companies:
Overall Winner
Singapore Changi Airport
Over 20 million passengers
Winner: Singapore Changi Airport
Highly commended: Chhatrapati Shivaji International Airport, Mumbai
Narita International Airport Corporation
Incheon International Airport
Kuala Lumpur International Airport
4-20 million passengers
Winner: Adelaide Airport
Highly commended: Mactan Cebu International Airport
Auckland International Airport
Christchurch International Airport
Nagoya Chubu Centrair International Airport
Under 4 million passengers
Winner: Sunshine Coast Airport
Bhubaneswar Airport
Boracay International Airport
Guam International Airport
Queenstown Airport
Destination
Winner: Philippine Department of Tourism
Auckland Tourism
Taiwan Tourism Bureau
Tourism Malaysia
Maldives Tourism Promotion Board
About Routes:
Routes events are unique forums dedicated to the development of new air services. They revolve around pre-scheduled meetings, an exhibition and a conference. Four 'regional' route development forums are held between February and June in the Americas, Asia, Europe and Africa, with the flagship World Routes event taking place in September.
Routes events are organised by UBM plc. UBM is the largest B2B event organiser in the world. Our 3,750+ people, based in more than 20 countries, serve more than 50 different sectors. Our deep knowledge and passion for these sectors allow us to create valuable experiences which enable our customers to succeed. Please visitubm.com

for the latest news and information about UBM.
For further information contact:
Karen Reeves
Communications & Content Marketing Manager
Routes, UBM EMEA
T: +44 (0)161 234 2721
M: +44 (0)796 6405 105