A4E chief slams ATC strike "scandal"
ATC strikes caused 278 days of disruption in the last six years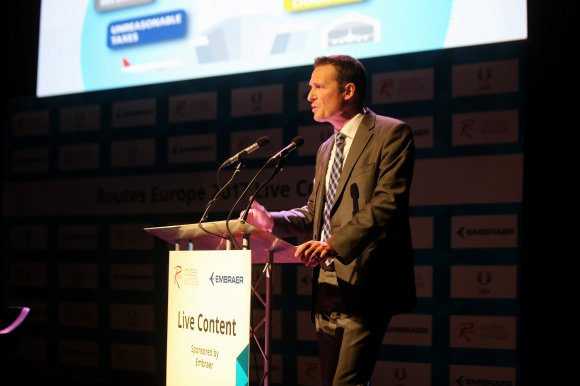 Air Traffic Control (ATC) strikes remain the single biggest issue for European aviation.
Speaking during the Routes Europe 2017 live content programme, Airlines for Europe (A4E) managing director Thomas Reynaert said in the last six years in Europe there had been 117 strikes causing 217 strike days for the sector.
This led to 278 days of disruption as airlines cope with the initial disruption and cost the EU €12 billion in cumulative negative financial impact.
Reynaert said that analysis showed airlines were not the worst hit sector either as only 6% of the sum is their own lost revenues. Instead tourism was worst hit with 59% of the figure being reduced tourism spending while 35% was thanks to a loss of productivity.
He added: "That's a real scandal. That's what the disruption can cost. That's just the financial cost, it is not the social cost with families being disrupted.
"It is not only a problem for aviation, it is a major problem for the European economy and it is affecting tourism businesses."
Reynaert said the country with the most ATC strikes during the six-year period had been France with more than 25 days of industrial action.
He added thanks to the country's geographical location, the effects of any strike in France can be disproportionate, adding: "If France goes on strike, even for a regional strike, it causes huge problems."
Other problems affecting European aviation include airport charges, security costs as Europe sees an increase in terrorist attacks and taxes.
Reynaert argued that many airports are still able to act as monopolies and are less than transparent when it comes to the charges they levy from airlines.
He said: "The way charges are being worked out in many places is simply not transparent.
"With infrastructure, why do we need to pre-finance (it through increased airport charges). With (customer) parking lots has anybody done a study as to why we (airlines) would use them?
"But I'm not saying the majority of airports is getting it wrong, the majority is getting it right."
However, Reynaert said the problem could get worse as a result of increased terrorist attacks, many of which are targeting airports. But he argued security was a duty of the state and said governments should do more to crack down on terrorism as well as pay more to help protect airports.
As far as aviation taxes are concerned, he added European passengers had been "fleeced" of €5.6 billion in 2016. He added the UK was worst hit at €3.6 billion followed by Germany at €1.1 billion.
He urged governments to cut the taxes in order to stimulate the market better, ultimately raising their own revenues as a result.