Connections key as Flybe gears up for growth
Building on a key new connection is at the core of the regional specialist's thinking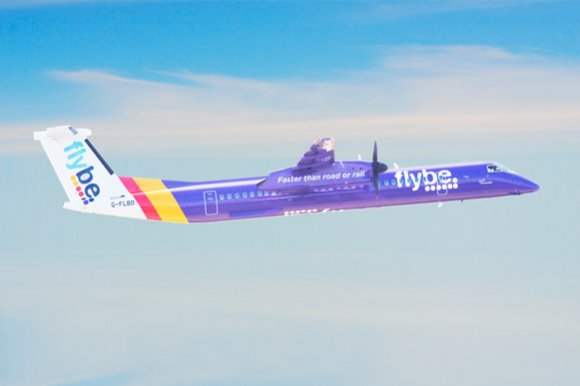 Flybe's flights between Heathrow and Scotland, which commenced in late March, will form a strong platform for the company to build profitability over the next year.
Vincent Hodder, chief revenue officer at Flybe, told Routesonline: "We've had a number of major achievements in the past 12 months, mainly the launch of our Heathrow operations and new codeshares with Virgin Atlantic, Air Berlin, Singapore Airlines and Air India."
In reporting its interim results last November, executive chairman Simon Laffin reported the completion of the carrier's three-year transformation programme, a set of projects including a brand relaunch, raising capital and addressing legacy fleet issues.
Revenue for that six-month period was up 12.8%, to £383m. In these immediate post-Brexit months, profit dropped (by 25 per cent to £15.9m over the six months) due to bookings failing to keep pace with new seats added. However, the overall tone was positive, the group's previously reported return to profitability being maintained.
Key developments since include the development of several codeshare agreements that have broadened the ability of Flybe, the leading airline in UK domestic passengers, to market tickets to destinations beyond Europe.
The Heathrow connection is a major step for Flybe, which has never previously operated from the UK's largest airport. In December, it announced that, as a result of the acquisition of BMI by International Consolidated Airlines Group, it would pick up BMI's Heathrow-Scotland slots, at no cost, save for Heathrow's landing and passenger charges.
This was given a further boost in January, when Heathrow, looking to build domestic traffic, announced a £10 reduction in domestic passenger charges.
So it was in March that Flybe became the first domestic operator to enter Heathrow since 2013. Using Heathrow's Terminal Two, it has been offering up to 18 flights a day between London and Edinburgh, and ten between London and Aberdeen, not only giving South East passengers much improved access to Scotland, but giving Scottish customers access to Flybe's 'One Stop to the World' connectivity.
Flybe's One Stop to the World codeshare partners include Aer Lingus, Air France, British Airways, Cathay Pacific, Emirates, Etihad, Finnair and KLM.
Late March also saw the service between London City and Amsterdam Schipol expanded from weekend-only to a daily service.
Driving the bottom line
Costs are going to be a big focus of the next year, Hodder said, with a focus on investment now to make long-term savings by being smarter: "Over the next 12 months our primary target is to return to bottom line profitability, part of which will be continuing to reduce controllable costs, especially airport costs.
"We will also look to reduce our fleet and roll out a new generation digital platform. Furthermore we will Improve predictability and reliability for our customers and maintain and enhance our commitment to safe and sustainable operations and safety culture.
"We also see the rise of low-cost long-haul as a significant opportunity and it's one we will continue to evaluate."
In terms of fleet reduction, Flybe has for several years been watchful, reaching agreements with plane makers Embraer and Republic in 2014 to scale down its orders, going for smaller, second-hand planes over brand new aircraft. Last year, it reached an agreement with plane lessor NAC to cancel nine of 24 planned deliveries.
Developing the route network is always an obvious starting point when it comes to working out how to continue revenue growth. Political and economic uncertainty are just two of the factors leading to the thinking that Flybe won't be rushing headlong into any big decisions, though:
"With regards to our route network, UK regional connectivity will be our main focus, followed by Europe. However, our business faces a number of threats, particularly with the UK General Election and Brexit looming over us creating uncertainty and, and the potential economic and exchange rate instability these will cause. Oil prices and slot constraints remain challenges for us, and air passenger duty is a serious ongoing issue facing all airlines."
So what are the trends in Europe ad what does Flybe expect the competition to be doing to up its game? Hodder said: "Outside of the UK market we expect to see a number of trends emerging across Europe, including the consolidation of regional aviation to take advantage of scale and to share benefits of specialisation.
"Other than that, we expect to see more airlines improving their customer focus and personalising of the booking and travel experience, and increasing the seat count on mainline and LCC (low cost carrier) fleets."
In aviation as other industries, "disruption" is increasingly being mentioned by the executives charged with keeping their operator ahead of the curve. It's far from beyond the pale that the leading tech pioneers that, to name but a few areas, are heavily involved in changing logistics and driverless vehicle technology and drones would look to aviation to expand and integrate.
Hodder said: "Other major trends in the industry to keep an eye on are the convergence of low cost and legacy business models and the emergence of new disruptors in the travel marketplace such as Amazon and Google."
Winter routes announced
The increasingly international in its outlook, Flybe put 3.62million winter seats up for sale for its 2017-18 winter schedule in the last week of April, offering 121 destinations and up to 2680 flights a week.
In addition to the Heathrow-Scotland link, other new connections include Cardiff to Rome and Aberdeen to Southampton. From December, ten ski destinations will be opened up to Flybe passengers: to Chambery from Birmingham, Cardiff and Exeter; to Geneva from those three airports plus Isle of Man, Jersey and Southampton, and a new weekly flight from Manchester to Innsbruck.
Seven winter sun routes, to Alicante from Doncaster Sheffield, Exeter and Southampton; Faro from Cardiff and Exeter; and Malaga from Doncaster-Sheffield and Exeter, are being offered.
The group's chief executive Christine Ourmieres-Widener – the former CityJet boss who took over in January - said: "This will be our first season of our plans to optimise and standardise our route network with a renewed focus. As such, we're pleased to have maintained a comprehensive range and diversity of winter destinations for our customers.
"The schedule has been carefully designed to satisfy those wanting to book convenient affordable business travel as well as for those looking for short weekend leisure breaks over the autumn and February half-terms and Christmas/New Year holidays, and for those wanting to use Flybe services to connect seamlessly on to worldwide destinations with our airline partners."
Flybe brings in itsu
Flybe's not just adding new routes, but looking to improve its all-round service. Asian-inspired food brand itsu has come on board with Café Flybe, and as of 3 April a range of healthy itsu snacks have been available to customers.
The range available includes vegetable "festival" noodles, low-calorie sweet chilli prawn crackers, chocolate edamame, and milk chocolate-covered rice cakes. Charlie Knight, head of wholesale, said: "We can really see a place for our healthy, innovative and tasty products within the airline sector and it's great that Flybe has seen this opportunity."
The move comes as part of a menu refresh that has also seen a breakfast snack box, soft bake cookies and a range of premium gins added to the Café Flybe menu.