Q&A with Ioanna Papadopoulou of Athens International Airport
Ioanna Papadopoulou spoke to Routesonline about the strategic approach to risk sharing and integrated marketing that has delivered new routes at Athens International Airport.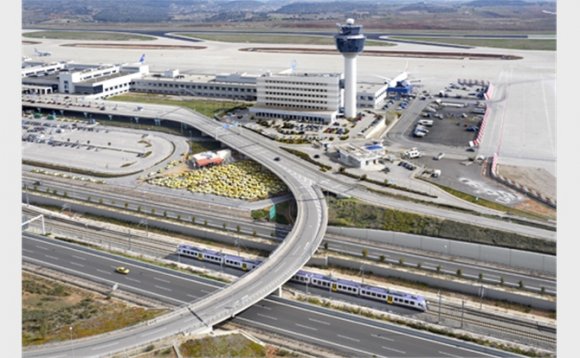 Athens International Airport's director of communications and marketing, Ioanna Papadopoulou, answered our questions about the challenges and successes of the last year and upcoming plans.
What are ATH's major achievements in the past 12 months?
In 2016 we exceeded the 20 million passenger mark - an all-time high performance. With a year-to-date increase of almost 9%, this trend is continuing in 2017 - the fourth consecutive year of traffic growth and route development for Athens International Airport.
Our market is characterised by the dynamic expansion of the international route networks of our home-based carriers, the successful performance of Greek and international carriers, the introduction of additional frequencies and new routes, the increase in low-cost carriers and spectacular long–haul development.
We have invested heavily in destination marketing initiatives and synergies with airline and tourism stakeholders. Consequently, there has been a double-digit increase in the number of international arrivals for four years in a row, which is a big reward.
Our transfer product is also powering up; passengers using Athens as a transfer point have increased significantly in recent years, demonstrating double-digit annual growth rates.
With 12 new routes and almost 300 additional weekly flights, we are seeing the expansion of our home-based carriers - Aegean and Ryanair. We are also benefiting from the significant strengthening of our connectivity through year-round long-haul routes to New York (Emirates) and Singapore (Scoot) and the other additional frequencies and destinations introduced by our airline partners.
Athens International Airport is the first carbon neutral airport in Greece, the 25th in Europe and the 28th in the world (ACI's Airport Carbon Accreditation programme). This achievement acknowledges our environmental role and the efforts of the airport community.
Following the remodeling of the non-Schengen area of the airport in 2016 with the introduction of centralised security, we are now completing an even larger renovation and redesign project for the Schengen zone and part of the departures area. The project aims to deliver a unique airport experience to both passengers and visitors.
What are your upcoming targets?
Following a successful 2016, the prospects for 2017 are promising. As mentioned above, this is the fourth consecutive year of spectacular growth and there has been a 9% increase in passenger numbers.
The strengthening of our long-haul network, the enhancement of Athens as a transfer point (especially in terms of international to international traffic), the increase in new low-cost carriers operating at our airport and the strengthening of the existing ones, as well as the addition of niche routes in Athens' network, will help us to meet our upcoming targets.
To this effect, a very detailed and targeted aeronautical strategy has been put in place which is characterised by a highly sophisticated set of developmental and targeted incentives, new and innovative marketing tools and initiatives and data-driven business cases.
What are your major challenges?
The volatility and cyclicality of the aviation sector, Greece's macroeconomic situation, the privatisation of the 14 Greek regional airports and wider geopolitical conditions affect our environment.
Within this framework, we have consistently adopted a strategy of value creation for our stakeholders, cost control and the protection of our highly successful business model, while focusing on the further expansion of our network and connectivity. At the same time, risk sharing is a strategic choice and we support our airline partners with their developmental plans through an integrated marketing approach.
On a corporate level, negotiations with the Greek government about the extension of our concession agreement are intense and ongoing. Their conclusion will be an important and highly significant milestone in the Company's long-term development and planning.
Are there any specific routes or geographies you are targeting?
The launch of the New York and Singapore routes by Emirates and Scoot are two very important developments for Athens and its connectivity, highlighting our short and medium-term plans to explore opportunities and specific routes in the Far East and the Americas.
Additionally, a series of Chinese investments in the Greek market have created a favourable environment to introduce direct operations between Athens and China.
Without excluding Africa, which is in our longer-term plans, tapping into the niche market potential of Europe and Russia is also at the top of our immediate priority list.
Athens won the '4-20m passengers' category at World Routes 2016 Marketing Awards; what is the secret to this success?
Athens has won 16 Routes Marketing Awards in the last 13 years. In the last three years (2014-2016) our 60% aggregate growth in passenger numbers meant that we surpassed 20 million passengers in 2016 and moved into the 'Over 20 million passengers' category of the awards. Considering the adverse macro-economic environment that we are operating in we feel that we must have done something right!
Team spirit, dedication, hard work and, most importantly, risk sharing and a willingness to proactively meet the needs of our airline partners has brought results and gained the trust and appreciation of our partners. This is our biggest reward.
Aegean recently posted a very solid set of results with 7% passenger growth – is this good news for Athens' potential network development?
It's extremely positive news. "Hubs are made by airlines, not by airports" as the aviation saying justifiably goes. Aegean has significantly contributed to our airport's passenger development, accounting for 49% of traffic, increasing transfer traffic and enhancing hub potential.
Aegean has carefully implemented its development plans over the years and demonstrated resilience during a severe economic crisis. The airline has an excellent track record of performance, passenger service and continuous development and this is definitely good news for further network development.
Overall, our airline partners' growth and healthy financial standings are inextricably linked with our own network development and advancement; therefore they are the main goals of our risk sharing policy and integrated marketing approach.
How does Athens work with its tourism authority and other partners to attract and promote routes, and how is this different from other airports' approach?
We have substantially invested in destination marketing, synergies and cooperation with all tourism stakeholders since 2013. Actively and creatively supporting Athens as an O&D and transfer destination is one of our primary targets. City breaks to Athens increased by 116% in 2016 with foreign residents accounting for 9%. The international-to-international segment of transfer traffic at the airport grew by 16%.
We have forged strong relations and strategic cooperation with our tourism stakeholders which include the Ministry of Tourism, Ministry of Culture, Greek National Tourism Organization, tourism associations, hoteliers, the Municipality of Athens, Marketing Greece and many more.
We have contributed to the reinforcement of Athens' attractiveness and the strong recovery of the city's image. Our projects include:
The 'athenspotlighted' free city card distributed to foreign tourists visiting Athens
The 'Aθenian' marketing campaigns with the Greek Ministry of Tourism, Greek National Tourism Organisation, Marketing Greece, 11 airlines and 18 international airports which promoted our city to more than 170,000,000 passengers worldwide
A transfer incentive to substantially support airlines in the development of transfer traffic
A low-fares incentive to help airlines offering the lower fares that drive additional demand
This year we have joined forces with the Municipality of Athens and Aegean to form the Athens Tourism Partnership (ATP) to promote Athens as a city break destination in specific markets. We started off in France and Germany with the campaign 'Athens: One City - Never Ending Stories' and we are targeting other markets for the rest of the year.
We are currently working on the concept 'Destination within the Destination' which promotes Athens in an indirect way through events that form part of our city's brand and identity. We target specific audiences through events such as the Athens Marathon and Athens Summer Festival.
Are there any other issues you would like to discuss with our audience?
Athens is now at its best; there couldn't be a better time to come and experience the city as a visitor or invest in the destination's potential! Don't miss out on the opportunity!