Routes Europe helps Icelandair introduce year-round Vancouver service
Icelandair has announced the increase of its seasonal service between Vancouver International Airport and Keflavik International Airport to year-round, following discussions at last month's Routes Europe forum in Belfast.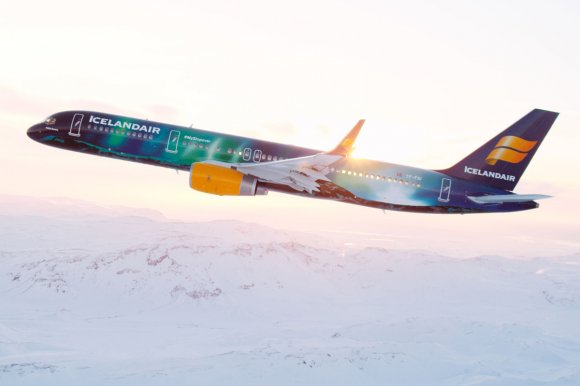 The seasonal Vancouver route was launched in May 2014 and has seen continued growth. The expanded service will continue to use Boeing 757 aircraft, operating twice a week, with the frequency increasing again next year to three days a week.
Traffic data provided by Sabre shows the large volume of Icelandair passengers travelling to Vancouver in July and August. In 2016 there were 15,413 indirect passengers compared to 6,108 direct passengers, so the expanded service will help to capture some of this traffic.
The additional flights at the beginning and end of the year are likely to stimulate the market and increase overall passenger demand.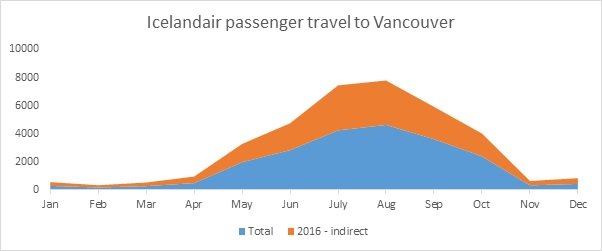 Sabre data also shows how the demand for travel between Keflavik and Vancouver has increased since 2014.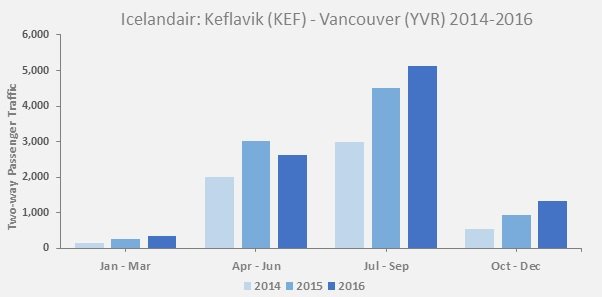 James Gardner, airline relations manager at Routes said: "This announcement underlines the power of face-to-face meetings at Routes Europe for not only exploring new destinations, but also expanding opportunities on existing network points.
"The decision, announced barely two weeks after Routes Europe, shows the rapid results face-to-face meetings can help to deliver."
In addition to offering passengers more connections, Icelandair's service will create 61 jobs and will contribute $3.4 million in Gross Domestic Product to British Columbia's economy.
Craig Richmond, Vancouver International Airport's President and CEO said: "I would like to thank Icelandair and our tourism partners for their continued support.
"Together, we have laid the foundation for this increased service, which will further develop Vancouver as a world-class connecting hub by linking our passengers and businesses with an incredible destination—and key connecting hubs in Europe. This means more opportunities for travel, education and business."