Following Etihad Airways' decision to appoint Ray Gammell as group chief executive as James Hogan's eparture draws near, the airline finds itself at a crossroads with an opportunity to rethink its strategy. we spoke to CEO Peter Baumgartner to hear the major challenges and opportunities it faces in the near future.
Q: What have been your major achievements in the last 12 months?
The airline carried 18.5 million guests during 2016, which was up six percent on 2015. It was also central to the evolution of the Etihad Aviation Group (EAG), our larger aviation and tourism business which now includes Etihad Airways Engineering; our Airline Equity Partners; Etihad Airport Services and the Hala Group. The formation of the EAG was announced in May 2016 and the airline will be central to its ongoing success. It was a year of continued progress during 2016 with the airline operating more than 109,000 scheduled passenger and cargo flights, spanning over 440 million kilometres and 112 destinations. The average load factor held steady at 79 percent so we've been pleased with our overall performance.
During 2016 the airline took delivery of 10 aircraft including three Airbus A380s, five Boeing 787s and two Boeing 777-200 freighters. A further 12 aircraft are set for delivery in 2017, including nine Boeing 787s, two Airbus A380s and one A330-200 freighter, while we will also be exiting some older generation aircraft from the fleet to moderate our capacity growth.
The airline has added depth to the network with increased frequencies on key markets to Cairo, Dammam, Istanbul, Calicut, Jeddah, Riyadh and Manila. It has also allowed for the continued induction of our next generation aircraft such as A380s and B787s, which has seen London Heathrow become an all A380 operation three times a day and facilitated the deployment of B787s on markets including Perth, Shanghai, Johannesburg and Dusseldorf.
Etihad Cargo carried 592,700 tonnes, which was flat year-on-year, but expanded our freighter services to several new markets including East Midlands, London Stansted, Copenhagen and Brussels in Europe; Addis Ababa and Casablanca in Africa; plus Colombo; Muscat, Columbus Rickenbacker and Zhengzhou in several other core markets around the world.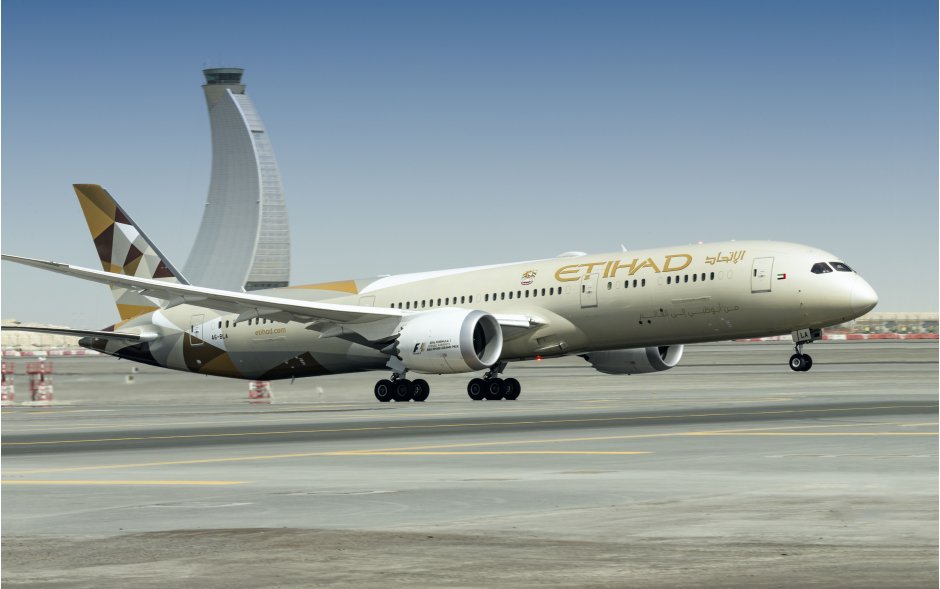 Q: What are your priorities for the next 12 months?
In 2017, Etihad Airways is adding additional depth through frequency increases to optimise our network. Cities including Bangalore, Dusseldorf, Calicut, Ahmedabad, Riyadh and Dublin have already seen additional increases this year.
We're also introducing our award-winning A380 on the Abu Dhabi–Paris route this summer as part of seasonal adjustments to the airline's fleet deployment plan. The aircraft will operate on one of the twice-daily services to the French capital from July 1 and Paris becomes our latest A380 long haul destination following London, Sydney and New York.
In addition we are increasing A380 services between New York's John F. Kennedy International Airport and Abu Dhabi in response to heightened demand. Beginning on June 1, the second flight will be upgraded between the cities and will join an existing daily A380 service.
With both of the second New York and Sydney services welcoming additional A380 during 2017, all of Etihad's service to London, New York and Sydney will now be served by A380s in the coming 12 months. Each aircraft features the carrier's revolutionary The Residence – the world's first three-room suite on a commercial airliner.
Alongside the main airline, the cargo division continues to grow with Etihad Cargo having taken delivery of its 10th freighter further boosting our fastest growing division. The addition of an A330F takes our Airbus freighter fleet to five, joining five Boeing 777 freighters, which collectively serve over 40 destinations worldwide.
---
Etihad's growth story
Data provided by OAG
Q: What major challenges do you face?
2016 saw a combination of factors that have affected airlines globally. These included issues around terrorism and regional conflicts, a weaker outlook for economies in important markets plus uncertainty caused by referendums in Europe and the US Presidential elections, which all came alongside major fluctuations in both the oil price and exchange rates.
It's not unusual for airlines to face these types of challenges but it's certainly been a year when many competing factors have overlapped. On the economic front, world GDP growth in 2016 was estimated at 2.2 percent which was the slowest pace seen since 2009.
The forecast for 2017 is slightly better at 2.6 percent but it is still a reduction on previous estimates. Oil price instability has obviously impacted several economies in the Middle East region such as the UAE, so there are many competing issues that we're currently faced with.
However the creation of the EAG structure demonstrates the many assets we have within our business - from our fleet to the lounges, engineering and MRO services, as well as destination management services with Hala. The business is in a strong state and when we add in factors such as a growing network and the strength of our partnerships, I know we will be able to navigate the challenges we face.
Q: What geographies are you watching closely for potential new routes?
We continue to monitor all regions and whilst we are currently focused on network depth, we will continue to look at new routes if and when we see a profitable opportunity.
Currently we're increasing frequencies on our existing network but the placing of the A380 on Paris, New York and another on Sydney demonstrates the strengths of those particular regions.
In terms of the fleet, we're introducing several new aircraft such as Boeing 787 Dreamliners. We have 59 of those aircraft which will arrive between now and 2025 and those types are also being introduced to cities such as Beirut, Seoul, Beijing and Melbourne during 2017.
The 787 aircraft is currently deployed to the cities of Amman, Johannesburg, Brisbane, Düsseldorf, Perth, Riyadh, Shanghai, Singapore, Tokyo Narita, Washington DC and Zurich. It's a fantastic aircraft that carries our signature Etihad products that customers have become accustomed to and will enable us to continue providing our best in class service on the routes it serves.
---
Etihad's top destination airports (excluding Abu Dhabi) - total seats Q1 2017
Data provided by OAG
| | |
| --- | --- |
| LHR | 139,057 |
| BKK | 129,172 |
| BOM | 92,418 |
| JED | 81,228 |
| MNL | 78,304 |
| MEL | 76,770 |
| JFK | 76,573 |
| SYD | 73,210 |
| KWI | 67,054 |
| RUH | 64,418 |
Q: How is the growth of China's outbound market and Indian aviation affecting your plans?
China is of increasing significance to the UAE and our links are steadily growing. The airline currently operates 28 services between Abu Dhabi and the four major cities of Beijing, Chengdu, Shanghai and Hong Kong in the Greater China region. Tourist traffic from China is rising and the country will continue to be one of the most important markets for Etihad Airways globally.
The airlines' unique geographic position serves as a significant hub in the global aviation network, and allows Abu Dhabi to closely link China with the Middle East, Europe and Africa. Recent developments have seen visas being granted upon arrival to Chinese mainland citizens, which are helping to promote the UAE and Abu Dhabi as a unique business and leisure destination. They are also encouraging Chinese travellers to take advantage of the excellent stopover packages on offer year round.
India is already a hugely significant market for Etihad Airways where we're well established and have a strong partnership with Jet Airways, one of our equity partners. Together Etihad Airways and Jet Airways are operating 257 weekly flights between Abu Dhabi and 15 Indian cities in 2017.
Q: How is planning proceeding for James Hogan's departure?
Ray Gammell, the current Chief People & Performance Officer for Etihad Aviation Group (EAG), was recently announced as the interim Group CEO, and James will leave the company on 1 July 2017. James has been integral to the success of the business over the last ten years and our ambition to create the best travel and aviation company in the world remains.
Q: Following recent partnerships with Egyptair and Montenegro, is this something you will continue to focus on in the future?
We continue to adopt a strong partnership approach to complement our organic network development. That is seen in the airline's codeshare and equity partnerships which, last year, delivered 5.5 million passengers onto Etihad Airways' flights, an increase of nine percent over 2015.
Our list of codeshare partners expanded further during 2016 through agreements with airlines such as Kulula, Precision Air and Montenegro Airlines. Existing codeshares with Brussels Airlines, Flynas, Malaysia Airlines and Hong Kong Airlines were also expanded.
At the start of 2017, we announced a new codeshare with Lufthansa for flights between Abu Dhabi and Germany. Lufthansa placed its 'LH' code on Etihad Airways' twice daily flights between the Abu Dhabi hub and both Frankfurt and Munich while Etihad now has its 'EY' code on Lufthansa's long-haul, non-stop intercontinental services between its home base of Frankfurt and Rio de Janeiro in Brazil, plus the Colombian capital of Bogota.
Our interline agreements extend to carriers such as Pegasus, Malindo and LATAM. As a result of those agreements, the airline offers a combined passenger and cargo network of nearly 600 destinations through its 188 interline and 56 codeshare partnerships. In addition to those agreements, we have an equity partner network with airlines such as Jet Airways and Virgin Australia that flew a combined fleet of 705 aircraft and carried over 120 million guests during 2016.
Etihad's network Map - Q1 2017
Powered by OAG