easyJet upgrades Airbus order to 30 A321 neo aircraft
Airline exercises its "ruthless focus" on capital allocation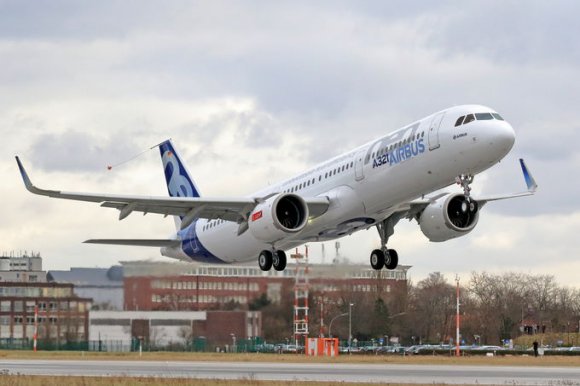 easyJet has upgraded its 2014 order with Airbus to 30 A321neo aircraft as it seeks to enable growth in slot-constrained airports and manage costs.
The airline, which had originally ordered 30 186-seat A320 units, told the Stock Exchange that upgrading to the 235-seat A321neos will be neutral to its capital expenditure, although this includes the deferral or some A320 deliveries.
The upgrade will create "substantial unit cost savings" of about 8 to 9 percent, while enabling it to increase its "high degree of flexibility in its fleet plans to manage its growth, cost and cash flows".
easyJet's total fleet at 31 March 2017 was 266 aircraft, up from 247 in the first half of 2016.
This is split between 156-seat Airbus A319s, 180-seat A320s and 186-seat A320s, which came on line in May 2016.
"Alongside its lean initiatives over the next five years easyJet will reduce cost by improving the fleet mix and ownership structure," the company airline said.
"In the six months to 31 March 2017, easyJet took delivery of nine 186-seat A320 aircraft, which provide a per seat cost saving of 9 percent to 10 percent compared to the A319 through economies of scale, efficiencies in crew, ownership, fuel and maintenance.
"easyJet also completed the up-gauging of 44 of its existing 180-seat A320s to 186 seats. During this process easyJet experienced issues with the quality of the new equipment, leading to aircraft unavailability. Therefore, the retrofitting programme will be suspended until these problems are resolved."
As a result of the changes, easyJet's capital expenditure for the next four years is as follows:
| | | | | |
| --- | --- | --- | --- | --- |
| | 2017 | 2018 | 2019 | 2020 |
| Gross Capital Expenditure | £700m | £1,050m | £800m | £950m |
"easyJet has a ruthless focus on capital allocation, using its market-leading fleet flexibility to increase or decrease capacity deployed. easyJet regularly reviews the opportunities available and prevailing economic and market conditions to determine the most effective capital allocation," said the airline.
"In the past five years easyJet has closed bases in Madrid and Rome and redeployed those aircraft to secure stronger more profitable market positions elsewhere. Every year the airline churns routes that have not reached their targeted objectives using the flexibility to move aircraft between routes and markets to ensure improved utilisation and generate increased returns.
"This industry-leading flexibility is achieved due to a number of agreements that impact both the timing and scale of capacity deployment: new aircraft orders can be deferred, leases may be extended or not renewed, aircraft may be sold or utilisation can be reduced at times of low demand. As announced in November 2016, easyJet secured a reduced notice period with Airbus for deferring deliveries from 24 months to 18 months, giving it a competitive advantage in its ability to respond to market conditions."
easyJet's fleet:
| | | | | | |
| --- | --- | --- | --- | --- | --- |
| Aircraft | Owned | Finance lease | Operating lease | Total | Future deliveries |
| A319 | 89 | | 55 | 144 | |
| A320 - 180 seat | 52 | 1 | 8 | 61 | |
| A320 - 186 seat | 47 | 4 | 10 | 61 | 27 |
| A320neo | | | | | 100 |
| A321neo | | | | | 30 |