DWC aims for "robust growth" in network
GCC and South Asia top targets as Dubai's second airport aims to build its network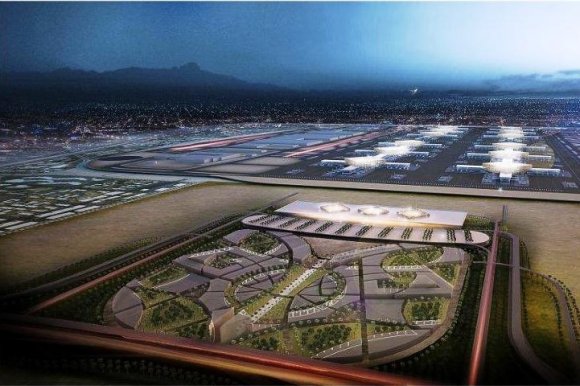 Al Maktoum International Airport at Dubai World Central (DWC) is eyeing continued growth led by new routes to South Asia and the GCC, Routesonline has been told.
The airport, which aims to become the "the world's largest global gateway", expects to continue its strong development despite recent challenges in the region.
Like many others in the region the airport has suffered a loss of passengers following the rising political tensions in the Gulf which led to a ban on flights between Qatar and the UAE and show no sign of speedy resolution.
DWC will be hit harder than most, with Doha accounting for 40.6 percent of the total capacity from the airport in Q1 2017, and Qatar Airways accounting for 30.65 of those seats.
However, it should be noted that the airport had been on a very steep growth trajectory, with a 29.5 percent rise in passengers to 333,780 in the quarter.
This followed an almost doubling in annual passengers with an 84.5 percent growth to 850,633 in 2016, up from 461,063 a year earlier.
And despite the political challenges affecting its current passenger mix the airport is anticipating "robust growth for the next five years" with a wide range of potential targets for new services, the airport's Zaigham Ali told Routesonline.
"Our major targets remain point-to-point traffic to unserved and underserved routes in the Indian Subcontinent, the Philippines, GCC states, CIS and Eastern Europe," said Ali. "We are in talks with several airlines from these regions to develop routes to DWC."
Although new routes will be needed to fill the void, the airport's continued growth curve will also mitigate the lost capacity to some extent.
Flydubai, the state-owned low-cost carrier, began services to DWC on 25 October 25 2015 and is now the largest airline by capacity at the airport with 47,000 seats in Q2 2017.
Additionally "the airport has witnessed robust growth in the scheduled charter operations that serve seasonal demand", said Ali.
"New additions to DWC include Himalaya Airlines from Kathmandu, Nepal and SalamAir from Muscat, Oman."
Condor also recently announced weekly charter operations from Basel, Berlin, Cologne, Hanover, Leipzig and Munich to commence in November 2017.
The new Muscat service is in part helping to fill the gap left by Qatar, with total seats of 32,000 expected in Q3. Beirut will also shoulder some of the burden, with seats more than doubling to 16,000 in the quarter.
One thing which has never been in doubt is the ambition of Dubai's aviation sector, and DWC is no exception.
The airport opened its doors to passengers in October 2013 and two years later embarked upon what it believes to be the largest airport construction scheme currently underway.
At present the airport has a passenger terminal with capacity of five million passengers per annum (expandable to 7 mppa) and it can accommodate a single A380 compatible runway.
The $32bn development project will give the airport capacity for more than 240 million passengers per year, able to accommodate 100 A380 aircraft at any one time. The entire development will cover an area of 56 square kilometres.
Irrespective of the outcome of the political row, it seems unlikely to stall such lofty ambitions for long, with new routes announcements likely to come in the near future.