Ryanair warns Brexit may lead to UK aircraft withdrawal
Low cost airline Ryanair has warned that it could be forced to cancel flights and move aircraft out of the UK unless a new aviation deal with the European Union is struck.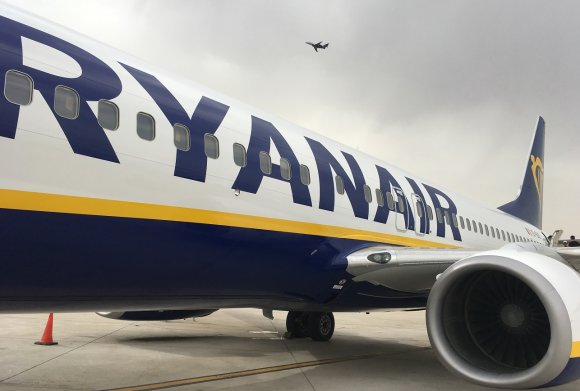 Irish carrier Ryanair has stressed that it remains "concerned" at the uncertainty which surrounds the terms of Britain's exit from the EU in March 2019.
In a trading update to investors, it said that it would continue to campaign for the UK to remain in the EU Open Skies agreement, but cautioned that should the UK leave, there may not be "sufficient time", or "goodwill on both sides", to negotiate a timely replacement bilateral which could result in a disruption of flights between the UK and Europe.
"We, like all airlines, seek clarity on this issue before we publish our summer 2019 schedule in the second quarter of 2018," Ryanair said.
"If we do not have certainty about the legal basis for the operation of flights between the UK and the EU by autumn 2018, we may be forced to cancel flights and move some, or all, of our UK-based aircraft to Continental Europe from April '19 onwards."
The warning came as the budget airline reported a 12 percent increase in traffic to 35 million in the quarter to 30 June 2017, compared with a year ago. The rise in customer numbers pushed revenues up by 13 per cent to €1.91bn and profit after tax 55 percent higher to €397m. Route charges rose 7 percent to €191m.
During the three months to the end of June, Ryanair took delivery of 14 new B737s and opened bases in Frankfurt Main and Naples.
The Frankfurt Main base will increase from two to seven aircraft in September, while bases will open in Memmingen (Munich) and Poznan during autumn.
"We continue to see significant growth opportunities for Ryanair across Europe as competitors close bases or move capacity and legacy airlines restructure," the airline said.
In addition, Ryanair ordered ten more B737-MAX-200 aircraft in June 2017; five will be delivered in spring 2019 and five more in spring 2020.
It also agreed extensions of ten operating leases which will provide it with three more aircraft for summer 2018 and ten for summer 2019. This addresses "a temporary capacity shortage" before it takes delivery of the 10 B737-MAX-200s in September 2019.
Earlier this month, Ryanair announced the cancellation of planned service to Ukraine, including four routes from Kiev Borispil and seven routes from Lviv.