Norwegian granted "tentative" approval for UK subsidiary's transatlantic plans
Norwegian's plans for its UK subsidiary to operate flights to the US have moved a step closer following a decision by the US Department of Transportation.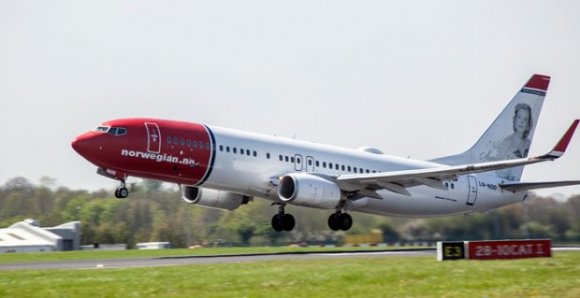 Norwegian's UK subsidiary has received "tentative" approval for a US foreign air carrier permit as it seeks to muscle in on the 13.9 million UK-US market.
When finalised by The US Department of Transportation (DOT), the permit will allow the carrier's UK subsidiary to operate low-cost flights between the US and Europe in compliance with the current EU-US Open Skies Agreement.
Norwegian UK was established in November 2015 and applied for the permit a month later.
However, the application was met with opposition from airlines including KLM, SAS Scandinavian Airlines and Air France, as well as trade unions, amid an alleged failure to disclose its plans for employment of pilots and flight attendants.
---
Read more
Spain's long-haul summer season heats up
Interview: Cork's Niall MacCarthy discusses Norwegian's transatlantic routes and future network strategy
Norwegian adds first Asian market to London long-haul network
---
But the DOT has tentatively decided to grant the applicant a foreign air carrier permit, saying that it is "financially and operationally fit to perform" the service. The department added it has taken into account a previous commitment from Bjørn Kjos, chief executive of Norwegian, with respect to hiring and employment practices.
The latest approval comes seven months after the DOT granted Norwegian a permit for US-Ireland flights.
"Tentative US approval for our UK subsidiary takes us a positive step towards being able to offer millions of passengers even more new routes and lower fares," said Kjos.
"We look forward to final DOT approval for Norwegian UK's foreign air carrier permit soon, allowing us to continue delivering more flights, more choice and more jobs on both sides of the Atlantic."
Norwegian currently operates flights from the UK to the US through its Norwegian-registered airline, Norwegian Air Shuttle.
Once final approval is received from the US authorities, Norwegian UK said it would be able to establish a "seamless operation" and "more effectively" utilise its long-haul fleet. This includes the use of the same aircraft on all long-haul routes such as the US, Singapore, Argentina and other future long-haul markets Norwegian is looking at in Asia and South America.
Norwegian carries 5.2 million UK passengers each year from London Gatwick, Edinburgh, Belfast, Birmingham and Manchester Airports to 50 destinations worldwide.
Earlier this month, the airline launched two transatlantic services from Dublin Airport to Stewart International and Providence, Rhode Island. It is now operating a total of 12 transatlantic flights per week to the US east coast.