JetBlue plots JFK expansion to 'secure long-term future'
US carrier JetBlue Airways has outlined plans to significantly expand its presence from New York's John F. Kennedy Airport over the next decade as it seeks to secure its long-term future in its hometown state.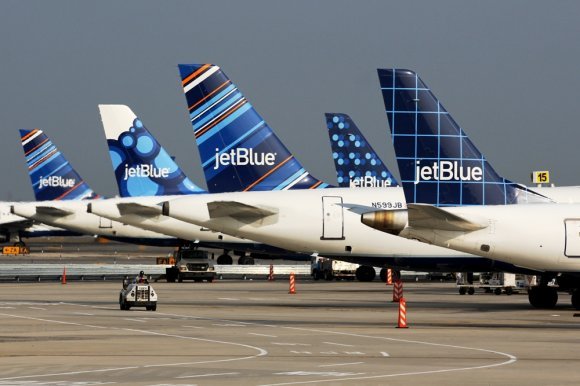 JetBlue Airways has confirmed it is drawing up plans for a potential new terminal at New York's John F. Kennedy Airport in partnership with other organisations.
The low-cost airline told investors that it doesn't have an immediate need for more space, but said it is working in coordination with the Port Authority of New York and New Jersey, which owns the airport, to lead the development of the former Terminal 6 site and perhaps the Terminal 7 site.
The US carrier said the project would accommodate increases in customer traffic in the airline's largest focus city, enhance and facilitate code-sharing and interline agreements, and open the door to new value-enhancing partnership opportunities. It has now issued a 'request for qualifications' (RFQ) and is seeking submissions from potential developers.
JetBlue opened its Terminal 5 facility in 2008 and three years ago launched T5i, its international arrivals hall extension that brought Federal Inspection Services in-house.
Speaking about the potential for further expansion, chief financial officer Stephen Priest said: "T5 and T5i provide great infrastructure for our customers and we have enough gate space at the moment.
"The RFQ which we sent out last week provides JetBlue with a great opportunity to secure our future in New York. It is our largest focus city and we see this opportunity as great for our customers, company and shareholders."
The airline has expanded its capacity from JFK by 13.6 per cent over the past five years, growing to 8,219,408 seats in 2016.
Priest added: "The key reason we're going forward with this is that we have exclusive rights to develop the T6 space. It is valuable prime real estate in an incredibly congested airport.
"It's very early days in the process and this is really about securing our long-term future and doing it in a way that's very accretive and in partnership with other organisations."
JetBlue will take delivery of 11 Airbus A321s in 2018 and 13 Airbus A321neo aircrafts in 2019. It is understood the airline has been mulling over plans to launch transatlantic flights.
Priest said the deal with Airbus for the neo portfolio has "a lot of flexibility", including conversion rights for long range (LR) versions of the A321neo that would enable the carrier to add Europe to its route map.
"The LR would be an aircraft that's available towards the end of 2019 and we're still assessing that at the moment," Priest confirmed. "If we decided to exercise conversion rights to the LR, we would have an opportunity to do that towards the end of this year.
"But it's very early days and no decisions have been made yet. Decisions to switch any neos to LRs will be based on a margin assessment and we're going through that analysis at the moment."
JetBlue's plans for expansion come as the airline reported that operating income increased by 13 per cent to $354m, compared with the second quarter of 2016, while pre-tax income rose by 14.9 percent to $332m.
In April, Routesonline reported on the airline's plans to introduce its Mint premium travel concept into additional markets during the second half of 2017 using its enhanced Airbus A321 offering on flights between New York and Las Vegas and San Diego as well as between Boston and San Diego.