Europe's aviation industry by numbers - latest update
Routesonline's latest analysis of the European aviation industry, examining the top routes, airlines and airports.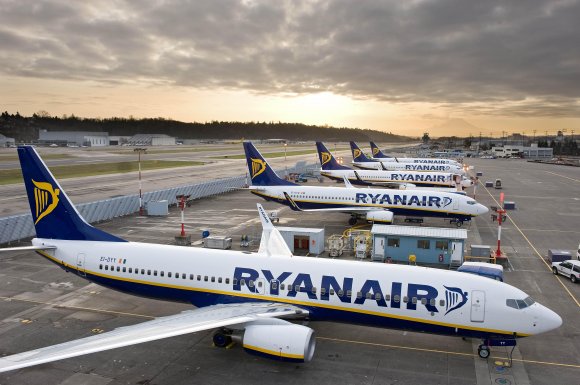 Routesonline analyses the European aviation industry, taking a quarterly look at the top routes served and revealing the airlines that are dominating the market. We also rank the top ten airports by available seat capacity.
The latest figures for Q3 2018.
The data is all supplied by OAG Aviation using its OAG Schedules Analyser tool.
Top European airline routes
London Heathrow - New York JFK had the most available two-way capacity during the third quarter of 2018 following a 6 percent increase compared with the same period a year ago. The route is operated by four carriers - American Airlines, British Airways, Delta Air Lines and Virgin Atlantic - and was recently ranked by OAG as the most lucrative airline route in the world. The rise in capacity came as Virgin Atlantic expanded its operation by adding a sixth daily A330-300 service, despite joint venture partner Delta Air Lines reducing service from three to two daily.
Izmir Adnan Menderes - Istanbul Ataturk fell to number two in the top ten after an 8.2 percent reduction in capacity compared with Q3 2017, while London Heathrow - Dubai International dropped from second to sixth after an 18.5 percent decrease. The decline in capacity on LHR-DXB followed Qantas' decision to reroute flights from Sydney to Heathrow via Singapore, rather than Dubai, which came into effect in March 2018.
Elsewhere, Dusseldorf - Palma de Mallorca entered the top ten following a 30.7 percent jump in two-way capacity during Q3 2018, compared with the same period a year ago, as airlines battled to fill the void left by the demise of NIKI. Condor, Eurowings, Norwegian and TUIfly all increased frequencies, while Ryanair-backed Laudamotion, which emerged from the ashes of NIKI, entered the market.
---
Top European airlines
Ryanair increased capacity by 4.5 percent during the third quarter of 2018 to 40,149,081 available seats, up from 38,435,796 the same period a year ago, to comfortably maintain its position at number one in the top ten. However, low-cost rivals easyJet and Wizz recorded double-digit percentage increases, growing capacity by 14.2 percent and 19.6 percent respectively. Norwegian also upped its available capacity by 11.6 percent to more than 12 million available seats.
---
Top European airports
Frankfurt International posted the largest percentage growth of the airports in the top ten with a 7.8 percent increase in capacity to 12,215,766 departure seats, compared with 11,327,485 in the third quarter of 2017. The growth came as Lufthansa, the airport's largest carrier, upped the number of available departure seats by 5.5 percent, while second largest Condor grew by 9.9 percent. Ryanair was also Frankfurt International's third largest carrier in Q3 2018 as it continues to grow the base it launched in March 2017.
---
The data:
Top ten routes by capacity (Q3 2018):
Rank
Route
Capacity Q3 2018
Capacity Q3 2017

Year-on-year

change (%)

1
LHR-JFK
1001810
945043
6.0%
2
ADB-IST
884171
963263
-8.2%
3
FRA-TXL
875488
633469
38.2%
4
AYT-SAW
816473
655285
24.6%
5
BCN-MAD
785267
790677
-0.7%
6
LHR-DXB
784097
961886
-18.5%
7
ADB-SAW
742008
710970
4.4%
8
DUS-PMI
737676
564445
30.7%
9
AYT-IST
714843
787549
-9.2%
10
BCN-PMI
709642
694692
2.2%
Top ten airlines by capacity on flights to/from Europe (Q3 2018):
| | | | | |
| --- | --- | --- | --- | --- |
| Rank | Airline | Capacity Q3 2018 | Capacity Q3 2017 | Year-on-year change (%) |
| 1 | Ryanair | 40149081 | 38435796 | 4.5% |
| 2 | Easyjet | 28968672 | 25374108 | 14.2% |
| 3 | Turkish Airlines | 25147442 | 24452237 | 2.8% |
| 4 | Lufthansa German Airlines | 23923036 | 22412513 | 6.7% |
| 5 | British Airways | 15640063 | 15381721 | 1.7% |
| 6 | Air France | 15123398 | 15067284 | 0.4% |
| 7 | Aeroflot Russian Airlines | 15100316 | 14250073 | 6.0% |
| 8 | Norwegian | 12412811 | 11120269 | 11.6% |
| 9 | Vueling Airlines | 11997132 | 10992418 | 9.1% |
| 10 | Wizz Air | 10695692 | 8943678 | 19.6% |
Top airports by departure seats (Q3 2018):
| | | | | |
| --- | --- | --- | --- | --- |
| Rank | Airport | Departure seats Q3 2018 | Departure seats Q3 2017 | Year-on-year change (%) |
| 1 | London Heathrow | 12957445 | 12941264 | 0.1% |
| 2 | Frankfurt International | 12215766 | 11327485 | 7.8% |
| 3 | Paris Charles de Gaulle | 11887872 | 11530705 | 3.1% |
| 4 | Istanbul Ataturk | 11257055 | 11324499 | -0.6% |
| 5 | Amsterdam | 10972655 | 10727224 | 2.3% |
| 6 | Madrid | 9270117 | 8682702 | 6.8% |
| 7 | Barcelona | 8653629 | 8327593 | 3.9% |
| 8 | Munich International | 8307995 | 8080365 | 2.8% |
| 9 | Rome Fiumicino | 7950798 | 7503751 | 6.0% |
| 10 | London Gatwick | 7600747 | 7614029 | -0.2% |