Each week ahead of World Routes 2017 we will be profiling a different member of the Routes team. Next is our head of business development for Asia, Sanjay Jayanth.
Q: What do you do at Routes?
I take care of the business development and sales in the Asia Pacific region, engaging our current clients from airports, destinations and suppliers to our events as well as to develop the region and bring in new clients into the Routes business.
Q: What's the best part of your job?
Having been with the Routes business for two years now, it's been fantastic in terms of engaging all our clients, and developing our relationships. We see new airlines and airports discover their potential on our platform, and working with a team that has immense experience over the years, we strive on building that relationship.
The best part of the job is the impact you make, whether it is ensuring that our clients reach their full potential in delivering what a Routes events aims to deliver or the vast connections and contacts you make through an event, across continents, regions and people.
The Asia team has been developing the business and trying to keep pace with the growth in the region. The team plays an integral part in this growth and we reach out to new partners and ensuring they have reached the maximum potential of our events.
Q: What are you most looking forward to at World Routes 2017?
All our regional events culminates to our largest event, World Routes. World Routes brings in clients from across continents, with a very interesting mix of views and discussion especially in the conference programme.
We have a very impressive line-up on speakers at this year, and am looking forward to their opinion on the Aviation Industry and their perspective of what we can look forward to.
Barcelona is an amazing destination, and we have a high representation from Asia this year, including large delegations from Airports that are attending a Routes event for the first time. I see a lot of new initiatives taken with airports and airlines as the aviation industry develops and evolves, innovation being the key word.
A lot goes into preparation of an event like World Routes, and it's extremely satisfying to see a delivery of an event, whether it be from our Routes department working teams, and contractors to client facing teams. It's impressive to see how things develop from planning to delivery on-site.
Q: What is your dream holiday?
I have quite a few on my to-do list – New Zealand, Egypt, but, I want to start discovering India first, which I haven't done as yet. On my list Include Leh Ladakh, North East India.
A key part of my holiday includes food tourism, local culture and cuisine, adventures through discovering local markets and streets.
---
World Routes 2017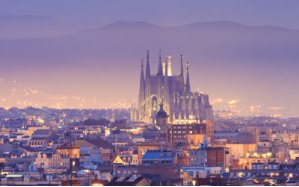 World Routes provides an unrivalled platform for route development professionals to discuss, develop and plan route strategy.
A dynamic programme of face-to-face meetings, industry renowned social events and engaging live content, will provide delegates with maximum networking and negotiating opportunities, to further develop their route networks and debate the hottest topics affecting the market place.