Balázs Bogáts, head of airline development at Budapest Airport, explains how thinking out the box helped to secure routes to the US and outlines the Hungarian airport's future long-haul ambitions.
Q. What are BUD's most notable recent new routes?
Definitely the new connections to the US. LOT Polish Airlines is operating direct flights from BUD to JFK four-times weekly and to ORD twice weekly by Dreamliner from summer 2017.
Q. How did you secure these routes?
The route was abandoned in 2011 when both Delta and American Airlines stop daily operations. Six years ago the economic climate was not favourable with high oil prices, while AA was even under Chapter 11 bankruptcy protection. Double daily flights were simply not sustainable from BUD.
Our home carrier Malev also went bust in early 2012, so the feeder traffic diminished one day to another, which is another factor why the transatlantic traffic disappeared.
But the air traffic increased by double-digit growth between the US and BUD, therefore we started to negotiate several airlines from the US, the Middle East and from Europe in 2014, but the competition is harsh between airports for the wide body aircraft therefore we had to wait for the right moment.
At that time, BUD was the largest unserved route in Europe in terms of indirect traffic – some destinations are even smaller with direct flights. Therefore we were confident that somebody was going to pick up the route.
Finally we found a partner in LOT. I think airports need to think out of the box, chasing unusual possibilities to reach their goals. I strongly believe developing outside of Poland is a great step forward for LOT strengthening its position in Central and Eastern Europe region.
Budapest's top airlines by capacity share (%):
Q. What are you next targets for route development?
We've had 50+ new route launches in the last two years without a single new cancellation, which proves these routes are working well. Our aim is to strengthen existing operations and to encourage our partner airlines to increase frequencies.
We are focussed on increasing the awareness of Budapest by working with other stakeholders, like tourism boards, which ultimately leads to a higher demand. There are still some white spots that needs to be covered in France, Scandinavia or the Baltic region which we are aiming for.
Q. Can we expect any more long-haul routes?
Yes, long-haul has remained in our focus. We are working on more transatlantic connections as well as new destinations to Asia. We have more than half million indirect pax to the South-East Asian region and only one Beijing connection, so the potentials are high.
Q. What is your overall development strategy?
The aviation industry goes to point-to-point market within intra-European market served mainly by low-cost carriers. BUD has excellent relationships with all major low-cost carriers, either full service carriers' daughter companies like Eurowings/Transavia or with the major independent low costs, like Wizz Air, Ryanair or easyJet.
I expect that the difference between the full service and low-cost business model is getting smaller and smaller. One of the signs of this is that the LCCs started to provide transfer possibilities. Without having a hub carrier and taking into consideration that 50 percent of BUD's seat capacities are provided by LLC, BUD is working on facilitating low cost- / self-connection possibilities. This will help to attract more long haul routes to BUD.
Q. What routes are currently best-performing for you?
Air Canada Rouge started Budapest-Toronto route last year with three weekly flights. This year it increased to six-weekly due to the high demand. This success story can encourage everyone who had doubts in the Hungarian market.
We experience high demand to and from Asia, therefore Aeroflot and Qatar Airways have increased their frequencies and Emirates upgraded its aircraft to the high density seated B773. Despite of the weakening pound, the UK market remains our top market, where we are connected to 13 airports with the traffic share of 16 percent.
Q. Your passenger numbers are growing strongly; is this sustainable, and what infrastructure work is required?
2017 is already the third consecutive year when we have double digit growth. We expect it to slow down for the upcoming years, but still above the European average. BUD initiated BUD2020 investment program, where we spend more than €150m to extend our capacities.
In the first phase we recently increased the check-in capacities by 20 percent – we are building a new pier, which will be ready next summer. We also brought forward our planned investments regarding the new Terminal 2C. Thanks to these efforts, BUD awarded the best European Airport in Eastern Europe four times in a row by Skytrax.
Q. You have and mix of LCCs and 'legacy' carriers – is it your policy to continue to focus on attracting more routes from both?
Yes, we have a healthy 50-50 percent share of LLC and FSC split. As I mentioned previously I expect the gap between the two models is closing. Both models have its own advantages, LCC carriers react more quickly for the new opportunities and have high market stimulation capability, whereas FSC can connect BUD via their hubs to such destinations where we will never have a direct connection.
Budapest network map Q3 2017: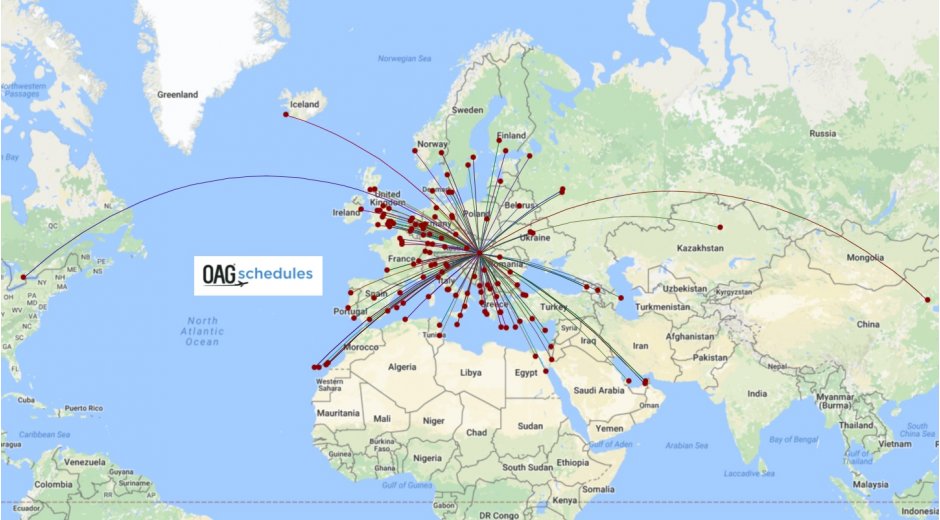 Powered by OAG
---
Read more:
Route rundown: BUD-JFK, CAN-CNS, ZRH-DEN
Aiming for a pole position
Budapest Airport boosts business with the Balkans