What are the fastest-growing major airlines in the world?
Routesonline analyses the world's fastest-growing major airlines by available capacity during the third quarter of 2017 and reveals the carriers that have added the largest volume of seats.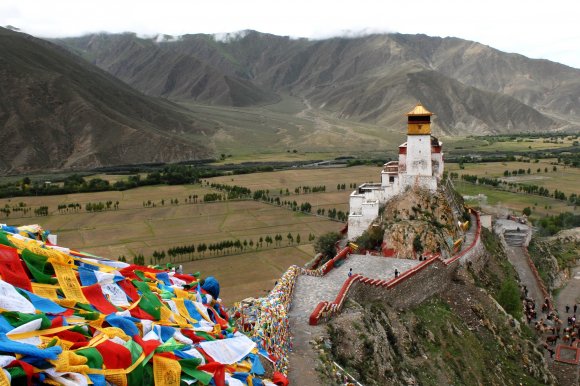 A near 200 percent surge in year-on-year seat capacity has positioned Tibet Airlines among the fastest-growing major airlines in the world during the third quarter of 2017, analysis by Routesonline has revealed.
The carrier, which is based at Lhasa Gonggar Airport and is part-owned by Air China, connects the autonomous region of Tibet with domestic cities including Shanghai and Beijing.
According to figures from OAG, Tibet Airlines' total available seat capacity grew by 198 percent to 1.4 million in the three months to the end of September 2017, compared with 470,000 seats during the same period a year ago. It operated 65 routes during the period, 18 more than during Q3 2016.
Tibet Airlines commenced operations in 2010 and has a fully Airbus fleet of 15 A319s, six A320s and three A330s. Six of these aircraft (three A320s, two A319s and one A330) have been delivered within the past 12 months.
In August 2017, the carrier expanded its route network with the launch of a Chengdu-Kathmandu service, operating four flights per week on Monday, Tuesday, Thursday and Saturday. Other new routes in Q3 2017, compared with Q3 2016, include Changsha (CSX) – Mianyang (MIG) and Tianjin (TSN) – Xiahe (GXH).
Tibet Airlines' top five routes by available capacity during Q3 2017:
The list of fastest-growing airlines was calculated by ranking the top 200 carriers in the world by capacity from July to September 2017, based on figures from OAG Schedules. This was then ordered by year-on-year percentage growth, with the top ten featured below. All of the top 200 had more than one million available seats during Q3 2017.
Elsewhere in the top ten, Lufthansa-owned point-to-point carrier Eurowings was second after increasing seat capacity by 177 percent to almost six million as it continued to integrate the operations of Germanwings. It was also able to expand capacity following a deal earlier this year to wet-lease 38 Airbus A320s from Air Berlin, the now insolvent German carrier.
Donghai Airlines, a full-service carrier based in Shenzhen, China, was the third fastest-growing airline by percentage capacity rise, while Austrian low-cost carrier NIKI was fourth after taking on Air Berlin's holiday routes, and Indonesian airline Wings Air completed the top five.
Top ten major airlines by percentage growth (Q3 207 vs Q3 2016):
Rank
Airline

Q3 2016

capacity

Q3 2017

capacity

Year-on-year

growth

1
Tibet Airlines
470127
1401342
198.1%
2
Eurowings
2157180
5978730
177.2%
3
Donghai Airlines
430560
1173356
172.5%
4
NIKI
1273460
3111024
144.3%
5
Wings Air
801884
1940688
142.0%
6
Guangxi Beibu Gulf Airlines
527968
1276026
141.7%
7
Scoot
1054810
2489747
136.0%
8
T'way Air
474458
1109990
133.9%
9
NAM Air
880464
1842100
109.2%
10
AirAsia India
700848
1374480
96.1%
Top ten airlines by total capacity increase (Q3 2017 vs Q3 2016):
When analysing the top 200 airlines in the world by capacity increase alone, Eurowings recorded the largest growth in the total number of available seats in Q3 2017 when compared with Q3 2016. The carrier added 3.8 million more seats during July-September 2017.
Eurowings operated 303 routes during the period, compared with 118 in Q3 2016. The sharp increase came as the carrier continued to integrate the operations of Germanwings, with the number of routes operated by the latter dropping from 254 in Q3 2016 to 236 in Q3 2017 and its capacity falling from five million to 3.1 million available seats.
Since the end of the third quarter, Lufthansa has agreed to buy Air Berlin's Niki and LG Walter units and the group expects the deal to significantly expand its Eurowings operation once completed. Carsten Spohr, chairman of the executive board Lufthansa, said the group has a "great opportunity to take a decisive step forward with Eurowings in Europe".
Irish budget airline Ryanair was second in terms of year-on-year total capacity increase after adding more than 3.2 million seats. The rise came despite mass flight cancellations in September following a rota fiasco that led to pilot shortages.
Rank
Airline

Q3 2016

capacity

Q3 2017

capacity

Year-on-year

growth

1
Eurowings
2157180
5978730
3821550
2
Ryanair
35180460
38435796
3255336
3
United Airlines
46739616
49111963
2372347
4
Southwest Airlines
49532964
51873349
2340385
5
Lion Air
11404461
13736501
2332040
6
Aeroflot Russian Airlines
12461113
14696793
2235680
7
China Eastern Airlines
28739773
30673426
1933653
8
Air China
20288480
22176596
1888116
9
Easyjet
23497800
25374108
1876308
10
NIKI
1273460
3111024
1837564