World's busiest international passenger routes revealed
As hundreds of airlines from around the world gather in Barcelona for World Routes 2017, Routesonline can reveal the top international routes by passenger numbers.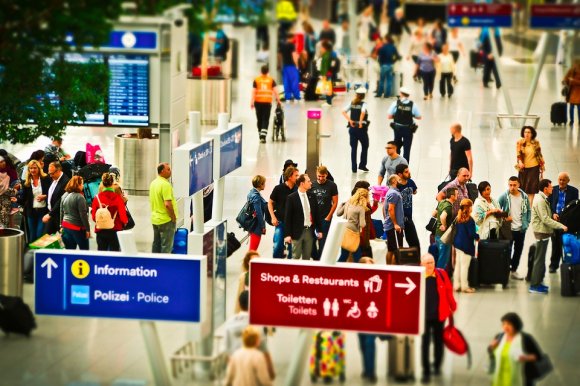 As 275 airlines gather in Barcelona over the coming days for World Routes 2017, including the world's top ten carriers by capacity, Routesonline can reveal the 20 busiest non-stop international passenger routes on earth.
With an average of 80 flights per day - that's one every 18 minutes - Hong Kong (HKG) - Taipei Taiwan Taoyuan (TPE) was the busiest during July 2017, the research has found.
A total of 451,801 passengers travelled the 802km between the densely-populated autonomous territory of Hong Kong and Taipei, the capital of Taiwan. The July total was 4.6 percent higher than June and 129,313 more passengers than the second busiest international route on earth, Jakarta Soekarno-Hatta (CGK) - Singapore Changi (SIN).
Cathay Pacific Airways had the most capacity on the route with 309,439 available seats, followed by China Airlines with 182,986. Other operators to fly HKG-TPE are EVA Airways, Hong Kong Airlines and Cathay Dragon.
As with the busiest overall routes in the world, services in the Asia Pacific region dominated the rankings with the entire top ten taken up by routes in Asia, and just two from outside the region making the top 20. Perhaps surprisingly, neither of these routes were in North or South America.
At 12 was Moscow Domodedovo (DME) - Simferopol (SIP), linking Russia's capital city with Crimea, while at 16th was the leisure route of Duesseldorf (DUS) - Palma de Mallorca (PMI), linking German's seventh most populous city with the holiday island of Mallorca.
The busiest international routes were calculated by using OAG to find the top 100 routes in the world by capacity in July 2017 and then ranking them by passenger statistics on Sabre.
The most expensive route in the top 20 was Hong Kong (HKG) - Beijing Capital (PEK) - operated by Cathay Dragon, Air China, Cathay Pacific, China Southern Airlines and Hong Kong Airlines - with an average base fare of $333.08. The cheapest was Palma de Mallorca (PMI) - Duesseldorf (DUS), operated by a string of low-cost carrers including NIKI, Eurowings and Germania.
---
The data:
Rank
Route
July 2017
June 2017
Distance (km)
Available capacity
Passengers
Base fare ($)
Passengers
Base fare ($)
1
Hong Kong (HKG) - Taipei Taiwan Taoyuan (TPE)
701892
451801
94.25
432128
92.57
802
2
Jakarta Soekarno-Hatta (CGK) - Singapore Changi (SIN)
482226
322488
127.85
295880
123.09
896
3
Kuala Lumpur (KUL) - Singapore Changi (SIN)
468756
269395
77.97
241931
74.78
296
4
Seoul Incheon (ICN) - Osaka Kansai (KIX)
328374
233920
109.96
211902
131.87
872
5
Hong Kong (HKG) - Shanghai Pudong (PVG)
405424
225888
220.07
233561
200.5
1247
6
Taipei Taiwan Taoyuan (TPE) - Osaka Kansai (KIX)
269647
200131
208.60
198981
194.5
1714
7
Seoul Incheon (ICN) - Hong Kong (HKG)
372471
197935
160.04
200385
166.08
2080
8
Bangkok Suvarnabhumi (BKK) - Hong Kong (HKG)
405956
197313
162.25
191738
140.89
1694
9
Taipei Taiwan Taoyuan (TPE) - Tokyo Narita (NRT)
251584
197175
238.74
183917
253.9
2193
10
Kuala Lumpur (KUL) - Jakarta Soekarno-Hatta (CGK)
312296
195988
62.93
166515
64.78
1142
11
Hong Kong (HKG) - Singapore Changi (SIN)
356207
187128
242.15
171961
241.44
2587
12
Moscow Domodedovo (DME) - Simferopol (SIP)
284362
186239
86.17
194459
81.03
1188
13
Singapore Changi (SIN) - Bangkok Suvarnabhumi (BKK)
310201
173660
133.06
181337
142.17
1431
14
Hong Kong (HKG) - Beijing Capital (PEK)
306205
169666
333.08
176880
344.82
2011
15
Seoul Gimpo (GMP) - Tokyo Intl (Haneda)
191994
166402
234.23
164768
239.39
1194
16
Palma de Mallorca (PMI) - Duesseldorf (DUS)
191919
165758
44.95
157063
48.45
1362
17
Seoul Incheon (ICN) - Bangkok Suvarnabhumi (BKK)
240393
163274
251.15
150651
243.7
3681
18
Osaka Kansai International (KIX) - Hong Kong (HKG)
255378
163154
247.89
145716
242.62
2484
19
Hong Kong (HKG) - Manila Ninoy Aquino (MNL)
307335
162647
93.14
143990
101.98
1145
20
Manila Ninoy Aquino (MNL) - Singapore Changi (SIN)
234402
156522
178.04
154267
195.02
2383