World Routes aviation forum handed over to Guangzhou
The annual World Routes forum was officially handed over to next year's host city, Guangzhou, at a ceremony in Barcelona this evening (26 September).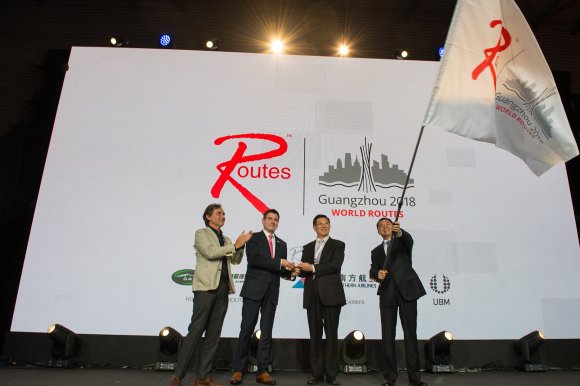 World Routes brings together airlines, airports and destinations to plan and negotiate future air services. Guangzhou, an economic hub on the Pearl River in Guangdong Province, South China, will provide the perfect platform for the event in 2018.
Guangzhou has been an important trade centre for 2,000 years due to its strategic position near the South China Sea. Its economic strength has helped Guangdong to maintain its status as the richest province in China for the last three decades.
The colourful Canton Tower and Cantonese cuisine has made Guangzhou a popular choice with international tourists. Other attractions include the asymmetrical Guangzhou Opera House, the Five Rams Statue in Yuexiu Park, a variety of Buddhist temples and Baiyun 'White Clouds' Mountain.
World Routes 2018 will be hosted by Guangdong Airport Authority, the owner of Baiyun International Airport. Baiyun is China's third busiest airport and the 15th busiest in the world, handling nearly 60 million passengers in 2016. A second terminal will be able to handle up to 80 million passengers a year when it opens in early 2018.
The growth is set to continue into the next decade as Baiyun's expansion projects are completed. The airport will be transformed into a five-runway, three-terminal operation that can handle 62,000 flights, 100 million passengers and three million tons of cargo a year by 2025.
Steven Small, brand director of Routes said: "Baiyun International Airport's development plans reflect Guangzhou's economic strength. China is due to become the world's largest aviation market in the next seven years and Baiyun will take a leading role in this growth."
International route development professionals from 270 airlines, 600 airports and 80 tourism authorities attended World Routes 2017 in Barcelona, and Guangzhou can expect similar numbers next year.
Mr Kejian Zhang, Chairman of the Board of Guangdong Airport Authority said: "It's a great honour to win the right to host World Routes 2018. I believe it will be an excellent opportunity to showcase Guangzhou City and Guangdong Province to the world.
"We're looking forward to meeting all of the friends of this great event. We'll be meeting them with our best service and full enthusiasm."
More information about World Routes can be found at routesonline.com
World Routes 2018, 15-18 September 2018, Canton Fair Complex, Guangzhou, China.
-ENDS-
Notes to Editors
Routes events are unique forums dedicated to the development of new air services. They revolve around pre-scheduled meetings, an exhibition and a conference. Four 'regional' route development forums are held between February and June in the Americas, Asia, Europe and Africa, with the flagship World Routes event taking place in September.

Routes events are organised by UBM plc. UBM is the largest B2B event organiser in the world. Our 3,750+ people, based in more than 20 countries, serve more than 50 different sectors. Our deep knowledge and passion for these sectors allow us to create valuable experiences which enable our customers to succeed. Please visitubm.com

for the latest news and information about UBM.
For further information contact:
Karen O'Neill
Communications & Content Marketing Manager
Routes, UBM EMEA
T: +44 (0)161 234 2721
M: +44 (0)796 6405 105