Walsh backs Ryanair to bounce back from flight cancellations
IAG chief executive Willie Walsh backed Ryanair to learn lessons from its waves of flight cancellations, and confirmed that a connecting deal between Aer Lingus and budget carrier is in the offing. He also explained why IAG isn't supporting US action against state-owned Gulf carriers.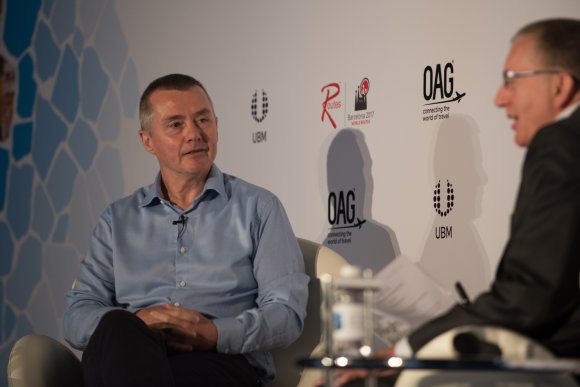 International Airlines Group (IAG) chief executive Willie Walsh has backed low-cost carrier Ryanair to bounce back from the negative publicity surrounding its wave of flight cancellations and confirmed he hopes a connecting deal between Aer Lingus and Ryanair in Dublin will be finalised by summer 2018.
Speaking at World Routes 2017 in Barcelona, Walsh also explained why IAG isn't backing efforts made by American Airlines, Delta Air Lines and United in calling for US action against state-owned Gulf carriers.
On the flight cancellations, he backed Ryanair chief executive Michael O'Leary to learn from the mistakes made regarding the "mess-up" over pilots' leave.
"The mix-up came as a great surprise to everybody," Walsh said. "But whatever the screw up, their ability to fix things and move forward is unparalleled.
"I would have loved to have been able to sit there and watch what was going on – although I'm sure the blood on the walls has been washed off now – but I don't take any pleasure out of it.
"We've had our fair share of problems and I don't get any pleasure at people laughing at me when I have a problem. I'm therefore not going to laugh when someone else has a problem."
Since Walsh spoke, Ryanair has been forced to cancel a second wave of flights with 34 routes being cut over the winter season. This followed the axing of 2,000 flights over a six-week period into October after the company miscalculated pilot leave.
However, Walsh added that all airlines can learn from the mistakes made by Ryanair, as well as the IT issues faced by IAG-owned British Airways earlier this year: "Learning from things that go wrong is incredibly powerful.
"One thing you can be sure of is that Ryanair won't be faced with this problem again in the future. It's well within their own ability to fix it."
---

The full Willie Walsh interview at World Routes can be heard on the second episode of the Routes Podcast. The podcast is sponsored by OAG and can be downloaded on iTunes or below:
---
Walsh also told World Routes delegates that he expects IAG subsidiary Aer Lingus to agree a connectivity deal with Ryanair at Dublin Airport by summer 2018, while at the same time as pouring cold water on EasyJet's plan to provide feeder traffic to long-haul carriers through London Gatwick.
"I don't think [the EasyJet plan] will be hugely successful. EasyJet will not change its short-haul network to feed the long-haul. Are passengers going to wait eight hours to transfer from easyJet to Norwegian at Gatwick?
"But I think there are opportunities and we'll look at Dublin. Aer Lingus and Ryanair have been in discussions and I'd be surprised if we're not doing a Ryanair to Aer Lingus feed by next summer."
Walsh said Aer Lingus and Ryanair hoped to work with the airport to put a system in place for baggage transfer, with a likely solution being for passengers to pick up a bag from one flight and drop it off at an air-side connecting point.
"I think there is an opportunity [at Dublin]," said Walsh. "We have no issues with working with Ryanair. If the customer is happy to self-connect then why don't we try to make it a little bit easier? I'd be optimistic that we will be doing work with Ryanair at Dublin Airport.
In a wide-ranging interview with aviation consultant John Strickland, the IAG chief executive said he wants to win against Gulf carriers through competition rather than through government regulation, which he said would only keep costs artificially high for passengers.
"This argument that Gulf carriers are bad is just a nonsense," he said. "We've taken a very simple view – we will beat the competition by competing against them. We will not try to beat the competition by forcing regulators to stop them competing against us.
"It's the same with Norwegian – we supported Norwegian's application for a licence to operate Norwegian Ireland. We've been very clear and open – we'll compete with them but we'll beat them through fair competition."
Walsh added: "It's a bit hypocritical for airlines in Europe to talk about state aid. We continue to see airlines all around Europe availing state aid, even when they shouldn't. So our view is that we'll compete and we're not going to waste any time arguing with regulators.
"Who wants to go back to the days when this industry was over-regulated? When somebody in an office who didn't understand the industry told you where you could fly and how much you could charge."
Read more from Willie Walsh at World Routes 2017:
LEVEL to have 30 aircraft in five years
Walsh confirms Air Berlin bid